Close
UHV assistant professor serves as Latino Film Festival keynote speaker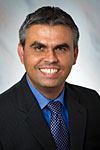 Armando Chavez-Rivera
When the College of the Redwoods and Humboldt State University in California needed a keynote speaker and presenter for their annual Latino Film Festival, they looked to the University of Houston-Victoria.
Armando Chavez-Rivera, an assistant professor of Spanish and director of the UHV Spanish program, received an invitation to attend the March 3 to 5 festival featuring three films about Latino life and culture. Before each film, Chavez-Rivera delivered a short address that introduced the themes and ideas presented. Then, after the viewing, he took part in a panel discussion with the audience.
"This was an amazing experience for me as an academic and a native of Cuba," Chavez-Rivera said. "I've lived and traveled in many Latin American countries, and I've written about them as both a scholar and a journalist. This was a wonderful opportunity to share my knowledge and experiences with others."
Chavez-Rivera worked as a journalist in Latin America for more than a decade before he began teaching. He lived in a variety of locations including Uruguay and Argentina during that time and his articles were published in magazines and journals. He has published four Spanish-language books and has earned four awards for his journalism and academic writing. He has a doctorate in Hispanic literature from the University of Arizona, and his research interests include colonial Spanish-American literature, contemporary Spanish literature, history and cultural studies, journalism and audio-visual arts such as film, theater and photography.
The festival showed three films that are well known in Latin America. The first film was "Cecilia," which follows the life of a young woman in 1830s Cuba and the rise of the Cuban slave rebellion. The story examines the deep racial divides between the white upper class and the mixed-race people and slaves of the time. On the second night, attendees saw the film "A Dios Momo" about an 11-year-old paperboy taught to read and appreciate life by a mentor he meets at the newspaper office. The final film was "Pelo Malo," the story of a 9-year-old Venezuelan boy from a mixed-race background who is trying desperately to straighten his hair for a school photo.
"The themes and issues presented in each of these stories are very real in the Latin American world today," Chavez-Rivera said. "In my travels throughout Latin America, I've seen how diverse and multicultural these countries are. People can trace their ancestries to Europe, Africa, the native residents of the region and more. I was glad to have the opportunity to share that information with others."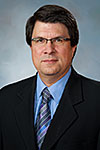 Jeffrey Di Leo
The festival was held in the Minor Theatre in Arcata, Calif., and 300 to 400 people came each night.
Chavez-Rivera first met the organizers of the festival a few years ago at a conference. Members of the Humboldt State University foreign language department saw his articles and books about Cuba and other Latin American topics and spoke to him about taking part in the film festival.
"Dr. Chavez-Rivera is a gifted writer and well-traveled scholar who brings a broad range of experience to UHV," said Jeffrey Di Leo, dean of the UHV School of Arts & Sciences. "His real-world, firsthand knowledge of the language and culture of Latin America is a major asset to our students and to our school, and I am pleased to see his work and knowledge being more widely acknowledged in the academic community."
While he was in California, Chavez-Rivera donated copies of his books to the Humboldt State University library.
"I feel so honored for this opportunity to share my work and viewpoints with others," Chavez-Rivera said. "The film festival was an amazing experience, and I look forward to more opportunities in the future. It's important to continue making the connection between research, life and teaching."
The University of Houston-Victoria, located in the heart of the Coastal Bend region since 1973 in Victoria, Texas, offers courses leading to more than 80 academic programs in the schools of Arts & Sciences; Business Administration; and Education, Health Professions & Human Development. UHV provides face-to-face classes at its Victoria campus, as well as an instructional site in Katy, Texas, and online classes that students can take from anywhere. UHV supports the American Association of State Colleges and Universities Opportunities for All initiative to increase awareness about state colleges and universities and the important role they have in providing a high-quality and accessible education to an increasingly diverse student population, as well as contributing to regional and state economic development.