Close
Port of Houston executive shares shipping stories with UHV business students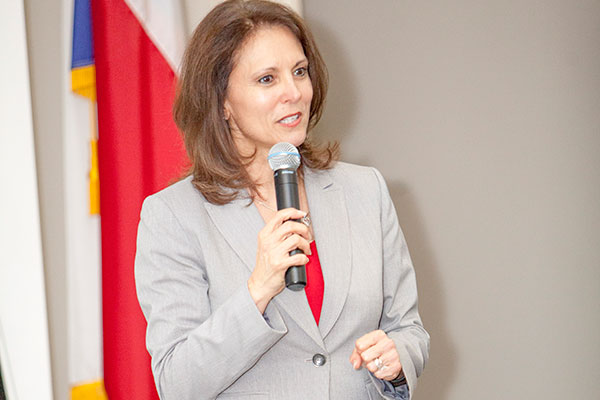 Phyllis Saathoff, deputy executive director of corporate affairs for the Port of Houston Authority, talks about the port's impact on the economy during the University of Houston-Victoria School of Business Administration Distinguished Speaker Series Tuesday in Sugar Land.
SUGAR LAND – Phyllis Saathoff's fascination with the world of marine facilities began when she was an accountant working on an audit for Port Freeport on the Gulf Coast.
Port Freeport leaders liked her work so much that they hired her, starting a 23-year career in foreign and domestic trade administration.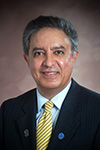 Farhang Niroomand
Saathoff is now the deputy executive director of corporate affairs for the Port of Houston Authority. She spoke to about 125 University of Houston-Victoria students, alumni, faculty and staff members, and area business leaders Tuesday at UH Sugar Land as part of the UHV School of Business Administration Distinguished Speaker Series.
"We were pleased Ms. Saathoff could join us to discuss an important segment of the South Texas economy," said Farhang Niroomand, dean of the UHV School of Business Administration. "Many of our students work for companies or aspire to work for companies that use the Port of Houston. Our students and alumni gained some insight into the state of seaports now and what the future could hold."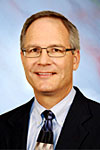 Jeff Blodgett
Jeff Blodgett, associate dean of the UHV School of Business Administration, said it was interesting to learn about the port's impact on the local and state economy. Saathoff said the port exported $289 billion in goods and commodities in 2014 and generated $178.5 billion in economic impact.
"When people think of Houston and Texas they naturally think of oil and gas," Blodgett said. "But without the Port of Houston, the industry would lose much of its ability to profitably ship oil and gas around the world."
Since 2011, the UHV School of Business Administration Distinguished Speaker Series has brought in area executives to discuss contemporary business issues. Past speakers have included executives in the health care, oil and gas, real estate, technology and staffing industries. Saathoff was the first speaker from the transportation industry.
"Her presentation was of particular interest to our Bachelor of Business Administration students studying supply chain management," Niroomand said. "And since the port plays such a vital role in domestic and international trade, her discussion of port management and strategic guidance made it an informative evening for everyone in attendance."
Enes Sonmez, a Master of Business Administration student from Turkey, said he learned that the Port of Houston ranked first in the U.S. in import and export tonnage.
"I was really impressed with their facilities," he said. "I wasn't aware they had a 25-mile-long complex of diversified public and private facilities. It also was interesting to hear about the technology the port uses."
Saathoff said the port could get even busier because of the widening of the Panama Canal. The Port of Houston will be serving more vessels carrying liquid natural gas and picking up additional container business that currently is being routed through the West Coast.
Saathoff spent two decades working for Port Freeport as managing director and interim executive director/CEO. She moved to the Port of Houston Authority in October 2012.
A renowned expert in port marine emergency preparedness, Saathoff wrote the Emergency Preparedness and Continuing of Operations Planning Manual for Best Practices. In 2004, she was recognized in Gulf Shipper Magazine as one of the Top 10 Women in Gulf Transportation.
The University of Houston-Victoria, located in the heart of the Coastal Bend region since 1973 in Victoria, Texas, offers courses leading to more than 80 academic programs in the schools of Arts & Sciences; Business Administration; and Education, Health Professions & Human Development. UHV provides face-to-face classes at its Victoria campus, as well as an instructional site in Katy, Texas, and online classes that students can take from anywhere. UHV supports the American Association of State Colleges and Universities Opportunities for All initiative to increase awareness about state colleges and universities and the important role they have in providing a high-quality and accessible education to an increasingly diverse student population, as well as contributing to regional and state economic development.