Close
UHV students, employees serve meals to hungry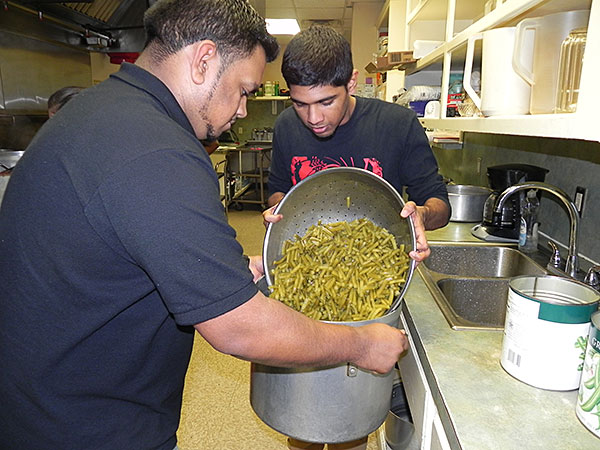 UHV students Christo Varghese, left, and Kevin Joseph pour green beans into a pot as they and other UHV students, faculty and staff help prepare a meal for Christ's Kitchen on Wednesday. About 25 students and six faculty and staff members volunteered to help prepare and serve a spaghetti dinner.
About 30 University of Houston-Victoria students, faculty and staff members gathered at Christ's Kitchen on Wednesday to cook and serve spaghetti to the homeless and others in need.
The volunteering opportunity was headed by the UHV Student Government Association and was open to all students, faculty and staff members. H-E-B Plus! donated the food for the meal.
"I was very excited about this," said Bola Adebayo, SGA president and a junior biology major from Houston. "A group of students and staff members went during the fall, and it was a great experience. But a lot of people had scheduling conflicts and were disappointed that they couldn't take part. We wanted to offer another opportunity."
The SGA Executive Committee was looking for ideas for student activities, Adebayo said. Some members wanted to do more community service projects, and SGA vice president Michelle Looza suggested volunteering for Christ's Kitchen.
The students' enthusiasm for serving the community is something the university can be proud of, said Kim Pickens, UHV facilities sales coordinator and president of the Victoria Area Homeless Coalition. UHV students and employees served at Christ's Kitchen in November as part of a coalition activity, but this is the first time a UHV group has volunteered on its own.
"I'm proud of these students for taking an interest in their community and the lives of others," Pickens said. "I hope each of these students is moved by the work he is doing and the stories he hears from these people. It makes me proud to be a Jaguar."
Students started cooking at 2:30 p.m., and dinner was served at 5 p.m. Shuttles were available to transport students between Christ's Kitchen and Jaguar Hall.
As people were served, students had the opportunity to sit down and talk with them. The act of serving involves more than handing out food, Pickens said. It also involves speaking with those who need a personal connection and hearing their stories.
"In November, I met some amazing people with incredible stories," said Melody Vecera, UHV creative services manager. "I remember one little girl who was so happy to be eating here that she wanted to help clean up. Hearing these stories and meeting people helps you appreciate the blessings you have and the humanity of other people."
Christ's Kitchen has served the Victoria community for 30 years, said June Wasicek, co-director of Christ's Kitchen. Meals are typically served between 11 a.m. and 1 p.m. six days a week and are open to anyone who wants to come.
"We have people from all walks of life who come to eat," Wasicek said. "It's wonderful whenever we can get a group to participate and volunteer. People today are so busy, but taking the time to serve someone else can be a blessing for both the served and the server."
Community support is critical to the mission of Christ's Kitchen, Pickens said. Although the service is technically a nonprofit, it never asks for funds from the government. Every meal is paid for through donations and is cooked and served by volunteers.
"I'm a huge fan of what Christ's Kitchen does and how it reaches out to the community," Pickens said. "It makes me feel good knowing that UHV students are willing to take part in this and help feed other people."
Volunteering in the community is a longstanding activity of UHV students, Vecera said. UHV students have worked with children through the Victoria Challenger League, tutored students in Victoria schools, helped build Habitat for Humanity houses and more.
"I'm happy to see our students taking part in this service," Vecera said. "It shows that our students care about this community. It shows the quality of students that UHV has, and it's important for us to not only focus on ourselves but to serve others."
SGA hopes to continue that legacy of community service, Adebayo said.
"My hope is that people can see the importance of giving back and providing a meal for someone," Adebayo said. "Not everyone there is able to consistently have a hot meal or a place to gather. It's great to see families come together. It's about the small things that make people happy."
The University of Houston-Victoria, located in the heart of the Coastal Bend region since 1973 in Victoria, Texas, offers courses leading to more than 80 academic programs in the schools of Arts & Sciences; Business Administration; and Education, Health Professions & Human Development. UHV provides face-to-face classes at its Victoria campus, as well as an instructional site in Katy, Texas, and online classes that students can take from anywhere. UHV supports the American Association of State Colleges and Universities Opportunities for All initiative to increase awareness about state colleges and universities and the important role they have in providing a high-quality and accessible education to an increasingly diverse student population, as well as contributing to regional and state economic development.