Close
UHV to team with developer on new 380-bed residence hall
| | |
| --- | --- |
| | |
| An artist rendering shows what the new University of Houston-Victoria residence hall will look like. The four-story, 110,000-square-foot residence hall will have 380 beds, a fitness area, laundry facilities, TV lounge, gaming area, courtyard and study rooms. | The University of Houston System Board of Regents recently approved revisions to UHV's Master Plan. The plan eventually calls for three residence halls, a student center and two parking garages on the east side of Ben Wilson St. |
In fall 2016, University of Houston-Victoria will open another residence hall, its fourth since adding freshmen and sophomores in 2010.
The four-story, 110,000-square-foot residence hall will be built on a vacant 2-acre lot on the east side of Ben Wilson Street between Arlington Apartments and the building housing Petroleum College International and UHV Athletics. The suite-style dormitory will have 380 beds, making it the university's largest residence hall. Construction is slated to begin in June and be completed in August 2016.
The project will cost an estimated $20 million, but the university will have no costs upfront. For the first time, UHV is using a partnership to construct the residence hall. UHV and Balfour Beatty Campus Solutions, a developer and operator of infrastructure projects for universities, will work together.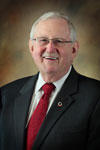 Vic Morgan
"We are thrilled to announce plans for a new residence hall located across the street from our academic buildings," UHV Interim President Vic Morgan said. "As we continue to build a destination university, our housing needs have become quite evident. This new residence hall sets in motion our plans to develop the east side of Ben Wilson Street as a home away from home for our students."
The new residence hall will be for sophomores and upperclassmen, and will have a fitness area, laundry facilities, TV lounge, gaming area, courtyard and study rooms. There will be full kitchens on the corner of each floor with stoves and ovens. After construction of the new residence hall, UHV's three existing dorms on Houston Highway will be for freshmen.
Students will have their choice of two different suite plans, each with four students in them. Students will either have their own bedroom or share a bedroom with a roommate. Both suite plans include a living area and kitchenette with a refrigerator, sink and microwave.
UHV administrators started discussing building a fourth residence hall in October.
"One of the chief advantages of this partnership is the university has no initial costs and no debt," said Wayne Beran, UHV vice president for administration and finance. "The residence hall will pay for itself over time through leases. This type of arrangement offers an easier and quicker means of construction."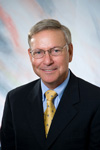 Wayne Beran
UHV will sign a ground lease with Collegiate Housing Foundation, a nonprofit company that arranges financing for college residence halls.
Collegiate Housing Foundation will initially own the building, while UHV owns the land, said Brenda Svetlik, UHV director of capital projects. The foundation has arranged for RBD Capital Markets to issue bonds for the construction cost of the building. The foundation will carry the building debt.
Svetlik said the money students pay to lease rooms will go to a trustee that will issue money to the foundation to pay down the debt and to UHV to pay for utilities, maintenance and operation. Any extra rent revenue made during this time, which can be up to 30 years, also goes to the university. When the construction debt is completely paid off, UHV will take over ownership.
Balfour Beatty has its own construction company to build the residence hall, and it has hired KSQ Architect for the design.
"One thing we liked about Balfour Beatty is it has done this type of partnership frequently and is branching out to use these partnerships for other purposes beyond student housing," Svetlik said. "We are exploring using a similar model for a student center."
Svetlik said UH and the Texas A&M University System have used this method of financing for student housing.
"It's an interesting way of doing housing projects," she said. "Traditionally, the university goes out and issues revenue bonds. With the developer partnership, the university is able to utilize the developer's best practices, which result in time and cost savings. If we went the traditional route, we'd still be looking for an architect and contractor."
At its February meeting, the UH System Board of Regents approved the process of selecting Balfour Beatty and allowing UH Chancellor Renu Khator to negotiate contracts for the project. The board also voted to let UHV revise its master plan. The updated master plan shows the tentative location of a student center to the south of the new residence hall.
In February, UHV students living within a 50-mile radius of Victoria voted to assess themselves a fee to pay for the construction of the university's first student center. The fee proposal was approved by the UH System Board of Regents. Because it's a mandatory fee, it also has to be approved by the Texas Legislature. Rep. Geanie Morrison has introduced the bill that would allow the fee to be assessed.
The master plan also calls for additional residence halls on both sides of the student center and parking garages at the north and south ends of the residential complex.
"Our concept is to eventually house all, or nearly all, of our students in three new dormitories on the east side of Ben Wilson Street," Morgan said. "This plan offers many advantages, including giving UHV a residential feel with our academic buildings, residence halls and student center all within easy walking distance."
Morgan said he plans to talk with city officials about a crosswalk and other ways to help students safely cross Ben Wilson Street.
According to the master plan, the student center and future residence halls would be built at the site that now houses the Arlington and Casa del Rio apartments. UHV, with the help of the UH System, bought those properties in 2013. Tenants moved out in 2014, and demolition of the apartments is slated for later this year.
The University of Houston-Victoria, located in the heart of the Coastal Bend region since 1973 in Victoria, Texas, offers courses leading to more than 80 academic programs in the schools of Arts & Sciences; Business Administration; and Education, Health Professions & Human Development. UHV provides face-to-face classes at its Victoria campus, as well as an instructional site in Katy, Texas, and online classes that students can take from anywhere. UHV supports the American Association of State Colleges and Universities Opportunities for All initiative to increase awareness about state colleges and universities and the important role they have in providing a high-quality and accessible education to an increasingly diverse student population, as well as contributing to regional and state economic development.