Close
Oregon poet, bookseller is next speaker in Downtown Arts Series
When David Abel was 12 years old, he wrote a poem about the police riots taking place Aug 28, 1968, during the Democratic National Convention in Chicago.
That was the first poem he remembers writing outside of school assignments, and his mother saved it for him.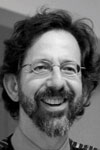 David Abel
"I don't remember how I first got into writing poetry, but I was upset about those events and decided to write a poem," Abel said. "Maybe that's a sign that I write as a way to make sense of the world and my life."
Abel, a poet, editor and owner of Passages Bookshop in Portland, Ore., said he is excited to be the next speaker in the University of Houston-Victoria Downtown Arts Series. He will present his work at 7 p.m. March 28 at the UHV Center for the Arts, 204 N Main St. The event is free and open to the public.
"I first met David at his bookstore in New York in the 1980s through a mutual friend," said Charles Alexander, director of the UHV School of Arts & Sciences Master of Fine Arts in creative writing program. "We've kept in touch since that first meeting, and I've published some of his poetry through Chax Press. He's a gifted poet, and I look forward to introducing him to Victoria."
When it comes to writing, Abel prefers to let ideas take shape and change direction as he writes. Even if he sits down with a specific topic or idea in mind, he knows something unexpected can happen.
"I have a tendency to be very open to what comes up in the process of writing," Abel said. "Even if I do start with something that I want to get at, whether it's an idea, or a thought or feeling, no matter how I start, being open to what arises in the process is important. I often find that what comes up is more interesting than the idea I originally started with."
Abel's individual poems are typically short but are then woven together into longer compositions. However, he has written longer poems as well as performance-based pieces and artist's books. In addition to his use of media and performance, he also likes to write in a variety of styles.
"I have always deliberately avoided having a specific style," Abel said. "I've never been interested in cultivating a specific voice or approach to poetry. I write everything from familiar-looking lyric poetry, with various cultural influences, to work that some people wouldn't even recognize as poetry. I tend to incorporate different elements, including projections, sound and performance."
Abel currently has eight books and chapbooks published, as well as about a dozen artist's books, and limited-edition publications that are not widely available. Artist's books are books in which the form of the book is just as important as the content. The book might have images and text displayed in an unusual relationship, or the art element may be shown in the way the book is printed or a unique binding.
Artist's books are some of the books available at Passages Bookshop. Abel also sells rare and unusual books of poetry, modern art and first editions.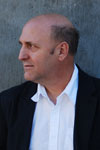 Charles Alexander
While in Victoria, Abel will present segments that represent his diversity of style. He plans to read from two different books and also will present a performance-based piece that includes at least one digital projection.
"I've heard the Downtown Arts Series has been well received," Abel said. "I'm looking forward to being part of it and sharing my work. I don't have a particular message, but I put a lot into my work, and I don't try to control what someone gets out of it. I simply provide possibilities."
After his presentation in Victoria, Abel will read on March 31 at Malvern Books in Austin.
The UHV Downtown Arts Series is organized by Alexander and UHV artist in residence Cynthia Miller to present an array of groundbreaking art practices to the Victoria community and encourage discussion about the arts. The remaining presenter this school year is Samuel Ace, a photographer, painter, filmmaker and poet, who will speak on April 24 at the UHV Center for the Arts.
For more information about the series, contact Alexander at 520-275-4330 or alexanderch@uhv.edu.
The University of Houston-Victoria, located in the heart of the Coastal Bend region since 1973 in Victoria, Texas, offers courses leading to more than 80 academic programs in the schools of Arts & Sciences; Business Administration; and Education, Health Professions & Human Development. UHV provides face-to-face classes at its Victoria campus, as well as an instructional site in Katy, Texas, and online classes that students can take from anywhere. UHV supports the American Association of State Colleges and Universities Opportunities for All initiative to increase awareness about state colleges and universities and the important role they have in providing a high-quality and accessible education to an increasingly diverse student population, as well as contributing to regional and state economic development.