Close
UHV alumna earns promotion at Library of Congress
When Mary J. Klutts moved to Washington, D.C., in 1990 to apply for jobs, she had no idea that she would one day become Chief Financial Officer for the Library of Congress.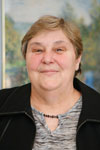 Mary J. Klutts
Klutts graduated from the University of Houston-Victoria School of Arts & Sciences earning a Master of Arts in Interdisciplinary Studies with a concentration in business in 1989. She wanted to find a job with a company or agency that would count her four years of service in the U.S. Marine Corps toward her retirement. She spent six months living with her cousin in the Washington, D.C., area applying for jobs while her husband, a career Marine, stayed in Victoria.
"At the time, there were hiring freezes throughout the government, so you had to be in the area to have any chance at a job," Klutts said. "I got two interviews, one with the Joint Chiefs of Staff and one with the Library of Congress. I ended up being hired as a budget analyst for the Library of Congress."
Klutts, who also earned her Bachelor of Science in Business Administration degree from UHV in 1987, was located in the Library's budget office, working with congressional appropriations committee staff to build the requests for the Library's annual funding. She also made sure budgeted funds were spent properly. In addition, Klutts handled private donors' contributions to the Library.
"The Library of Congress is one of the few government organizations that can accept charitable gifts, so I worked with our gift and trust funds," she said. "We have a lot of funds from individual donors for specific purposes, such as obtaining a certain collection of items or digitizing a set of information. That was the big focus of my work at first."
From there, she worked her way up the ranks to become the budget officer for the agency. In 2010, Klutts was honored by Delaware Sen. Ted Kaufman as part of his Great Federal Employees initiative. She was recognized for her hard work and dedication as "an expert in every aspect of the Library's operating budget."
Klutts served as the Library's CFO on an acting basis beginning in June 2014, and the promotion became permanent in January. In this position, she directs activities of the financial systems office, financial reports office, accounting operations office, budget office and strategic planning office.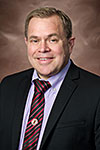 Jeffrey Cass
"The UHV School of Arts & Sciences and School of Business Administration have a long history of excellence, and I am proud to see that quality is having an impact on a great American institution," said Jeffrey Cass, UHV provost and vice president for academic affairs. "I wish Mrs. Klutts the best as she leads the financial side of one of our most important national resources."
Klutts said she loves working for the Library of Congress.
"The people I meet here are just unbelievable," she said. "The librarians and curators are inspirational. As part of my day-to-day work, I have been able to have a first-hand view of Library treasures like Lincoln's inaugural speech notes and the Rosa Parks papers, things I would never see anywhere else. It's an amazing, interesting place."
It also is the largest library in the world, with millions of books, recordings, photographs, maps and manuscripts in its collections.
"We're a research library, and a lot of times people don't see how important research libraries are," Klutts said. "We collect materials from across the world that no other institution has the capacity to collect, even the national materials of other countries. We have the U.S. Copyright Office, so we collect both published and unpublished works. We are the leaders in preservation techniques and assist libraries throughout the world to save their collections when there are fires, floods or other natural disasters."
The Library is home to the Congressional Research Service, which works exclusively for Congress, providing confidential, objective and authoritative research and analysis to help inform the legislative debate. It is also the home of the Law Library of Congress and the National Library Service for the Blind and Physically Handicapped.
The training she received at UHV, especially the diversity of her master's degree, has been a major factor in her success in leadership roles at the Library of Congress, Klutts said.
"You have to know how to deal with a lot of different people in my job," Klutts said. "It helped that I was able to include studies in subjects such as psychology and history in addition to business and finance. That kind of diverse knowledge is essential in the day-to-day work that I do. The Library has scientists, curators and other experts in their fields, and I have to balance the checkbook. I really have to be able to get along with them."
The University of Houston-Victoria, located in the heart of the Coastal Bend region since 1973 in Victoria, Texas, offers courses leading to more than 80 academic programs in the schools of Arts & Sciences; Business Administration; and Education, Health Professions & Human Development. UHV provides face-to-face classes at its Victoria campus, as well as an instructional site in Katy, Texas, and online classes that students can take from anywhere. UHV supports the American Association of State Colleges and Universities Opportunities for All initiative to increase awareness about state colleges and universities and the important role they have in providing a high-quality and accessible education to an increasingly diverse student population, as well as contributing to regional and state economic development.