Close
UHV graduate student publishes crime story in anthology
When University of Houston-Victoria graduate student Bob Lynch needed inspiration for a short story, he turned to personal experience from a nighttime trip to a Chinese buffet.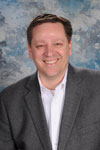 Bob Lynch
Now his fiction story, "The Hero," which originally was an assignment for a creative writing graduate class at UHV, will be published in the "Eclectically Criminal" anthology by Inklings Publishing in Houston. The story is about a woman who has a medical emergency at a Chinese buffet. People rush to help her, but not everyone in the crowd is what they seem.
"I put in a lot of stereotypes in the story to make people reassess how they think about these stereotypes," said Lynch, who is working toward a Master of Fine Arts in creative writing and a Master of Science in publishing from UHV. "It's in a crime anthology, so there is an element of crime in the story. It has a surprise ending that makes people think."
Lynch, an associate professor of developmental English and journalism at Lone Star College-North Harris, heard about the anthology from a friend in the Houston Writers Guild.
"We have a close circle of friends who we bounce our work off of," Lynch said. "I asked one of my colleagues to read this story. When she heard about this anthology, she suggested I submit it. I sent it in and got a response within two weeks."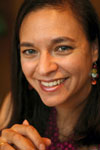 Diana López
Because he wrote the story as a class assignment, Lynch posted his story to the online UHV class discussions and received feedback from his fellow students and his instructor, Diana López, an assistant professor of creative writing and director of the undergraduate creative writing program.
"The students in the MFA creative writing program are encouraged to seek publication, but the focus of the class is on the craft of writing," López said. "We evaluate things like voice, plot and dialogue. The students are writing on a variety of topics and genres, and the exposure to different themes and voices is a highlight of participating in this course."
In addition to learning about writing techniques at UHV, Lynch teaches writing to his students at Lone Star College-North Harris. He also uses his writing for UHV to inspire his Lone Star students.
"I was trying to get my own students to write a story one day," Lynch said. "I told them, 'I'm doing my homework, too. Do you want to hear it?' They said they did. It was really neat that my students were some of my supporters."
Lynch already has one graduate degree from UHV. In spring 2014, he was named the UHV School of Education & Human Development's outstanding graduate student for a Master of Education in adult and higher education.
"Getting the outstanding graduate student award opened a lot of doors for me," Lynch said. "Now, with the option to earn master's degrees in publishing and creative writing, UHV and I are on a roll."
Lynch's success also is a good thing for UHV's MFA in creative writing program.
"We hope that Lynch's publication is the first of many for our students," López said. "The reputation of an MFA program is in large part determined by the publication history of its faculty and students. It's nice to see this publication happen within the first year of our program."
A launch party for the "Eclectically Criminal" anthology will be from 6 to 10 p.m. Friday at Gratifi Kitchen + Bar, 302 Fairview St. in Houston. In addition to book signings and opportunities to speak with the story authors, there also will be a Clue-themed game in which attendees will receive clues and can win prizes.
The anthology is available for a temporary discount of $6.59 online at the Inklings Publishing website, www.inklingspublishing.com. It also is available for $9.99 on Amazon.
The University of Houston-Victoria, located in the heart of the Coastal Bend region since 1973 in Victoria, Texas, offers courses leading to more than 80 academic programs in the schools of Arts & Sciences; Business Administration; and Education, Health Professions & Human Development. UHV provides face-to-face classes at its Victoria campus, as well as an instructional site in Katy, Texas, and online classes that students can take from anywhere. UHV supports the American Association of State Colleges and Universities Opportunities for All initiative to increase awareness about state colleges and universities and the important role they have in providing a high-quality and accessible education to an increasingly diverse student population, as well as contributing to regional and state economic development.