Close
MBA student earns Mrs. Sugar Land crown
A University of Houston-Victoria graduate student has earned a sash and a crown in the preliminary level of the Mrs. America pageant.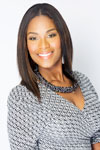 Jimaniece Ware Berry
Jimaniece Ware Berry, a Master of Business Administration student in the UHV School of Business Administration, is the new Mrs. Sugar Land and will compete in the Mrs. Texas pageant next month. This was the second pageant she had entered, and her platform promotes breast cancer awareness.
"The pageant has given me a voice," said Berry, who works as a pharmaceutical sales representative specializing in diabetes. "Before, I could tell women about the importance of getting a mammogram, and no one would listen. Now, they see the sash and they listen. Even if it's simply motivating people to go to school, I want people to be motivated. I hate to see people, especially women, who are not motivated or don't have someone to look up to. I want to be that person."
The importance of her platform is something Berry knows from personal experience. When she was 28, she had a double mastectomy after learning that both her mother and aunt carry the breast cancer gene. Her doctor recommended she receive a mammogram, which showed she had abnormal tissue.
That experience, as well as watching others in her family go through cancer, inspired Berry to take action. She has aligned herself with several nonprofits, including Susan G. Komen, The Rose, Angels Surviving Cancer and the Cherished Hearts Breast Cancer Foundation. She also started a charity called Pink Project. Through that group, she began offering "Think Pink for Success" scholarships to female high school seniors who have lost their mothers to breast cancer.
"My dream is to eventually open a facility in Houston under the Pink Project banner that will house everything a woman could need regarding health and personal care," Berry said. "I want women to be able to come through the doors and have access to counseling, drug abuse services, health exams, child care, career services, job coaching and more. And I want to be able to run the business as well as be available to step in if medical help is needed."
On top of the pageant, her career and starting her own charity, Berry is on track to graduate in December 2016. Her concentration is in marketing, and once she graduates, she plans to apply to schools to become a physician assistant.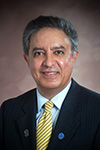 Farhang Niroomand
"Jimaniece is an exceptional person who has dedicated her life to impacting others in a positive way," said Farhang Niroomand, dean of the UHV School of Business Administration. "UHV is proud to have her as a student, and I am proud to know that she chose our school as the place where she will equip herself to carry out her lifelong goals."
Berry's life is a whirlwind of activity, and she has a support network that encourages her at each step. Her husband, Vernon Berry, owns a pool company that has sponsored a lot of her work as part of the pageant. She also has a 3-year-old son, and the family is in the process of adopting Vernon's 12-year-old niece. Berry's mother, Georgia Ware, has helped with child care and at home. She also receives support and encouragement from Chiniqua Pettaway, Ms. America 2013 and one of Berry's best friends, who first encouraged Berry to take part in pageants as a way to reach out to others, and Kathleen McGee, who Berry refers to as a grandmother figure.
"These people have been my backbone, my support system and my everything through this," Berry said. "I have gone through a lot in my life regarding my health. I want to reach out to girls and young women who have been lost along the way or who didn't have support."
The next step in the pageant will be the Mrs. Texas competition at 5:30 p.m. April 18 in the Palace Theater in Corsicana. The winner is named Mrs. Texas and will go on to the Mrs. America pageant on Sept. 26 in Sevastopol, Crimea.
The University of Houston-Victoria, located in the heart of the Coastal Bend region since 1973 in Victoria, Texas, offers courses leading to more than 80 academic programs in the schools of Arts & Sciences; Business Administration; and Education, Health Professions & Human Development. UHV provides face-to-face classes at its Victoria campus, as well as an instructional site in Katy, Texas, and online classes that students can take from anywhere. UHV supports the American Association of State Colleges and Universities Opportunities for All initiative to increase awareness about state colleges and universities and the important role they have in providing a high-quality and accessible education to an increasingly diverse student population, as well as contributing to regional and state economic development.