Close
UHV SBDC prepares for Leadercast Victoria broadcast
Victoria-area business owners, managers and staff members will have the chance to listen to some famous international voices including Malala Yousafzai and Rudy Giuliani at this year's Leadercast.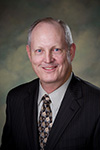 Joe Humphreys
The worldwide leadership conference is a full-day live simulcast from Atlanta. The Victoria simulcast is hosted by Parkway Church and coordinated by the University of Houston-Victoria Small Business Development Center in partnership with the UHV School of Business Administration. The 15th annual Leadercast will be from 7 a.m. to 3:30 p.m. May 8 at Parkway Church, 4802 N. John Stockbauer Drive.
"Leadercast is one of the most anticipated events the UHV SBDC is a part of," UHV SBDC Director Joe Humphreys said. "The information and techniques shared by these speakers is valuable for anyone who wishes to be a leader. We're glad to have the opportunity to bring it to Victoria for another year."
This is the fourth year Leadercast has been simulcast in Victoria. Humphreys attended a 2010 simulcast of the event in Beeville and decided the following year to bring Leadercast and the powerful message it shares to Victoria.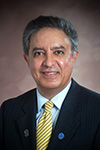 Farhang Niroomand
"Being a leader is a great responsibility that requires strength and character," said Farhang Niroomand, dean of the UHV School of Business Administration. "Good leadership is necessary for any company or community to achieve success, and I encourage everyone to take advantage of the opportunity to participate in this year's Leadercast."
The theme for this year's Leadercast is The Brave Ones. The messages delivered are intended to challenge leaders to focus on the courage necessary to lead. This year's speakers include:
Giuliani, 107th mayor of New York City from 1993 to 2001
Yousafzai, Pakistani activist for female education and the youngest-ever Nobel Prize laureate
Seth Godin, best-selling author
Aja Brown, mayor of Compton, Calif.
Bill McDermott, CEO of SAP AG, the world's leading provider of business software
Ed Catmull, president of Pixar and Disney Animation Studios
Andy Stanley, leadership author and communicator
MDR Rorke Denve, Navy SEAL commander and author
Bill and Giuliana Rancic, award-winning personalities and co-hosts of Leadercast
Attendees will receive event journals, bags with event materials, breakfast, lunch and snacks at Parkway. Everything necessary will be provided at the location, so attendees will not need to leave the premises. During lunch, UHV Interim President Vic Morgan will give a presentation about the "Ten Commandments of Leadership."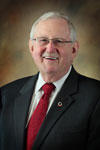 Vic Morgan
"This year's Leadercast has a focus on bravery, but there are many more qualities and behaviors that strong leaders share," Morgan said. "I plan to present some of those traits, including honesty, respect and communication. A true leader knows strong leadership is about helping others get what they want as opposed to what the leader wants."
Tickets to the event should be purchased as soon as possible, said Jean Smith, UHV SBDC training coordinator. Those who purchase tickets by Tuesday will get an early-bird discount of $89.99 for individual tickets, $84.99 for groups of five to nine people, and $80.99 for groups of 10 or more. Starting Wednesday, all tickets will cost $99.99. Attendees who choose to purchase tickets at the door will pay $125 each. To purchase tickets, go to www.LeadVictoria.com.
Registration for the event begins at 7 a.m. on May 8 with the program starting at 7:45. The presenting sponsor for this year's Leadercast is TDECU Business Services. Other sponsors include All Things Crossroads, Klean Corp International, Comfort Keepers, Chick-fil-A of Whispering Creek, Parkway Church, H-E-B, Dignity, Golden Crescent Magazine and TDECU Retail Services.
For more information and tickets, call the UHV SBDC at 361-485-4485 or visit www.uhv.edu/small-business/ and click on the Leadercast Victoria link.
The University of Houston-Victoria, located in the heart of the Coastal Bend region since 1973 in Victoria, Texas, offers courses leading to more than 80 academic programs in the schools of Arts & Sciences; Business Administration; and Education, Health Professions & Human Development. UHV provides face-to-face classes at its Victoria campus, as well as an instructional site in Katy, Texas, and online classes that students can take from anywhere. UHV supports the American Association of State Colleges and Universities Opportunities for All initiative to increase awareness about state colleges and universities and the important role they have in providing a high-quality and accessible education to an increasingly diverse student population, as well as contributing to regional and state economic development.