Close
UHV students spend spring break helping others in New Orleans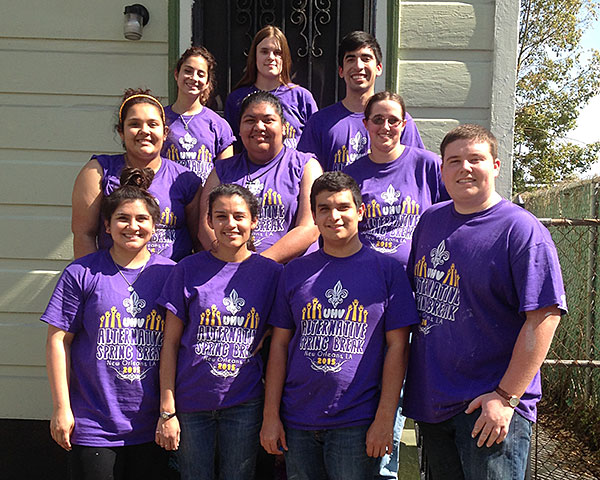 Ten University of Houston-Victoria students take a break from restoring veterans' homes in New Orleans as part of the university's Alternative Spring Break program. From top to bottom, left to right, the students are Victoria Arriaga, Amber Alegria, David Brito, Jackie Medina, Corina Vences, Erin Jirkovsky, Lupita Reyes, Sarai Puente, Raul Plata Jr. and Perry Geurin.
Ten University of Houston-Victoria students recently spent their Spring Break assisting veterans.
The students took part in UHV's inaugural Alternative Spring Break trip to New Orleans, where they helped restore the homes of two elderly veterans during the course of a week. The students were accompanied by UHV Student Life coordinators Dawn Savage and Ahmet Aksoy.
"The trip was outstanding," Savage said. "We were able to accomplish a lot with our service while also having some fun with the students. I think they really enjoyed it. It was a long week but an amazing week."
The trip began on March 15 with a day of driving from Victoria to New Orleans. The students worked with Rebuilding Together New Orleans, part of the national Rebuilding Together organization that aims to revitalize houses for low-income families, veterans, disabled residents, single parents and others. For four days, the students replaced and cleaned windows, primed and painted the houses and more. One of the homes was more than 100 years old.
Alternative Spring Break trips are offered by many universities. UHV Student Life & Services developed the initiative to support beyond-the-classroom learning opportunities and develop students' sense of civic responsibility and understanding.
This year, 62 students applied for the trip, which made the process of narrowing down the applications to 10 difficult, Savage said. Students submitted applications explaining why they wanted to go and what they hoped to gain from the experience. The applications were then reviewed by a committee that read the applications with no identifying information attached.
"It's an opportunity for students to get out of their comfort zones, do something different and do a little bit of traveling," Savage said. "We had some students on the trip who had never been out of Texas before. This was a great opportunity for them to see a different state, get a break from school and do something productive."
The students stayed in the St. Jude Community Center in the French Quarter and woke up at 6 a.m. Monday through Thursday. Once they finished their service work at 4 p.m., they had time to do something as a group, including reflection, exploring New Orleans and going to a Pelicans basketball game.
On Friday, the students had the full day to explore the city. The group took a historic cemetery tour of St. Louis Cemetery No. 1, the second-most visited cemetery in the world. They also visited the Audubon Aquarium of the Americas. The entire trip, including meals and activities, was sponsored by UHV.
"A big part of this was giving students a different experience than they would have at home or here in Victoria," Savage said. "It also showed them that service is something that is rewarding, and hopefully this trip sparked their interest in continuing service in the Victoria community."
David Brito, a senior biology major from Ganado, first heard about Alternative Spring Break when he received an email. He looked into the trip and decided it would be something he was interested in, especially because he's done volunteer work before.
"It was a real eye-opening experience," Brito said. "I learned that what I have should not be taken for granted. We saw a lot of homeless people in New Orleans. Homeless people ate at the St. Jude's Community Center where we stayed, so we got a close look at why we were there."
The impact of the volunteer work was noticed by all the students, Savage said. One student pointed out that one of the homeowners' granddaughters was coming by during the restoration work. The student said that the volunteers were not just impacting the life of the veteran who lives in the house. They also were helping the man's family members by giving them a place where they will feel comfortable and at home when they visit.
"It's worth doing," Brito said. "It's hard work, but in the end, you get a feel for why you're doing it, and you get to know yourself a bit more."
One of the positive impacts of the trip was how it brought the students together, Savage said. At the beginning, the majority of the students did not know each other. By the end of the trip, students left with others they can call friends and memories that will last a lifetime.
"I hope we can expand the trip in future," Savage said. "New Orleans was an awesome location, and it was great working with Rebuilding Together New Orleans. I would love to have different locations available and maybe focus on projects such as environmental needs or feeding the hungry."
UHV's inaugural Jags Join In – Day of Service will take place at 8:30 a.m. April 11. UHV students, faculty, and staff will be able to give back to the community.
For more information on Jags Join In – Day of Service or other civic engagement initiatives, contact Student Life & Services at 361-485-4411 or email Savage at savaged@uhv.edu.
The University of Houston-Victoria, located in the heart of the Coastal Bend region since 1973 in Victoria, Texas, offers courses leading to more than 80 academic programs in the schools of Arts & Sciences; Business Administration; and Education, Health Professions & Human Development. UHV provides face-to-face classes at its Victoria campus, as well as an instructional site in Katy, Texas, and online classes that students can take from anywhere. UHV supports the American Association of State Colleges and Universities Opportunities for All initiative to increase awareness about state colleges and universities and the important role they have in providing a high-quality and accessible education to an increasingly diverse student population, as well as contributing to regional and state economic development.