Close
UHV assistant biology professor studies local salt marshes
Dmitri Sobolev thinks there's never been a better time to be a faculty member at the University of Houston-Victoria.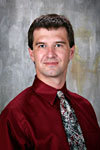 Dmitri Sobolev
Sobolev, an assistant professor of biology, has taught in the UHV School of Arts & Sciences since 2009. Throughout the years, he managed to not only grow as a passionate biologist, but as a professor and person, he said.
Sobolev joined Edwin Cruz-Rivera, a professor at University of Virgin Islands, on a research project to understand the role of archaea, a unique and poorly understood group of organisms found in Hawaiian coral reefs. The project started in 2008 and ended in 2013.
Sobolev's hypothesis was that the microorganisms found on the coral had the potential of leading to the discovery of a new biosphere. Sobolev said his studies suggest that organisms responsible for chemical transformations in the environment weren't what scientists originally thought.
"Conventional wisdom suggests that bacteria will dominate nitrogen cycling processes; however, working with Dr. Cruz-Rivera and former UHV graduate student Matthew Boyett, we demonstrated that archaea are present and that they may be responsible for most of the nitrogen conversion occurring in those environments," Sobolev said.
The research was funded in part by a UHV Junior Faculty Grant and published in Ocean Science Journal and Journal of Oceanography. Sobolev said parts of the project also were presented at state and national American Society for Microbiology meetings.
Sobolev now is working on local projects alongside his students.
"It doesn't cost much to drive to the Guadalupe River," Sobolev said. "The local environments, including river and coastal salt marshes, present an excellent opportunity for comparison studies. In contrast to what is seen in coral reefs, archaea do not seem to be detected in freshwater algal mats, which suggests a dramatic difference in how those ecosystems respond to nitrogen pollution."
Because Sobolev's work is in both molecular and environmental biology, his students get the chance to explore two potential career paths.
"They get some practical experiences," he said.
Sobolev also serves on the UHV Faculty Senate. The experience has been a learning one. As a graduate student, he was somewhat insulated from politics and self governance, he said.
"On the tenure track, it is a different sort of dynamic, where you get to determine the future of the organization and your interaction with colleagues gets to a higher level," he said.
Being in Victoria has been a welcome change from Jackson, Miss., where Sobolev once taught.
"Some would say that Victoria is in the middle of nowhere; I say it is in the middle of everything," Sobolev said, adding that Austin, Houston, Corpus Christi and San Antonio are a short drive away.
Sobolev wants students to understand this point if and when they consider attending UHV.
"As a professor, if you end up in an established school, most everything has been done," he said. "This is the exciting part. This is where you make a difference and build your legacy."
I am a Jaguar is an online feature highlighting the exceptional students who attend the University of Houston-Victoria. To nominate a student, contact Jeremy Shapiro, UHV communications manager, or call 361-570-4296.
The University of Houston-Victoria, located in the heart of the Coastal Bend region since 1973 in Victoria, Texas, offers courses leading to more than 80 academic programs in the schools of Arts & Sciences; Business Administration; and Education, Health Professions & Human Development. UHV provides face-to-face classes at its Victoria campus, as well as an instructional site in Katy, Texas, and online classes that students can take from anywhere. UHV supports the American Association of State Colleges and Universities Opportunities for All initiative to increase awareness about state colleges and universities and the important role they have in providing a high-quality and accessible education to an increasingly diverse student population, as well as contributing to regional and state economic development.