Close
UHV school reworks name to give health professions more prominence
The University of Houston-Victoria School of Education & Human Development has a new name that more accurately reflects the degrees offered by the school now and in the future.
The school officially became the UHV School of Education, Health Professions & Human Development at the end of March.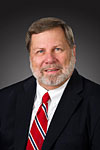 Fred Litton
"While preparing future educators remains the core mission of our school, health professions are poised to become a larger and more recognized component of what we offer," said Fred Litton, dean of the UHV School of Education, Health Professions & Human Development. "We see tremendous growth potential in health professions. UHV's academic master plan calls for adding many more programs during the next decade. Several of those new degrees could be in the health field."
Litton proposed changing the name in December, and the school's faculty members voted in January in favor of the name adjustment. The Texas Higher Education Coordinator Board recently approved the new name. The school is rolling out a new logo, which will be part of future publication materials.
"The timing is right to incorporate health professions into the name of the school given that our health studies bachelor's degree is off to a good start and the tremendous potential that exists for future program development," said Jeffrey Cass, UHV provost and vice president for academic affairs. "While sometimes there is a reluctance to change in higher education, I'm pleased Dean Litton and the faculty members had the foresight to rename the school to reflect what it offers."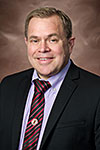 Jeffrey Cass
The school began offering a Bachelor of Science in health studies in the fall. The program helps students enter employment in the public health sector and can also help those who wish to become health educators or enter other areas of study, such as nursing, physical therapy, social work, athletic training and more.
Sandra Vamos, a UHV associate professor of health education, joined the faculty in the fall to teach health studies courses. The school made health and learning the focus of its fall symposium and renowned German health educator Klaus Klein gave two speeches in February at UHV. As part of its state appropriation request, UHV has asked for $500,000 to set up a health studies institute that would provide outreach to rural areas.
Litton said the school eventually would like to hire additional faculty members and start a master's degree in health studies. Also in the works is a bachelor's degree in kinesiology, which could start this fall if approved by the coordinating board.
"With this name change, we are positioning ourselves to accommodate future programs," Litton said.
Should UHV once again offer its own nursing degrees, the UHV School of Education, Health Professions & Human Development would be the likely landing spot, Cass said.
The UHV School of Nursing will transition to UH in the fall, pending approval by the Texas Higher Education Coordinating Board and the Southern Association of Colleges and Schools Commission on Colleges. Current UHV students can continue to take nursing courses at the same teaching locations, although they will graduate as UH students.
Although not a health professional by trade, Litton has experience in higher education health administration. He was the founding dean of the Louisiana State University at Alexandria College of Professional Studies. Nursing and allied health were among the professional studies offered.
"It's not a foreign discipline to educators," Litton said. "Educators and health professional collaborate all the time, and some jobs blend the two, such as school nurses."
Having health professions listed in the name of the school will make it more apparent what programs are offered, which could help with recruiting and external funding, Litton said. Some grants require the applying institutions to teach health-related degrees.
"This change is going to make our health studies program and any additional health professional degrees more visible," he said. "The name alone gives prospective students a better idea of the areas of study we offer."
The University of Houston-Victoria, located in the heart of the Coastal Bend region since 1973 in Victoria, Texas, offers courses leading to more than 80 academic programs in the schools of Arts & Sciences; Business Administration; and Education, Health Professions & Human Development. UHV provides face-to-face classes at its Victoria campus, as well as an instructional site in Katy, Texas, and online classes that students can take from anywhere. UHV supports the American Association of State Colleges and Universities Opportunities for All initiative to increase awareness about state colleges and universities and the important role they have in providing a high-quality and accessible education to an increasingly diverse student population, as well as contributing to regional and state economic development.