Close
High school students explore math, robotics at event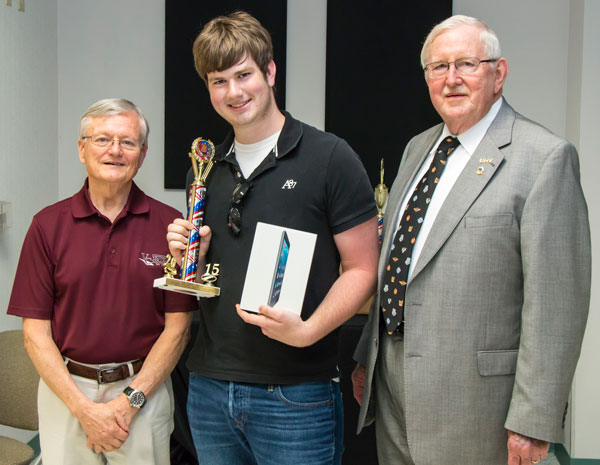 Victoria West High School senior Jake Smitherman, center, stands with Victoria College President Tom Butler, left, and UHV Interim President Vic Morgan. Smitherman won first place in the senior level mathematics competition during Math & Robotics Awareness Day on Thursday, and was awarded a trophy and an iPad Mini.
When Victoria West High School senior Jake Smitherman originally took the Math & Robotics Awareness Day individual math test two years ago, he didn't place.
Instead of being discouraged, Smitherman, who placed second in that year's team mathematics competition, decided he needed to try harder. On Thursday, the extra effort paid off when he won first place in the individual test in his grade level for the second year in a row.
"I love the challenge involved in math," Smitherman said. "When someone gives me large numbers to multiply, I try to do it in my head before using a calculator. I like to push myself. Math is set in stone; that's why I like it. There's either right or wrong; there's no halfway in math."
Students from across the Crossroads had the opportunity to explore different aspects of math and robotics Thursday at the 20th Annual Math & Robotics Awareness Day, previously known as Math & Computer Science Awareness Day. The event funded by Alcoa Foundation. UHV and Victoria College collaborated on the event, which attracted about 240 middle and high school students. High schools with students attending included Victoria West, Victoria East, St. Joseph, Faith Family, Liberty Academy, Hallettsville, Goliad and Edna.
"Victoria is a promising area with lots of companies like Alcoa, Caterpillar and Invista willing to invest in programs like this one because they need people with this type of knowledge," said Ricardo Teixeira, UHV assistant professor of mathematics and director of the mathematics and core curriculum programs. "My ultimate dream is to attract more students to UHV by showing them the quality and caliber of our programs."
Each high school student took a 12-question math test, and prizes were divided into different grade levels. The first-place winner from each grade level received a trophy and an iPad Mini.
After the test, students participated in a variety of sessions, including a presentation by Teixeira called Mathemagics, which showed how math plays a part in magic tricks. Teixeira explained how probabilities can be used when guessing cards and computation plays a part in a variety of tricks.
"I want to show students that math can be fun and interesting," Teixeira said. "It's not all boring equations and rules. After each presentation, I saw students in the hall talking about the different tricks I did and how they worked. It's really nice to see that interest blossoming in students."
Another session focused on the use of math in Crime Scene Investigation. The class, led by Alexandra Corbin, a UHV mathematics graduate student, looked at how CSI teams use math to solve crimes, such as using the angle of a gunshot to calculate the height of a shooter or blood splatter patterns to pinpoint the location where a victim was injured.
In addition to classroom sessions, students also watched a robotics demonstration given by high school students taking part in a robotics course led by Alireza Tavakkoli, director of the UHV digital gaming and simulation program and an assistant professor of computer science. The course also is funded by a grant from Alcoa Foundation.
Kayla Garrett, a senior at Victoria West who is a student in the robotics class, had the opportunity to show off her team's maze-solving robot, which uses trigonometry in its programming to navigate and stay parallel to the maze walls. She and her partners, Kevin Clark and Zachary Janzow, spent four hours the night before the event working on the programming to prepare for the demonstration.
"One factor we didn't originally consider was the difference in the floor material," Garrett said. "There's more friction on this floor than in the classroom, so we had to recalibrate the programming to take that into account. It's really amazing to see that the calculus we learned in class is being applied to a real-life situation in robotics."
Presenting sessions and demonstrations is an important part of showing students the importance of science, technology, engineering and mathematics, or STEM, fields. Subjects like math and science are sometimes taught in a way that is not engaging or challenging, Teixeira said.
"I want students to know it's more than looking at equations," Teixeira said. "I want to inspire them to pursue careers in mathematics or other STEM careers. Victoria, as a community, can benefit from a program that targets students performing well in math and computer science."
In addition to the presentations, students had the opportunity to talk with area STEM employers, including Alcoa, Pioneer, Diamond Fiberglass, INVISTA, VISD Career and Technical Education, and the UHV School of Nursing. The representatives at the expo offered demonstrations of what companies do and how STEM careers are essential to their work.
The winners for the math contest by grade and high school were:
Freshmen – Drew Powell, Hallettsville, first; Jordan Mendez, Liberty Academy, second; Vy Nguyen, Victoria West, third
Sophomores – Christopher Elizondo, Victoria West, first; Jeremiah Mendez, Liberty Academy, second; Cameron Reyes, Goliad, third
Juniors – Daycee Bushman, Liberty Academy, first; Kevin Clark, Victoria West, second; Tristan Vasquez, Faith Academy, third
Seniors – Jake Smitherman, Victoria West, first; Zoe Ng, Victoria West, second; Jacob Baker, Hallettsville, third
The University of Houston-Victoria, located in the heart of the Coastal Bend region since 1973 in Victoria, Texas, offers courses leading to more than 80 academic programs in the schools of Arts & Sciences; Business Administration; and Education, Health Professions & Human Development. UHV provides face-to-face classes at its Victoria campus, as well as an instructional site in Katy, Texas, and online classes that students can take from anywhere. UHV supports the American Association of State Colleges and Universities Opportunities for All initiative to increase awareness about state colleges and universities and the important role they have in providing a high-quality and accessible education to an increasingly diverse student population, as well as contributing to regional and state economic development.