Close
UHV student government president elected to a second term
University of Houston-Victoria junior Bola Adebayo said one year leading the university's Student Government Association simply wasn't enough time to get everything accomplished.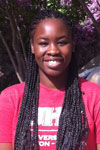 Bola Adebayo
Now she will have two years to work on her to-do list. UHV students re-elected the biology major from Houston to the SGA presidency position for the 2015-2016 school year.
"It's been a great learning experience for me," she said. "Based on this school year, I know what I want to do differently next year. I know what I want to push for. The first term showed me how to go about getting things done."
The association serves as the liaison between students and the university's administration. It also enhances student life by sponsoring and promoting participation in student activities. Adebayo will again serve as the student representative on the UHV President's Cabinet.
Adebayo said she has enjoyed communicating with UHV administrators and helping bring together UHV student organizations. The organizations combined forces Saturday to operate a spring carnival for students and community members.
"If SGA can continue to have a strong relationship with the other student organizations, there's a lot of good we can achieve together," she said.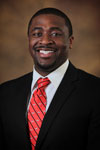 Dakota Doman
One of Adebayo's plans for next year is to explore what it will take for the university to have additional upper-division, face-to-face courses.
"Bola will do a good job as SGA president this coming school year because of the experience she has accumulated," said Dakota Doman, UHV director of Student Life & Services and SGA advisor. "She will have a good team around her that also is experienced at leading student government."
Lola Ojo was re-elected as speaker of the senate while Christo Varghese was chosen as vice president after serving this year as finance director. Finance Director Christopher McDonald and Public Relations Director Madison Collins also have been active in SGA.
Adebayo said the executive board already has started planning for next year. Those conversations will continue into the summer.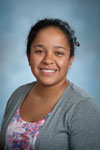 Ashleigh Kellis-Carr
"Everyone who was elected to the executive board has worked together before," she said. "We know how to work with one another. I'm really excited about next year. We will get our names out there more and talk with students about what they want to see."
Ashleigh Kellis-Carr, a UHV student success coach and SGA advisor, said Adebayo and the other officers had a bit of a learning curve in the fall as they got used to running the organization. They were more confident in those positions in the spring.
"It's advantageous in the sense that the executives already have an idea of what improvements they would like to make, so they can hit the ground running next school year," Kellis-Carr said.
Other students elected to the 2014-2015 Student Government Association are:
Delma Matthew, School of Arts & Sciences senator
Catherine Newell, School of Business Administration senator
Cassandra Flores, School of Education, Health Professions & Human Development senator
Stanley Smith, Jesus Martinez and Juan Vega, junior representatives
Antionette Humphries and Megan Huerta, senior representatives
A third senior representative and senators representing freshmen, sophomores and graduate students will be filled later. Adebayo said applications for those open positions will be available in the fall.
For more information about SGA, visit www.uhv.edu/student-government-association/ or email sga@uhv.edu.
The University of Houston-Victoria, located in the heart of the Coastal Bend region since 1973 in Victoria, Texas, offers courses leading to more than 80 academic programs in the schools of Arts & Sciences; Business Administration; and Education, Health Professions & Human Development. UHV provides face-to-face classes at its Victoria campus, as well as an instructional site in Katy, Texas, and online classes that students can take from anywhere. UHV supports the American Association of State Colleges and Universities Opportunities for All initiative to increase awareness about state colleges and universities and the important role they have in providing a high-quality and accessible education to an increasingly diverse student population, as well as contributing to regional and state economic development.