Close
Poet, artist explores intimate, emotional expression in Downtown Arts Series
When Samuel Ace considers his work, intimate is a word that fits it well.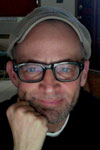 Samuel Ace
The poet and artist has published several books of poetry including "Normal Sex" and "Home in Three Days. Don't Wash." The poems explore relationships and adult themes through the lens of personal relationships and the connections between individuals.
"I hope that the work evokes an experience of language, sound and emotion that creates a lucid space in the moment of reading or hearing," Ace said.
Ace will be the last speaker in the inaugural University of Houston-Victoria Downtown Arts Series. He will present a reading of his poetry with other media and art elements at 7 p.m. April 24 at the UHV Center for the Arts, 204 N. Main St. The event is free and open to the public.
In addition to his poetry, Ace is a visual artist who has produced works in photography as well as a few short films. He also has coordinated his visual artistry with his writing. He currently is working on a piece titled, "The Intent of These Acts," presented in Tucson. The piece looks at Arizona's anti-immigration and anti-ethnic studies laws by examining the language in the bills and incorporating imagery that reflects those themes.
It's that diversity of talent and openness about social issues that makes Ace a perfect choice for a UHV presentation, said Charles Alexander, UHV poet and designer in residence, and director of the Master of Fine Arts in creative writing program.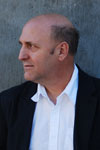 Charles Alexander
"Sam is a triple-threat artist," Alexander said. "He's just perfect for this area. He's kind of on the social edge, too, as an activist in gender issues, and I think that's something important to bring to this community. There's been so much talk in the last few years about gay rights, gay marriage and transgender issues. Sam brings those into focus while being an incredibly generous and nice human being."
Even though none of Ace's poems are directly autobiographical, his personal experiences are reflected throughout his work. In his first book, "Normal Sex," which was a finalist for the Lambda Literary Award in Poetry, much of the content came out of his childhood.
The book's first section, "Tales of a Lost Boyhood," is written from the point of view of a child experiencing the world for the first time and coming into some conflict by dealing with a gender identity that doesn't necessarily match what his family or community expect. That theme is one that recurs in Ace's work.
"I don't think that a person's life can ever be separated from his or her work," he said. "I am a poet who is also transgender. Like every poet, my writing can't help but incorporate my views on the world, which include my sexual identity, gender identity, sexuality, race, relationships, the natural world, politics and every other thing I experience. In other words, my work becomes how I find my place in the world as a living, thinking, speaking, singing human being."
In his book, "Home in Three Days. Don't Wash.," Ace looked at experiences that focus on passion, love, lust and sexuality through language and emotional content. The title of the book is a reference to a phrase from a letter that Napoleon wrote to his wife, Josephine. Shifting identities – the voices and masks a person takes on in relating to others – are at play throughout the book.
"I want to offer a big picture in my work, because poetry has porous boundaries," Ace said. "The possibilities of poetry are continuously expanding to incorporate sound, music, content, narrative and more. Poetry allows me to be more fully present in the world."
Alexander first met Ace at a presentation of Ace's artwork at a women's bookstore several years ago in Tucson. Alexander's printing company, Chax Press, published Ace and Maureen Seaton's collaborative book, "Stealth."
"I like something said by Eileen Myles, a fellow poet, about Sam's work," Alexander said. "She said his poems are almost overly full. They continually spill themselves over into other spaces. So many people see poems as structured pieces that fit into certain little spaces, but Sam's poems break through that wall and show poems are like the world. My world connects to your world, and it doesn't have an end or closed off space."
Ace is the last scheduled speaker in the Downtown Arts Series, which was started by Alexander and Cynthia Miller, UHV artist in residence. The series was created to present an array of groundbreaking art practices to the Victoria community and encourage discussion about the arts. Alexander plans to begin the next season of the series in September. Several artists have agreed to take part, and an official schedule will be available later.
"This series has had such a great welcome from the Victoria community," Alexander said. "I'm so glad that our audience has consistently filled up our spaces, and I look forward to another great year."
For more information about the series, contact Alexander at 520-275-4330 or alexanderch@uhv.edu.
The University of Houston-Victoria, located in the heart of the Coastal Bend region since 1973 in Victoria, Texas, offers courses leading to more than 80 academic programs in the schools of Arts & Sciences; Business Administration; and Education, Health Professions & Human Development. UHV provides face-to-face classes at its Victoria campus, as well as an instructional site in Katy, Texas, and online classes that students can take from anywhere. UHV supports the American Association of State Colleges and Universities Opportunities for All initiative to increase awareness about state colleges and universities and the important role they have in providing a high-quality and accessible education to an increasingly diverse student population, as well as contributing to regional and state economic development.