Close
UHV students come together for day of service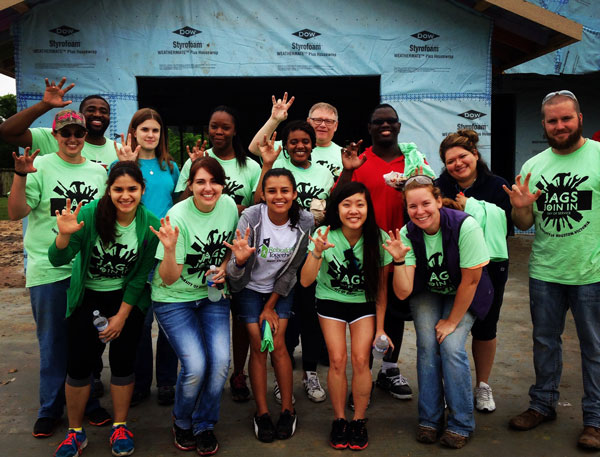 University of Houston-Victoria students and staff members stand outside one of the Habitat for Humanity homes they were helping to build as part of the Jags Join In – Day of Service on Saturday. The group, which included 20 students, spent the morning working on two houses on Swan Drive.
A group of University of Houston-Victoria students recently chose to spend their Saturday morning helping others instead of sleeping in.
UHVs inaugural Jags Join In – Day of Service event began at 8:30 a.m. Saturday on the 3500 block of Swan Drive in Victoria. The university partnered with Golden Crescent Habitat for Humanity, and 20 students spent the day building two houses.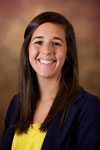 Dawn Savage
"Having a Day of Service gives the message to students that giving back to the community is important to UHV," said Dawn Savage, UHV Student Life coordinator. "I hope that it excites and inspires students to be able to give back in a way that is meaningful to them."
The Day of Service is one of many service projects UHV students have taken part in throughout the school year. During UHV's spring break in March, 10 students participated in an Alternative Spring Break trip to New Orleans, where they helped restore two veterans' homes. Students also helped prepare and serve food for Christ's Kitchen in Victoria in early March.
Habitat for Humanity also partnered with UHV in the fall when students taking the First-Year Seminar course took part building homes on the same street. Some students at the Day of Service were able to look down the block and see the completed houses they worked on in the fall.
Sarai Puente, a junior Spanish major from Victoria, was one of the students who went on the UHV Alternative Spring Break trip. She decided to take part in the Day of Service after her experiences in New Orleans.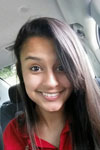 Sarai Puente
"The New Orleans trip was life changing and inspired me to get involved in more community service projects," Puente said. "The leaders of the trip told me about this event, and I thought it was a great opportunity to stay involved."
Students completed a variety of tasks, including nailing brackets into corners of beams, hanging and stapling house wrap into place, and caulking and sealing the exterior of the house. They worked side by side with other volunteers from the community.
"The students were dedicated and had a lot of ambition and determination," Savage said. "Whenever they were finished with a task, they would find the leader and ask what they could do next. They really enjoyed having the opportunity to take this time and give back to the community."
The students worked until noon, when they stopped for lunch. During lunch, the owner of one of the homes spoke to the group about why Habitat for Humanity was building this house and how the students' work is impacting her family.
"It was a great feeling to know that we were helping someone," Puente said. "She mentioned that her apartment is too small for her family, and her kids have never experienced having their own room. We were not only helping her. Our work also will affect her kids. This work will be life changing for a whole family, and that is just awesome."
Puente is no stranger to community service. She is employed by H-E-B, and the company encourages employees to be active participants in the community. Prior to the Alternative Spring Break trip, she had not taken part in any volunteering at UHV. Now, the trip and Day of Service have inspired her to be more involved in campus activities.
"If we're all working together to help each other, our community is going to profit and grow from it," Puente said. "As students, we're all going into different careers. In order to become productive, working members of society, it's important to get out there and experience these things."
The university intends to make the Jags Join In – Day of Service event an annual program. As it develops, Savage hopes to see it expand to include multiple service options in different areas of the community. The university's work with Habitat for Humanity will continue, and the university also plans to make connections with other nonprofit groups that need assistance, she said.
"I am very grateful that the university has created events like this for its students," Puente said. "These service programs are important. Hopefully, there will be even more opportunities for students to participate in and experience these life changing events in the future."
For more information about Jags Join In – Day of Service or other civic engagement initiatives, contact Student Life & Services at 361-485-4411 or email Savage at savaged@uhv.edu.
The University of Houston-Victoria, located in the heart of the Coastal Bend region since 1973 in Victoria, Texas, offers courses leading to more than 80 academic programs in the schools of Arts & Sciences; Business Administration; and Education, Health Professions & Human Development. UHV provides face-to-face classes at its Victoria campus, as well as an instructional site in Katy, Texas, and online classes that students can take from anywhere. UHV supports the American Association of State Colleges and Universities Opportunities for All initiative to increase awareness about state colleges and universities and the important role they have in providing a high-quality and accessible education to an increasingly diverse student population, as well as contributing to regional and state economic development.