Close
Twenty business alumni return to UHV to share advice with students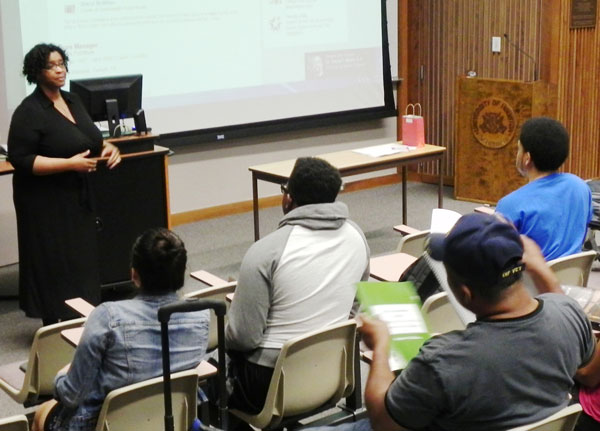 Teri Moten, left, principal of Moten Financial Services, listens to a question from a student during Monday's "Principals of Management" course. Moten was one of 20 UHV School of Business Administration alumni who visited classes during the school's Alumni Week.
During her presentation Monday to undergraduate students taking a University of Houston-Victoria business management class, Teri Moten emphasized that now is the time to take action.
Moten, the principal of Moten Financial Services in Victoria and a UHV alumna, recommended students acquire business experience through volunteering, internships and shadowing.
"Not only is it good to gain experience and make connections, but a lot of times it helps you narrow down career fields," she said. "Students may not know what they want to do until they experiment. You don't have to wait until after graduation to start experimenting."
Moten was one of 20 UHV School of Business Administration alumni who visited classes in Victoria, Katy and Sugar Land Monday through Thursday for the School of Business Administration Alumni Week. This marked the fourth time the school has made a collective effort to bring back alumni at the same time to talk to students.
The alumni came from the health care, financial services, marketing, accounting, entrepreneurial and information technology sectors. Many speakers talked about their job paths and how a UHV degree helped advance their careers. They also gave overviews of their professions and answered questions from students.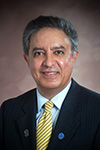 Farhang Niroomand
"I'm always glad to see our alumni return to UHV to share their achievements with those on their way to earning master's and bachelor's degrees," said Farhang Niroomand, dean of the UHV School of Business Administration. "I think it really registers for our students to hear directly from someone who was in their shoes not that long ago. Students asked some great questions and were eager to learn tips that will help them succeed after graduation."
Moten spoke to the "Principals of Management" course taught by Olga Chapa, an assistant professor of management. She shared both triumphs and disappoints, including owning a restaurant that eventually went out of business.
One student asked Moten what it cost to start a business. Moten said it's not always essential to put forth a lot of capital.
"You don't have to necessarily open a brick and mortar business," Moten said. "If you find something you are good at, people will pay you. You can have a business or consult from home or even your dorm room. I would recommend starting small and growing, rather than putting all your capital in at once."
Moten also suggested students begin a LinkedIn page even if they don't have any professional work experience.
"You need to be on LinkedIn to start connecting with people in the field," she said. "People want to help students. Professionals are extremely busy, so they aren't going to come knocking on your door. But if you ask professionals, many will be glad to help. And with technology, you are no longer limited to Victoria. Students can network across the country."
She asked students how many intended to get a Master of Business Administration. After a few hands were raised, Moten encouraged the entire class to continue their education by describing how an MBA added credibility and helped her land jobs.
"It's a huge differentiator to have those three letters next to your name," she said.
Other speakers during the UHV School of Business Administration Alumni Week were:
Nafis Bhuiyan, marketing manager for Eutex International, a global oil and gas company specializing in hazardous area products and services
Kyle Campbell, a field director for Northwestern Mutual
Kar Chong, a hospital systems analyst who owns retail, hospitality and real estate companies
Taj Clark, founder of Diverse Recovery, a substance abuse services business
Laquitta DeMerchant, founder of FuzionApps. She developed Aequitas, a career management app that allows users to find the average salaries of various jobs.
Rose James, partner at Z. A. R. Consulting, a company that works with executive leadership to bring effective management strategies
Donald Jirkovsky, owner of Lighthouse Development Resources, a coaching and professional development company
LaToya Henry Johnson, associate director of IT finance at AIG
Steven Kaufman, president and CEO of Zeus Mortgage
Clark Mott, an accountant for Occidental Petroleum Corp.
Patricia E. Nagle, senior lender for American Bank in Victoria
Benny Nguyen, an engineer and project manager for Cernus Development
Ashley G. Northrup, chief operating officer of QED Energy Associates, an engineering and geoscience technician training and consulting services company in the upstream petroleum industry
Wale Ogunye, staff process controls engineer at the Valero Port Arthur refinery
Chris Pemberton, executive consultant for the CEO and president at Walkercom Inc., a telecommunications service company
Ali H. Shabbir, senior finance and operations analyst for Express Energy Services
Nyma Shah, administrator director for the University of Texas MD Anderson Cancer Center in Sugar Land
Manan Sharma, vice president at JPMorgan Chase and Co.
Larry Shilling a project manager at Testengeer Engineering
The University of Houston-Victoria, located in the heart of the Coastal Bend region since 1973 in Victoria, Texas, offers courses leading to more than 80 academic programs in the schools of Arts & Sciences; Business Administration; and Education, Health Professions & Human Development. UHV provides face-to-face classes at its Victoria campus, as well as an instructional site in Katy, Texas, and online classes that students can take from anywhere. UHV supports the American Association of State Colleges and Universities Opportunities for All initiative to increase awareness about state colleges and universities and the important role they have in providing a high-quality and accessible education to an increasingly diverse student population, as well as contributing to regional and state economic development.