Close
Outstanding nursing students pursue goals while juggling family, school
When it comes to balancing the needs of family and education while achieving their dreams, the University of Houston-Victoria School of Nursing outstanding students for the spring are up to the challenge.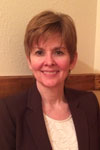 Kelly Randermann
Kelly Randermann, a Master of Science in Nursing student in the family nurse practitioner program, first graduated in 2013 from UHV with a Bachelor of Science in Nursing, and she has worked as a Registered Nurse for 28 years. Now the Columbus resident and UHV School of Nursing's outstanding graduate student for the spring is preparing to shift into the role of a family nurse practitioner while also raising three children with her husband.
"I've already accepted a position at Columbus Medical Clinic, the clinical site where I worked for the last three semesters," Randermann said. "Most of my career has been in the intensive care unit with a little bit in the emergency room. I needed a challenge, and I wanted to be able to impact patients in a different way."
Each semester, professors from the four UHV schools select outstanding graduates to be honored during commencement. UHV will hold two spring graduation ceremonies on May 16 at Faith Family Church, 2002 E. Mockingbird Lane. The 9 a.m. ceremony will be for graduates of the schools of Arts & Sciences and Education, Health Professions & Human Development. The 1 p.m. ceremony will be for graduates of the schools of Business Administration and Nursing. A School of Nursing Pinning Ceremony will follow the afternoon commencement ceremony.
Jennifer Kidneigh, a UHV RN to BSN student from Shiner, is the UHV School of Nursing's outstanding undergraduate student. She works full time at The Heights, a long-term care and rehabilitation facility in Gonzales.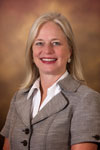 Kathryn Tart
"Jennifer and Kelly are two exceptional students who represent the School of Nursing's commitment to excellence in health care," said Kathryn Tart, dean of the UHV School of Nursing. "Their dedication to providing quality care to patients and furthering their own experience is inspiring, and I expect to see great things from them in the future."
For Kidneigh, working full time, attending school and being a single mom for her 11-year-old son is all part of how she pushes herself to succeed.
"I enjoy being busy," Kidneigh said. "I think if my life wasn't hectic, I wouldn't know what to do with myself. After I did the RN program at Victoria College and went straight to the BSN program at UHV, my son said, 'What? You're doing school again?' But he's actually pretty excited."
Her work at UHV prepared her for the next step in her career, Kidneigh said. She intends to step into the management side of nursing, and she also is considering continuing on in the School of Nursing program to become a family nurse practitioner with a focus on women's health.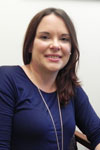 Jennifer Kidneigh
Before graduating as an RN in spring 2014 from VC and going through the UHV RN to BSN program, it had been 10 years since Kidneigh was in school. Going back to school was tough at first, but she graduated as valedictorian of the VC nursing program and received a full scholarship to UHV, she said.
"I tell people it's never too late," Kidneigh said. "It was tough but completely doable. Being a nontraditional student is not important. A lot of people think they can't get a scholarship if they're not coming straight out of high school, but it is possible."
For Randermann, the decision to return to school after working for more than 25 years as a nurse had to do with her passion for helping others and desire to expand what she is capable of doing for patients.
"My favorite thing is taking care of people," Randermann said. "This is just an additional layer of that. A family nurse practitioner is able to take care of patients in a family setting, including coordinating care, referring to other providers, and prescribing medications and other necessary equipment. I can fulfill this role thanks to what I was taught at UHV."
Randermann chose to pursue her master's at UHV after receiving her BSN from the university. She also was the outstanding undergraduate student in spring 2013. The experience from the BSN program, including the quality of professors and instruction, made her decision to continue at UHV as part of the first family nurse practitioner class an easy one, she said.
"Dr. Kay Reeve and Dean Tart have put together a wonderful and extremely rigorous program," Randermann said. "There have been so many great instructors and professors, it's hard to talk about just one. They really push you to heights you never thought you would reach. When you come out of it, you know you've been well prepared and you're going to do well."
The instructors' encouragement and teaching influenced Kidneigh's views on nursing in ways she did not expect. In particular, the conversations about politics in nursing provided an eye-opening perspective, she said.
Now Kidneigh and Randermann are preparing to graduate, and they are grateful for the support shown by both of their families. For Randermann, the support from her husband and three children helped her make it through the program. Kidneigh's parents helped take care of her son during long days of work and school. She hopes that her decision to return to school inspires her son in the future.
"Some people choose not to walk the stage, but I always do, because I think it is so important for my son to see all the excitement and regalia," Kidneigh said. "It's important for him to see that it is a big deal to be able to graduate."
The University of Houston-Victoria, located in the heart of the Coastal Bend region since 1973 in Victoria, Texas, offers courses leading to more than 80 academic programs in the schools of Arts & Sciences; Business Administration; and Education, Health Professions & Human Development. UHV provides face-to-face classes at its Victoria campus, as well as an instructional site in Katy, Texas, and online classes that students can take from anywhere. UHV supports the American Association of State Colleges and Universities Opportunities for All initiative to increase awareness about state colleges and universities and the important role they have in providing a high-quality and accessible education to an increasingly diverse student population, as well as contributing to regional and state economic development.