Close
UHV business school named top online bachelor's degree
The University of Houston-Victoria School of Business Administration has taken the top spot in a national publication for its online undergraduate degree program.
Value Colleges, a group that offers answers to questions about affordability and value when making college decisions, ranks schools accredited by AACSB International – The Association to Advance Collegiate Schools of Business. The rankings are based on how much the degree is worth the investment. Considerations include the cost of the degree, average debt for graduates and average starting salary after graduation. The UHV School of Business Administration earned the No. 1 spot in the group's list of 50 Best Value Online Undergraduate Business Schools of 2015.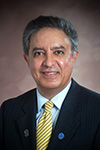 Farhang Niroomand
"The UHV School of Business Administration's online degree programs offer access and training that surpasses most others in the U.S.," said Farhang Niroomand, dean of the school. "Our faculty is encouraged to interact with their online students using a variety of tools and methods. The school offers an award to faculty members who have most effectively made use of the available tools, and we are constantly searching for ways to improve students' online learning experiences."
When Jun Yang, a UHV associate professor of marketing and chair of the School of Business Administration undergraduate curriculum committee, joined the school as a faculty member in 2009, the university already had a successful online program. After the university added freshmen and sophomores in 2010, the number of students in the online program grew. Students can earn a UHV Bachelor of Business Administration online by taking their core courses at UHV face to face and then starting the online program or by taking their core courses elsewhere and transferring to UHV.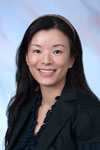 Jun Yang
"We have many students spread out between Houston, Victoria, Katy and Sugar Land, so not all of our students have access to face-to-face classes or office hours," Yang said. "We offer various approaches for students to communicate with professors online. It's much more than posting slides and holding a message board discussion."
The school uses a variety of tools to ensure online students have the opportunity to learn effectively, Yang said. In addition to the typical slides and Blackboard message boards, faculty members use Skype for office hours or Adobe Connect meeting software to answer students' questions in real time about projects or coursework. The tools also can be used by students who need to collaborate for a group project.
"A lot of the School of Business Administration's newer faculty members have Blackboard experience, but some didn't have the experience of offering a complete online course before. We have a mentoring program for them with senior faculty members to walk them through setting up a successful online program. This lets them observe options for interaction with online students."
For Laura Uriarte, a senior from Missouri City majoring in general business, taking online classes has given her the flexibility she needs to succeed while also remaining affordable.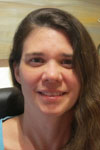 Laura Uriarte
"Being able to do most of my classes online but also having professors available when needed was a major factor when choosing where I would go to get my degree," Uriarte said. "The cost at UHV was better than my other choices, and that helped me make a final decision. I haven't gotten any financial aid, but I also have not needed to take out loans."
Offering an affordable degree is important to the university, Yang said. That factor combined with the flexibility of online learning is a major draw for both undergraduate students and those looking to earn a master's degree while also working full time.
"I really like the online program," Uriarte said. "My favorite part was the ease of being able to log in when I could, not necessarily at a set time. The professors are great. They're willing to help you when you need it, but they're also willing to step back and let you learn on your own. It's a really good program."
The school is constantly working to continue the innovation of online teaching tools. Currently, faculty members are evaluating some of the program's courses to compare how students are performing with the use of online tools. The evaluation will offer feedback that can be used to improve any weak links, Yang said.
"There's much more competition in today's educational market, but this is a validation of the success of our online program," Yang said. "An online class is not an easy A. You have to work for it."
The UHV School of Business Administration recently was reaccredited by AACSB after completing its five-year review. The school also has earned many awards including a No. 17 ranking on the 2015 QS Distance Online MBA list, a place among Princeton Review's Best 296 Business Schools in 2015 and several 2014 honors from GetEducated.com including No. 5 Best Buy for Global Master of Business Administration; No. 25 Best Buy for Strategic MBA; and No. 8 Best Buy for BBA in health care, management and marketing.
To see the full list of Value Colleges' Top 50 Best Value Online Undergraduate Business Schools of 2015, go to www.valuecolleges.com/rankings/best-value-online-business-schools/.
The University of Houston-Victoria, located in the heart of the Coastal Bend region since 1973 in Victoria, Texas, offers courses leading to more than 80 academic programs in the schools of Arts & Sciences; Business Administration; and Education, Health Professions & Human Development. UHV provides face-to-face classes at its Victoria campus, as well as an instructional site in Katy, Texas, and online classes that students can take from anywhere. UHV supports the American Association of State Colleges and Universities Opportunities for All initiative to increase awareness about state colleges and universities and the important role they have in providing a high-quality and accessible education to an increasingly diverse student population, as well as contributing to regional and state economic development.