Close
Goliad High School students to start taking UHV courses this fall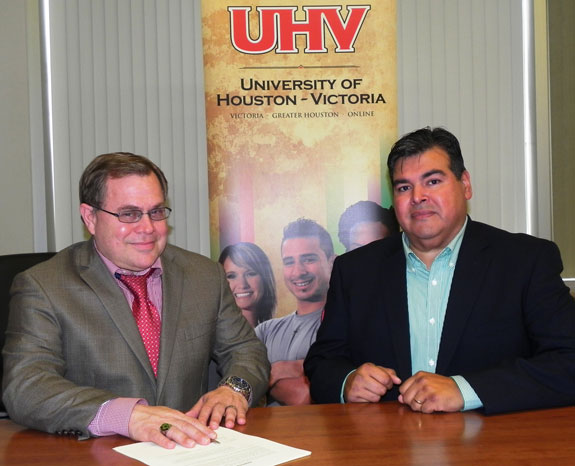 Jeffrey Cass, left, University of Houston-Victoria provost and vice president for academic affairs, and Emilio Vargas III, superintendent of Goliad Independent School District, sign a dual credit enrollment agreement. Starting this fall, Goliad High School juniors and seniors will be able to take dual credit university courses.
The University of Houston-Victoria and Goliad Independent School District have signed an agreement to allow eligible Goliad High School students to take dual credit university courses.
A dual credit class satisfies requirements for high school graduation while at the same time counting as college credit. The classes will follow the curriculum and instruction of a regular UHV class and be taught by a university faculty member.
"Dual credit courses provide students with more access to rigorous course work while in high school and prepare students for university expectations," said Jeffrey Cass, UHV provost and vice president for academic affairs. "Agreements like this one also make higher education more accessible. If students already have some college credit, they are more likely to continue pursuing a higher education."
The dual credit courses will begin in the fall. The exact courses to be offered are still under consideration. Cass said UHV might offer as many as five courses but is likely to have one or two this fall.
UHV may send faculty members to Goliad to teach, or the students may travel to UHV to attend class. In either case, the classes will be made up of only high school students. Goliad students will, however, have access to university computer labs, study areas and the Victoria College/UHV Library.
Students will pay $135 a class, which is roughly 20 percent of the normal cost for a three-credit hour UHV course. The university and Goliad school district will cover the remaining expense.
Goliad High School Principal Russell Kowalik said there are several benefits to the dual credit enrollment agreement.
"It gets students exposed to college at an earlier stage and drives interest up," Kowalik said. "It also puts students ahead of the game from an economic standpoint. Having a dozen or more credit hours before a student leaves high school saves the student a considerable amount of money."
The dual credit option is open to Goliad High School juniors and seniors. Students need to have a B average or higher and meet any necessary class prerequisites.
Once the UHV classes get underway, Kowalik thinks additional Goliad High School students will get involved. The friends and classmates of the students enrolled in the UHV courses will ask them about it.
"This agreement will help spread the word about higher education and college class experiences," he said.
This is the second time UHV has partnered with a high school for a dual credit course. This semester, students at St. Joseph High School in Victoria are enrolled in an "Introduction to Creative Writing" course to earn college credit.
The Goliad school district also has a dual credit agreement in place with Coastal Bend College.
"These agreements give our students an opportunity to start their college careers in a setting where they have more support," Kowalik said. "We can offer additional support and be a liaison with the university."
Cass said UHV is attempting to extend its outreach and recruitment throughout the region. Offering dual credit classes exposes students to UHV faculty members, instruction and facilities. The familiarity may translate into those students eventually enrolling at UHV.
"But even if these students don't come to UHV, providing dual credit classes means more students are exposed to postsecondary education," he said. "The bottom line is they are more likely to attend a college."
The University of Houston-Victoria, located in the heart of the Coastal Bend region since 1973 in Victoria, Texas, offers courses leading to more than 80 academic programs in the schools of Arts & Sciences; Business Administration; and Education, Health Professions & Human Development. UHV provides face-to-face classes at its Victoria campus, as well as an instructional site in Katy, Texas, and online classes that students can take from anywhere. UHV supports the American Association of State Colleges and Universities Opportunities for All initiative to increase awareness about state colleges and universities and the important role they have in providing a high-quality and accessible education to an increasingly diverse student population, as well as contributing to regional and state economic development.