Close
UHV graduate students present genetics research at conference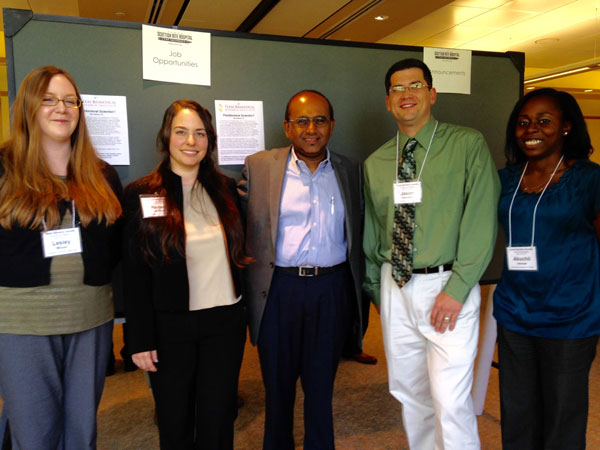 Richard Gunasekera, University of Houston-Victoria professor of biology and biochemistry, and director of the biomedical, biological and forensic sciences graduate programs, center, stands with four university graduate students who presented genetics research at the Texas Genetics Society in Dallas. From left to right are Lesley Wilson, Renee Ackley, Jason Chandler and Peggy Iwunze.
Four University of Houston-Victoria graduate students and their professor recently attended a state conference and presented genetic research about topics including diseases that impact people worldwide.
Renee Ackley of Beasley, Lesley Wilson of Meadows Place, Jason Chandler of San Antonio, and Peggy Iwunze of Fresno attended the Texas Genetics Society in Dallas. They presented their research along with graduate students from other major universities across the state.
The UHV students are part of the UHV Master of Science in biomedical sciences – professional science program led by Richard Gunasekera, professor of biology and biochemistry, and director of the biomedical, biological and forensic sciences graduate programs.
"This was a great opportunity for these students to present our research and see what is being done at other institutions," Gunasekera said. "They were really excited to see that they are doing high-level biomedical research on par with work being done at other major universities. In fact, we had the second-largest group of presenting students. They supported one another in their presentations and had a great time."
Each student discussed findings based on research conducted at UHV and in collaboration with other institutions. They communicated their findings through oral, paper and poster presentations.
The opportunity to present her research was exciting for Iwunze, who plans to apply for medical school and become a doctor. She wants to use her experience studying genetics when diagnosing and treating future patients.
"It was great to know that the work I do is important," Iwunze said. "When I was giving my presentation, people had questions about things that I hadn't thought of, and that really expanded the applications of what I was working on. It helped me see that what I'm doing has a purpose behind it, and that helped increase my confidence in my work as well."
Iwunze's presentation looked at an ongoing criminal case in Victoria in which a man is in jail on a murder charge. It was found that the suspect may have a mental abnormality. A sample of his DNA was taken to see if there is an abnormality in his chromosomes. The research looked for an XYY chromosome abnormality in which the extra Y chromosome could affect his behavior by making him more aggressive. That information could affect the case. This kind of interdisciplinary research is where forensic genetics and biomedicine cross over, Gunasekera said.
Ackley's presentation looked at an atypical form of a biochemical genetics problem involving an issue called PKU, which causes the body to not be able to break down a certain amino acid ingested in a person's diet. If it is not identified and treated when the subject is a baby, the effects of the disorder can lead to developmental disability or movement disorders because of toxicity to the brain. The significance of Ackley's findings is that such patients could be placed on an enzyme cofactor, or vitamin, therapy that could help alleviate symptoms.
Wilson's research looked at Dope-Responsive Distonia, a neurochemical problem that examines the same neural pathways affected by Parkinson's disease and atypical PKU. In this disorder, people can wake up in the morning feeling normal, but as the day progresses, they lose ability to walk or function. Gunasekera shared data from his previous study involving a mouse with a similar genetic mutation. Wilson used that information to look into the condition more thoroughly and found that the disorder also affects sleep cycles. The novel finding in this study is that it provides a better neurochemical picture of the pathways that causes anxiety, depression, and sleep disorders in people who have impairments in this area of their brain, Gunasekera said.
The paper presented by Chandler looked at Kashin-Beck disease, which causes a person's joints to swell and become deformed and dwarfed. In 2009, Gunasekera went to Tibet with a student on a medical mission and brought back 200 DNA samples from affected and nonaffected patients. Chandler sequenced genes in 11 of those samples to look for a genetic mutation that might be the culprit for the disease. His findings indicate that the anomaly may be in iodine and selenium metabolizing genes in these patients. More samples are being researched by Gunasekera to confirm these findings through a grant.
In addition to their own research, students were able to listen to and interact with their peers and experts in the field of genetics and medical research.
"It's important to learn about what other people are working on," Iwunze said. "When I was an undergraduate student, I didn't have the opportunity to go to conferences. Now, I am able to learn firsthand that there are people doing the same kind of work. It showed me how this research is being used to improve society and help others in places such as agriculture."
The students' presentations also offered them a shot in the arm for their futures, Gunasekera said. If the students choose to practice in these fields of science, this experience can boost their resumes. Graduates of UHV's biomedical sciences program have gone on to medical and para-medical professions.
"Presenting research at a conference and having abstracts published helps students in their professions and professional school application process," Gunasekera said. "One of the things admissions committees look at is if students have done research and if that research was presented to the public or published in some way. I'm very proud of our research team. These are quality graduate students who are making a great impact on the biomedical sciences program."
To learn more about the UHV biomedical sciences master's program, go to www.uhv.edu/arts-and-sciences/graduate-programs/biomedical-sciences/ or contact Gunasekera at 281-275-8826 or gunasekerar@uhv.edu.
The University of Houston-Victoria, located in the heart of the Coastal Bend region since 1973 in Victoria, Texas, offers courses leading to more than 80 academic programs in the schools of Arts & Sciences; Business Administration; and Education, Health Professions & Human Development. UHV provides face-to-face classes at its Victoria campus, as well as an instructional site in Katy, Texas, and online classes that students can take from anywhere. UHV supports the American Association of State Colleges and Universities Opportunities for All initiative to increase awareness about state colleges and universities and the important role they have in providing a high-quality and accessible education to an increasingly diverse student population, as well as contributing to regional and state economic development.