Close
Love of teaching lured UHV outstanding education students back to school
Katy resident Allison Marie Burger started her career as an elementary school teacher. She ended up teaching adults at a church.
Uzma Siddiqi of Sugar Land landed a teaching job overseas when many teachers quit during a Middle East terrorist incident a decade ago.
Life pulled Burger and Siddiqi, the spring University of Houston-Victoria School of Education, Health Professions & Human Development outstanding students, in different directions, but it was the joy of teaching that pulled them back to school after years away.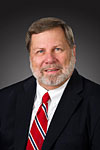 Fred Litton
"Allison and Uzma stood out for their strong commitment to the teaching profession and their desire to get the most out of their degrees," said Fred Litton, dean of the UHV School of Education, Health Professions & Human Development. "They faced many obstacles along the way and both had family responsibilities that could have easily deterred their studies, but they ultimately found a way to excel in the classroom."
Each semester, professors from the four UHV schools select outstanding graduates to be honored during commencement. UHV will hold two spring graduation ceremonies on May 16 at Faith Family Church, 2002 E. Mockingbird Lane. The 9 a.m. ceremony will be for graduates of the schools of Arts & Sciences and Education, Health Professions & Human Development. The 1 p.m. ceremony will be for graduates of the schools of Business Administration and Nursing.
Burger is a director of adult ministry at Crosspoint Community Church in Katy. She will earn a Master of Education in adult and higher education.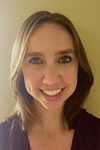 Allison Marie Burger
"I didn't plan this path; it just all fell into place," she said. "I noticed there was a big difference in teaching children and adults. I obtained this degree because I needed assistance figuring out how to help people I was working with. What is wonderful about what I've learned at UHV is it applies not only to my career, but also to my personal life. It taught me how to be self-directed, weigh goals and accomplish them in an organized manner."
Burger took all online classes, enrolling in six hours a semester. She appreciated the small class sizes and the resources available, such as faculty members posting articles and videos about the subjects covered in class.
"Some people think students taking online courses aren't as connected, but I didn't find that to be the case," she said. "We would get to know each other from online discussions. I found the classes to be personal and relevant. I could take the information and immediately apply it at work."
Burger said she was surprised and honored to be named the School of Education, Health Professions & Human Development outstanding graduate student. She was thankful for her family's support, especially since she stayed in school when her son, Luke, was born.
"I didn't take a break that semester because the classes weren't going to be offered again for two years," she said. "It was not easy to balance work, family and school. To receive this award after two years of balancing these things means a lot to me. It's a good way to end this journey."
Family support also was important to Siddiqi. The outstanding undergraduate soon will earn a Bachelor of Science in Interdisciplinary Studies with an early childhood through grade 6 generalist certificate.
Siddiqi got married at age 19 and decided to focus on family before school. She recently was talking to a close friend who told her a lot of people say they will go back to school later in life but never do.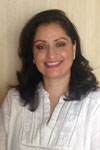 Uzma Siddiqi
"She was really proud of me for accomplishing what I said I would do," Siddiqi said. "I was able to realize a lifelong dream, even at age 45. I hope my story can be inspirational so others will never give up their educational aspirations."
Siddiqi has three children: Sana, Nida and Fahad. Sana also is studying to become a teacher at UH-Downtown.
"For a nontraditional student like me, it's not possible to complete a degree without family support," she said. "My husband and children have supported me tremendously and been my biggest cheerleaders."
Originally from Pakistan, Siddiqi was substitute teaching overseas while her husband was working in the oil and gas industry in various countries. After teaching art at the American International School in Saudi Arabia, she realized teaching was her calling. She enrolled at UHV to teach full time in the U.S.
"I really enjoyed the whole program," she said. "The professors and small class sizes were great, and I found it convenient to enroll and take the classes I needed. I made a lot of friends along the way, and we supported each other as we went through the program."
Siddiqi was about to complete her student teaching this month when she had to drop everything and fly to Malaysia to take care of her husband, who had fallen ill. He's doing better, and Siddiqi will return to Sugar Land on Monday.
"I'm two weeks behind, but I still will be able to graduate as planned on May 16," Siddiqi said. "The school where I teach is welcoming me back, so I can resume my first-grade student teaching."
The University of Houston-Victoria, located in the heart of the Coastal Bend region since 1973 in Victoria, Texas, offers courses leading to more than 80 academic programs in the schools of Arts & Sciences; Business Administration; and Education, Health Professions & Human Development. UHV provides face-to-face classes at its Victoria campus, as well as an instructional site in Katy, Texas, and online classes that students can take from anywhere. UHV supports the American Association of State Colleges and Universities Opportunities for All initiative to increase awareness about state colleges and universities and the important role they have in providing a high-quality and accessible education to an increasingly diverse student population, as well as contributing to regional and state economic development.