Close
UHV students have new university hand sign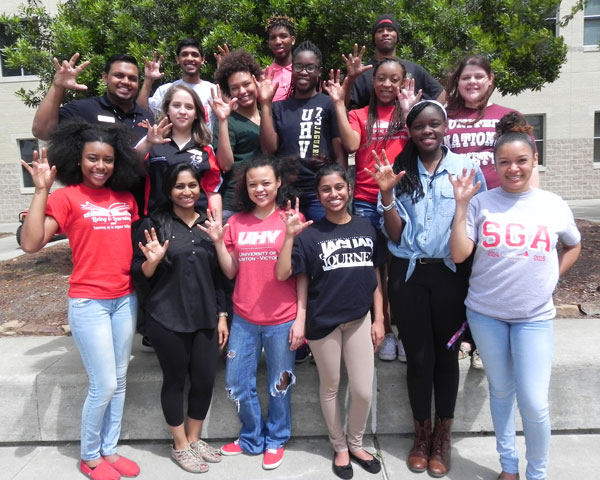 University of Houston-Victoria students show their Jaguar pride with the new hand sign. The sign is one of many traditions and symbols the students of UHV are creating to represent the university and show their school spirit.
University of Houston-Victoria students are spreading the word about a new hand sign for the university.
Since UHV expanded in 2010 to include freshmen and sophomores, the university has encouraged students to create and establish the traditions and symbols that will represent the university for years to come. The sign was suggested by Michael Wilkinson, associate director of UHV Student Life.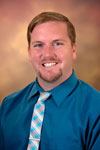 Michael Wilkinson
"From the first moment I set foot on our campus, I knew that there needed to be a push for more spirit and traditions," Wilkinson said. "Spirit and traditions are an intricate part of a college campus. They provide an atmosphere that is engaging and inclusive. This particular hand signal was merely an idea that I pitched to our student leaders, and they took it and ran with it."
The sign is made using the right hand by folding down the ring finger at the second knuckle and curving the other fingers slightly. The curve is meant to represent a jaguar's claws, and the letters U, H and V are represented in the fingers. The thumb and pointer finger form a "U," the "H" is represented by the middle, pinky and ring finger, and the pointer and middle fingers resemble a "V."
The Student Government Association was searching for possible hand sign ideas for more than a year. When Wilkinson presented his idea, it was accepted by the SGA.
"It's very exciting to be part of this process of creating a new tradition for UHV," said Bola Adebayo, a junior biology major from Houston and the SGA president. "In my freshman and sophomore years, I would look at the pictures from the Jaguar Journey new student orientation and see that students were posing with the peace sign. I thought, 'We really need a hand sign so we can show our UHV pride at events.'"
News of the hand sign is already spreading by word of mouth, and it's been used at some recent UHV functions, said Christo Varghese, a junior supply chain management and healthcare administration major from Missouri City and SGA director of finance. Students and staff posed for a photograph during the Jags Join In – Day of Service event using the sign.
"The new hand sign will be integrated heavily into Jaguar Journey this fall to introduce it to incoming freshmen," Wilkinson said. "Student Life & Services will incorporate it into many of our programs and marketing materials. Foam fingers with the hand sign will be used as giveaway items for students at various athletics events."
Varghese and Adebayo are looking forward to creating and sharing a new UHV symbol with students.
"It's exciting to know we will be sharing this with incoming freshmen," Varghese said. "The great thing is we get to create these traditions and give something to our new and current students that identifies them as going to UHV. It's something that ties us together as a campus community, and it all goes back into finding ways to build UHV into a destination university."
The new hand sign is just one of several traditions that UHV plans to have in place, Wilkinson said. Eventually, the school will have an alma mater and fight song as well as other school spirit traditions. The school also is looking for suggestions for a catchphrase that could also be used as a unique hashtag on social media, similar to the University of Texas at Austin's "Hook 'em Horns" or Texas A&M University's "Gig 'Em".
As part of the process, Student Life & Services is forming a Spirit and Traditions Council for students that will launch in the fall. Students interested in joining the council or alumni who want to submit suggestions can email Wilkinson at wilkinsonmr@uhv.edu or call 361-485-4408.
The University of Houston-Victoria, located in the heart of the Coastal Bend region since 1973 in Victoria, Texas, offers courses leading to more than 80 academic programs in the schools of Arts & Sciences; Business Administration; and Education, Health Professions & Human Development. UHV provides face-to-face classes at its Victoria campus, as well as an instructional site in Katy, Texas, and online classes that students can take from anywhere. UHV supports the American Association of State Colleges and Universities Opportunities for All initiative to increase awareness about state colleges and universities and the important role they have in providing a high-quality and accessible education to an increasingly diverse student population, as well as contributing to regional and state economic development.