Close
National leadership honor society inducts 50 UHV students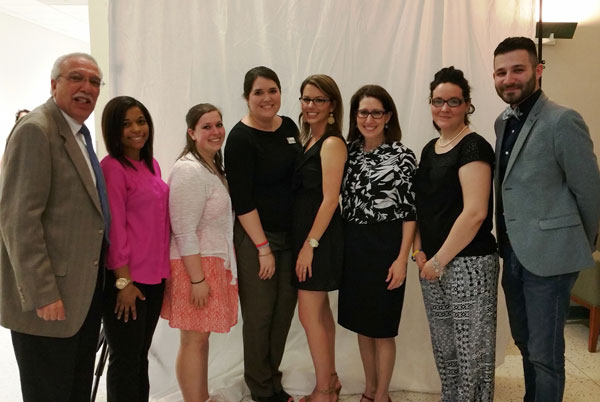 National Society of Leadership and Success executive members and guests pose for a photo at Friday's induction ceremony. Pictured, from left, are keynote speaker Gary Moses, Vice President Donce Hill, Treasurer Hannah Hines, distinguished member Amber Machacek, Historian Samantha Coulter, advisor Margaret Rice, President Amanda Craighead, and Ahmet Aksoy, recipient of the society's Excellence in Service to Students Award.
A University of Houston-Victoria honor society focused on building leaders has grown to nearly 300 inducted members with the addition of 50 students on Friday.
The National Society of Leadership and Success welcomed the students to the organization at a ceremony held in front of family and friends in the UHV University Center Multi-Purpose Room. UHV Interim President Vic Morgan gave an introduction, and community advocate Gary Moses was the keynote speaker. Ahmet Aksoy, a UHV Student Life and Services coordinator, was presented with the society's Excellence in Service to Students Award.
The society's mission is to build leaders who make a better world.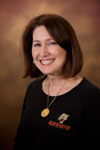 Margaret Rice
"This organization is great for students who want to develop their leadership potential," said Margaret Rice, the chapter faculty advisor and UHV special assistant to the provost. "By receiving training from the best and brightest minds of our day and learning the essential skills of networking, these students have the tools to become leaders."
Rice said the UHV chapter was inactive for a couple of years. Vera Akinkuotu, former UHV coordinator for Student Development & Parent Programs, helped students re-activate the club in 2014. Friday's induction was the second since the club was revived. Since the UHV chapter was founded, there have been 299 members inducted.
The society is open to graduate and undergraduate students who have a 3.0 grade-point average and have completed required leadership training. Students attend leadership training, a society orientation and are involved in success networking teams, where students interact with each other to create and achieve personal goals. They also must watch speaker broadcasts from well-known leaders.
Society historian Samantha Coulter said they participated in several university events this school year, including the student organizations' spring carnival. President Amanda Craighead said the group plans to be more involved in the community in the year ahead.
"Our major project we are trying to get approved is cleaning up the city duck pond in Riverside Park," she said "We also are going to volunteer at soup kitchens and Golden Crescent Habitat for Humanity as well as participate in activities at nursing homes."
The new inductees and their hometowns are:
Valerie Alvarado, Austin
Charles Jacob, Brooklyn, N.Y.
Brynea Matthews, Channelview
Liza Lybolt, Conroe
Marlen Velazquez, Corpus Christi
Leo Sharron, Cuero
Justine Jarratt, Edna
Ashley Yaws, Edna
Esperanza Hernandez, Goliad
Melissa White, Goliad
Ana Guardiola, Gonzales
Kayla Hanson, Gonzales
Katelyn Hoyt, Groves
Ahmet Aksoy, Houston
Camilla Sutton, Houston
Jasleen Talwar, Houston
Iriane Warren, Houston
Mykelti Ball, Midland
Rosemina Jones, Missouri City
Danielle Delgado, Port Lavaca
Amberley Kisiah, Port Lavaca
Colby Stokes, Port Lavaca
Kristy Treaster, Port Lavaca
Crystal Christie, Richmond
Natalia Fierro, Richmond
Sonia Lozano, Richmond
Diana Rodriguez, Rosenberg
Christopher McDonald, San Antonio
Racquelle Mostrom, Schulenburg
Savannah Krippendorf, Somerset
Kimberly Rock-Carter, Sugar Land
Megan Huerta, Van Vleck
Megan Angerstein, Victoria
Erin Baca, Victoria
Christina Chapa, Victoria
Samantha Fenter, Victoria
Andrew Jennings, Victoria
Catie Jennings, Victoria
Stephanie Lopez, Victoria
Kelly Mercado, Victoria
David Miller, Victoria
Lydia Palmer, Victoria
Jaimee Butler Pantel, Victoria
Kelsey Parks, Victoria
Wade Purcell, Victoria
Crystal Rodriguez, Victoria
Kevin Sanderson, Victoria
Michelle Thompson, Victoria
Christopher Zapta, Victoria
Heather Mokwa, Yorktown
To find out more about the society, visit www.leadershipsociety.org or contact Rice at ricem@uhv.edu.
The University of Houston-Victoria, located in the heart of the Coastal Bend region since 1973 in Victoria, Texas, offers courses leading to more than 80 academic programs in the schools of Arts & Sciences; Business Administration; and Education, Health Professions & Human Development. UHV provides face-to-face classes at its Victoria campus, as well as an instructional site in Katy, Texas, and online classes that students can take from anywhere. UHV supports the American Association of State Colleges and Universities Opportunities for All initiative to increase awareness about state colleges and universities and the important role they have in providing a high-quality and accessible education to an increasingly diverse student population, as well as contributing to regional and state economic development.