Close
UHV charters 11 new student organizations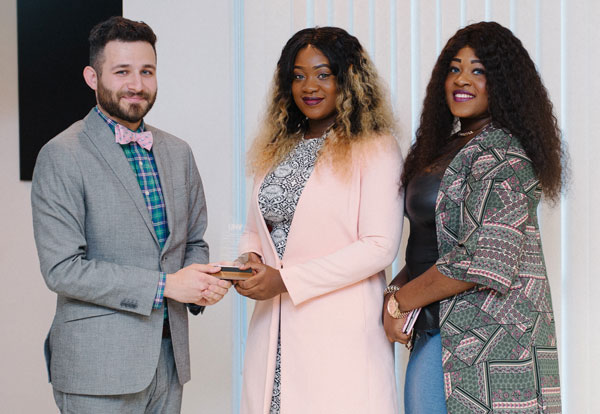 Ahmet Aksoy, a UHV Student Life & Services coordinator, left, presents the Student Organization of the Year award to the African Student Association during the Student Organization & Leadership Banquet Wednesday evening. Accepting the award are Folake Olayinka, center, association president, and Yetunde Olayinka.
University of Houston-Victoria students, staff and faculty members gathered Wednesday to celebrate the addition of new student organizations at the university and present awards to honor the work of students and faculty involved in campus life.
Eleven UHV student organizations were chartered at the annual Student Organization & Leadership Banquet. The university previously had 13 chartered organizations. The event also highlighted the achievements of UHV Student Life & Services and current student organizations including the Student Government Association, which also inducted new members.
"I'm ecstatic to see that the list of chartered student organizations on campus is almost doubling," said Ahmet Aksoy, a coordinator of UHV Student Life & Services. "It's great because this is a diverse group of organizations. Some are multicultural, some are academic, and it's great to see the diversity because it covers a lot of students' needs on campus."
In addition to celebrating the new student organizations, this is the first year awards were presented at the banquet. The four awards went to students, advisors and organizations that made an impact on UHV student life and the community. They were selected from a group of nominations submitted by students. A committee of students, staff and faculty made the final decision.
Graciela Ordonez, a junior from Brownsville, was named the Student Volunteer of the Year. Ordonez has been involved with Communities in Schools of the Golden Crescent at Stroman Middle School for the last two years. In January, she became the English as a Second Language assistant for the program.
"I was shocked," Ordonez said about winning the award. "I knew I was nominated, but I didn't think I would win. I think volunteering is very important, especially if it's coming from your heart."
The Student Organization Member of the Year award was given to two students, Jaime Flores and Cassandra Flores. Jaime is a junior communication design major from Spring and president of the newly chartered Artists Anonymous. She also is a member of the Hispanic Student Association and Jaguar Activities Board. Jaime also serves as a student director in the Department of Student Life and Services.
"I'm excited to see that my hard work paid off," she said. "We all have worked really hard, and I could not have done it without the Artists Anonymous board. We've put in a lot of effort, and I'm excited to see what the future holds."
Cassandra, a sophomore early childhood education major from Houston, serves as an officer in several organizations, including vice president of the Hispanic Student Association and sophomore senator for the Student Government Association. She also is a Resident Assistant at Jaguar Suites.
"It feels really good to know my work has been recognized," Cassandra said. "It also felt great to receive this award because I was able to bring recognition to the Hispanic Student Association. We have only been active for about a semester, so along with getting chartered, this was a great accomplishment."
Each student organization also must have a UHV faculty or staff member as an advisor. The Student Organization Advisor of the Year award went to Maria Velez-Hernandez, an assistant professor of biology who joined the UHV School of Arts & Sciences faculty in August. She is co-advisor of the Pre-Health Student Association, which was chartered Wednesday. About 30 students are involved in the organization, and this is the first student group that Velez-Hernandez has advised.
"What I've enjoyed most about being co-advisor of the organization is just spending time with the students, listening to what they expect from the university and helping them take advantage of all that UHV has to offer," she said.
The final award of the night went to the African Student Association, which was named the Student Organization of the Year. The culture-focused organization is involved in community service and cultural education at UHV.
"This is amazing," said Folake Olayinka, a sophomore biology major from Houston and president of the group. "The African Student Association's success is possible because of a great team effort. I particularly want to thank Emma Foday, Yetty Olayinka, Jane Chibiko and Jackie Mendez. They have been here since the beginning of the fall, and I cannot begin to count the time and money spent to make this organization a success."
In addition to the awards, a representative from each newly chartered student organization was presented with a plaque. The groups chartered at this year's event were:
Artists Anonymous
Business Student Association
Diversity Council
Golden Crescent Habitat for Humanity
History & Humanities Association
Hispanic Student Association
International Honor Society in Psychology
Jaguar Activities Board
Pre-Health Student Association
Rotaract Club
Student Music Organization
"It's an exciting moment," said Tara Dotson, a sophomore communications major from Katy and president of the History and Humanities Association. "We've been working all year to put together our constitution and get more members in the club. To finally get that official recognition is a reward for all of our hard work throughout the year."
To become a chartered organization, a group must have at least five members, three of which need to be executive officers with a minimum 2.5 GPA. The students also need to write a constitution, which is submitted along with a charter application to the Committee on Student Organizations. Once the committee reviews the application, it either approves the application for charter or requests corrections.
"It's essential for student groups to be chartered," Aksoy said. "It opens up all sorts of resources such as facility usage, marketing assistance and other tools to help them grow. It's a chance for them to not only put their mark on the campus community, but also express themselves at UHV."
The University of Houston-Victoria, located in the heart of the Coastal Bend region since 1973 in Victoria, Texas, offers courses leading to more than 80 academic programs in the schools of Arts & Sciences; Business Administration; and Education, Health Professions & Human Development. UHV provides face-to-face classes at its Victoria campus, as well as an instructional site in Katy, Texas, and online classes that students can take from anywhere. UHV supports the American Association of State Colleges and Universities Opportunities for All initiative to increase awareness about state colleges and universities and the important role they have in providing a high-quality and accessible education to an increasingly diverse student population, as well as contributing to regional and state economic development.