Close
Outstanding UHV business students don't let life get them down
When Gaurav Jolly and his wife first moved to the US from New Delhi, India, in 2003, he spent a year without a job before finding one at his new home in Sugar Land.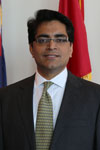 Gaurav Jolly
Although he had a background in accounting, including an undergraduate degree from India, when Jolly wanted to get his Certified Public Accountant license in 2012, the state board told him he was lacking seven credit hours, and he needed a degree from a U.S. institution.
After examining his options, he decided to pursue a Strategic Master of Business Administration with concentrations in accounting and finance from the University of Houston-Victoria at UH Sugar Land, where UHV offers many of the degree programs.
"My experience at UHV has been phenomenal," Jolly said. "Going back to 2013, when I came to UH Sugar Land and spoke to an advisor, from then on, I've been very comfortable. This is a place that is close to home and work. My fellow students and the exceptional faculty made it the perfect place for me."
Jolly is the spring outstanding graduate student for the UHV School of Business Administration, and Liza Lybolt of Conroe is the school's outstanding undergraduate student.
Each semester, professors from the four UHV schools select outstanding graduates to be honored during commencement. UHV will hold two spring graduation ceremonies on May 16 at Faith Family Church, 2002 E. Mockingbird Lane. The 9 a.m. ceremony will be for graduates of the schools of Arts & Sciences and Education, Health Professions & Human Development. The 1 p.m. ceremony will be for graduates of the schools of Business Administration and Nursing. For the first time, a live streaming broadcast of the ceremonies can be seen at www.uhv.edu/graduation.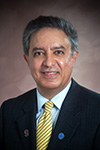 Farhang Niroomand
"Gaurav and Liza are two students who demonstrate the dedication necessary to successfully pursue their goals," said Farhang Niroomand, dean of the UHV School of Business Administration. "The decision to attain more education after years of delays takes courage, and I am proud to see them succeeding in this step forward."
For Lybolt, earning a Bachelor of Business Administration in accounting and management is just the beginning of her educational journey. In the summer, she will begin working toward a Global MBA with a concentration in accounting at UHV and then plans to pursue her doctorate in accounting with the goal of becoming a professor.
"I wanted to be a professor or teacher when I was young," Lybolt said. "I got away from that for a while, but when I started at UHV, people began asking me if I was a teacher. When I asked them why, they always said, 'Oh, you just look like a teacher.' That made me start thinking about what I had wanted to do when I was younger."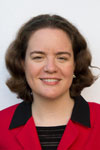 Liza Lybolt
Although she wanted to pursue an education from an early age, when she first started studying accounting, life intervened. Her mother was involved in a car wreck, and Lybolt left school to take care of her. Because of this and other circumstances, it was 12 years before Lybolt returned to school.
While she was earning her associate degree, she was laid off from her job. That's when she found a program through the Texas Workforce Commission that would pay for her first two years of tuition. She chose to pursue a BBA.
"It was a good fit for me," Lybolt said. "I enjoyed the whole program. The faculty and staff are supportive and encouraging. A couple of the professors have been especially supportive about my goal of pursuing a doctorate."
Jolly agreed the encouragement and excellence of the school's faculty and staff contributed to his success. Two professors in particular had an impact on him. The first was Uche Nwabueze, a former assistant professor of management. Nwabueze's method of using real-life examples during instruction stuck with Jolly, who preferred that form of discussion to learning from a book. The second was Vera Adamchik, an associate economics professor. He appreciated her ability to explain high-level concepts in easy language.
"The quality of professors is exceptional," Jolly said. "I didn't realize there were so many concepts and insights that I could apply in my current job. I just wish I had started sooner instead of waiting for so many years."
One of Lybolt's favorite memories from UHV was the study abroad trip to China that students and faculty members took in the summer. The trip gave 29 students an opportunity to study Chinese leadership management and tour commerce and cultural sites.
"That trip was great, and I would recommend it to anybody," Lybolt said. "I made a lot of friends. I have kept in contact with many of the Chinese students who were part of the program, and we learned a lot about leadership management as well as the Chinese culture."
Both students have faced their share of challenges in life. Because of that, the support given by their families was invaluable. For Lybolt, her mother and brother offered emotional support and guidance.
For Jolly, balancing time at his job as an audit manager with Jain & Jain P.C. in Sugar Land with school and family time has been a challenge. There were days when he didn't get to see his 11-year-old son except for a few minutes in the early morning. But his family has supported his decision to work toward earning his degree and becoming a CPA.
"My son feels proud to see my academic grades so far," Jolly said. "He's thinking positively about all of this, and he's getting ready to go on and get the best education he can in his life."
In addition to the outstanding student honors, Jolly and Lybolt are members of honor societies. Jolly recently was inducted into the Phi Kappa Phi honor society. Lybolt is a member of the same society as well as president of Gamma Beta Phi and a member of The National Society of Leadership and Success, and Beta Gamma Sigma.
The University of Houston-Victoria, located in the heart of the Coastal Bend region since 1973 in Victoria, Texas, offers courses leading to more than 80 academic programs in the schools of Arts & Sciences; Business Administration; and Education, Health Professions & Human Development. UHV provides face-to-face classes at its Victoria campus, as well as an instructional site in Katy, Texas, and online classes that students can take from anywhere. UHV supports the American Association of State Colleges and Universities Opportunities for All initiative to increase awareness about state colleges and universities and the important role they have in providing a high-quality and accessible education to an increasingly diverse student population, as well as contributing to regional and state economic development.