Close
UHV presents faculty awards for teaching, research and service excellence
The winners of the University of Houston-Victoria 2015 faculty teaching, research and service awards draw praise from students and their peers for their compassion, effectiveness and leadership.
UHV faculty members from the fields of history, adult education and management were selected by their colleagues and students for the prestigious awards. The winners are:
Beverly Tomek, assistant professor of history, Enron Teaching Excellence Award
Joann Olson, assistant professor of adult and higher education, Research and Scholarly Activity Excellence Award
Ronald Salazar, associate professor of management, Distinguished Faculty Service Award
Each winner will receive a plaque and a monetary award. They also will be honored during UHV's two graduation ceremonies May 16 at Faith Family Church, 2002 E. Mockingbird Lane in Victoria. A 9 a.m. ceremony will be for graduates of the schools of Arts & Sciences; and Education, Health Professions & Human Development. A 1 p.m. ceremony will be for graduates of the schools of Business Administration and Nursing. For the first time, a live streaming broadcast of the ceremonies can be seen at www.uhv.edu/graduation.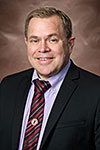 Jeffrey Cass
"I'd like to extend my congratulations to Drs. Tomek, Olson and Salazar for earning these well-deserved awards," said Jeffrey Cass, UHV provost and vice president for academic affairs. "They exemplify the outstanding faculty members we have at UHV who are dedicated to preparing our students for success and helping UHV evolve into a destination university."
The Enron Teaching Excellence Award was established in 1993. UHV students nominate professors who exemplify innovative, high-quality instruction relevant to their lives and careers.
Tomek said this award means a great deal to her because it came from her students.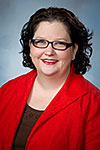 Beverly Tomek
"The students are why I work in higher education, so to know they think I'm doing a good job teaching is gratifying," she said.
During the past year, Tomek has taught freshman U.S. history seminar classes and upper-division courses about civil rights and the revolutionary age. She also is advising a master's student on his thesis and helped found the History & Humanities Association, which was chartered April as a UHV student organization.
While many freshmen she teaches go on to other majors, Tomek tells them to stop by and let her know how they are doing. Many of them take her up on the offer, staying in touch to share their achievements as they progress through UHV and into their careers.
"She is an amazing teacher," said Delma Mathew, a UHV sophomore from Sugar Land. "She outlines her class in a well-managed structure. She truly cares about her students and their well- being."
The Research and Scholarly Activity Excellence Award recognizes professors who have made outstanding research and scholarly contributions to their scientific and scholarly communities.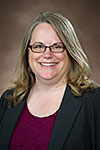 Joann Olson
Olson has worked on several research projects during the past year. One project involved giving UHV freshmen an assignment that was designed to study their grit and perseverance. Another project covered how higher education staff members learn new jobs after changing positions. Olson found that staff members often do not get the support they want in the new position.
Olson also is continuing a qualitative study on how college recruiters do their work and interact with first-generation college students and their parents.
"Most of the research that I've done is qualitative, and I love sitting across the desk from people and hearing their stories," Olson said. "Then I enjoy making sense of those stories compared to people who had similar experiences."
Olson had a paper published this year in Online Learning about different ways of conducting online classes. She studied whether an Adobe Connect session would make online students feel more connected. The result showed the session did not work.
She was awarded a $10,000 UHV summer research grant in 2014. In addition, Olson and a counseling faculty member co-wrote a grant application to fund support services for underrepresented students.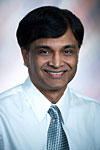 Siva Somasundaram
"In selecting Dr. Olson for this year's award, the committee noted both the quality and impact of this year's publications," said Siva Somasundaram, chair of the 2014-2015 Enron Teaching Excellence, Research and Service Awards Committee. "Dr. Olson also received and submitted research grants to advance our university."
In addition, UHV faculty members annually recognize a peer with the Distinguished Faculty Service Award. This faculty member admirably serves both the university and community.
"Through his service to the Faculty Senate and many other committees, his work in building and developing academic programs, and his involvement in a variety of public venues, Dr. Salazar has demonstrated a consistent pattern of engagement in the community and service to the university," Somasundaram said.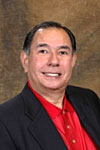 Ronald Salazar
During the past year, Salazar has served on the Faculty Budget Oversight Committee, Faculty Task Force for Information Technology, Faculty Senate Executive Committee, UHV Strategic Planning Committee and School of Business Administration Promotion & Tenure Committee. He also is a member of various nonprofit boards and occasionally accepts business consulting assignments.
Salazar said the award was made possible because his colleagues worked together to solve problems. He said he would not have received the award without important collaboration between faculty, staff and the administration.
"The Distinguished Faculty Service Award is an endorsement of the importance of the principle of shared governance," he said. "As Faculty Senate past president and due to my involvement in a number of committees, I have been privileged to observe how essential faculty input is to the betterment of our university. Working with my faculty colleagues and with Dr. Cass has been a distinct honor."
The University of Houston-Victoria, located in the heart of the Coastal Bend region since 1973 in Victoria, Texas, offers courses leading to more than 80 academic programs in the schools of Arts & Sciences; Business Administration; and Education, Health Professions & Human Development. UHV provides face-to-face classes at its Victoria campus, as well as an instructional site in Katy, Texas, and online classes that students can take from anywhere. UHV supports the American Association of State Colleges and Universities Opportunities for All initiative to increase awareness about state colleges and universities and the important role they have in providing a high-quality and accessible education to an increasingly diverse student population, as well as contributing to regional and state economic development.