Close
UHV adds kinesiology bachelor's degree
University of Houston-Victoria students interested in teaching K-12 physical education will have a new option for their undergraduate studies in the fall.
The UHV School of Education, Health Professions & Human Development will launch a new Bachelor of Science in kinesiology program in the fall. Kinesiology is the study of human movement, and the program will prepare students to earn a Texas teaching certification in PE.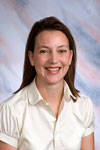 Amy Barnhill
"Although we have programs for teaching certification in subjects such as English, math or history, we did not have a PE certification," said Amy Barnhill, an associate professor and coordinator of the teacher education program. "That was a key piece that we thought was missing, and we saw that there was a need for it."
In the fall, the UHV School of Education, Health Professions & Human Development will offer three kinesiology courses: "Foundations of Kinesiology," "Contemporary Wellness" and "Motor Learning and Development." More courses will be added for the spring. The program requires 121 hours of course work, with 30 in kinesiology and 24 in a second teaching skill. The program will join the school's other teacher certification options, including early childhood to sixth grade, fourth to eighth grade and English as a Second Language.
The kinesiology program offers students the ability to receive a second certification in specific subjects so that they could teach both PE and another subject, which will help them be more competitive when applying for teaching positions. For now, the program has degree plans that will work with certifications in English, history and math from the seventh to 12th grade. The school is working with the UHV School of Arts & Sciences to add more subjects.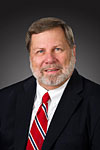 Fred Litton
The process to develop the kinesiology program began more than two years ago after the School of Education, Health Professions & Human Development did a review of degree programs that needed to be added on both the undergraduate and graduate levels. The school then polled incoming and current UHV students about their interest in studying kinesiology. Quite a few students were excited about the program, so the school hired a consultant to help develop a degree plan that would meet the state's standards. The consultant worked with education professor Diane Prince and school dean Fred Litton to develop the degree.
Once the consultant's plan was ready, the school molded it to better fit UHV, such as including the option for students to pursue a second certification, Barnhill said. It was then approved by the school's faculty, the UH System Board of Regents and the Texas Higher Education Coordinating Board.
"The kinesiology degree is an important addition to UHV and the School of Education, Health Professions & Human Development's certification options," Litton said. "We've seen an increasing interest in this program, especially as the university adds more athletics programs. As the university continues to grow, we intend to expand the number of programs offered to meet the needs of our students and community."
UHV will hire a new kinesiology faculty member by the fall. Additional kinesiology faculty will likely be hired later. A search committee is looking at candidates and conducting interviews, Barnhill said.
This marks another year the School of Education, Health Professions & Human Development has expanded its offerings. The school's concentration in educational technology started at the beginning of the 2014-2015 academic year, and graduate concentrations in professional life coach certification and autism were added in 2013-2014.
"UHV is growing and diversifying as it works to become a destination university," Barnhill said. "It's exciting to be at the foundation of that growth and see it happening. Being a part of it is so rewarding."
To learn more about the programs offered by the UHV School of Education, Health Professions & Human Development, go to www.uhv.edu/education/.
The University of Houston-Victoria, located in the heart of the Coastal Bend region since 1973 in Victoria, Texas, offers courses leading to more than 80 academic programs in the schools of Arts & Sciences; Business Administration; and Education, Health Professions & Human Development. UHV provides face-to-face classes at its Victoria campus, as well as an instructional site in Katy, Texas, and online classes that students can take from anywhere. UHV supports the American Association of State Colleges and Universities Opportunities for All initiative to increase awareness about state colleges and universities and the important role they have in providing a high-quality and accessible education to an increasingly diverse student population, as well as contributing to regional and state economic development.