Close
Outstanding Arts & Sciences students thrive even with crammed schedules
As a teacher assistant for University of Houston-Victoria math courses, Alexandra Corbin handled behind-the-scenes grading, homework assignments and online posting.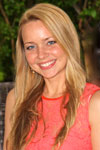 Alexandra Corbin
However, she was thrust into the spotlight when asked to teach certain portions of the class lecture. Corbin, a German native and Victoria resident, didn't mind one bit.
"I have enjoyed teaching, and I've gotten great feedback from the students," she said. "They understand me well, which is encouraging since I want to be a math professor. I love working with students."
Corbin was chosen as the UHV School of Arts & Sciences outstanding graduate student for the spring semester. Rachel Chovanec of Ganado was named the school's outstanding undergraduate student.
Each semester, professors from the four UHV schools select outstanding graduates to be honored during commencement. UHV will hold two spring graduation ceremonies on Saturday at Faith Family Church, 2002 E. Mockingbird Lane. The 9 a.m. ceremony will be for graduates of the schools of Arts & Sciences and Education, Health Professions & Human Development. The 1 p.m. ceremony will be for graduates of the schools of Business Administration and Nursing. The ceremonies will be live streamed at www.uhv.edu/graduation.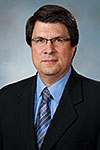 Jeffrey Di Leo
Jeffrey Di Leo, dean of the UHV School of Arts & Sciences, praised Chovanec and Corbin's work ethic.
"Throughout their time at UHV, Rachel and Alexandra have consistently demonstrated a wholehearted commitment to their schoolwork," he said. "I commend them on their dedication and determination, and wish them well in their future educational and professional endeavors."
Chovanec will earn a bachelor's degree in psychology. She knew for awhile she wanted to either be a teacher or a counselor. After taking a few education courses, she decided teaching wasn't a good fit.
"I figured I should go with counseling," she said. "I loved the first psychology course I took. The more classes I took, the more it felt like the right career for me."
Chovanec was enrolled at Wharton County Junior College before transferring to UHV in 2013. She has made the UHV Deans' List every semester. To finish her degree, Chovanec took five classes this spring as well as the GRE graduate school entry exam in March.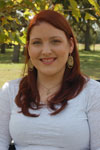 Rachel Chovanec
"It's been an incredibly busy semester," she said. "I have developed a great deal of self-motivation when it comes to getting my schoolwork done. I have two sisters, and the walls in our home are definitely not soundproof, but I learned to tune out the background noise."
On Saturday, Chovanec will receive a $1,000 academic scholarship from Jackson Electric Cooperative. She has applied for graduate school at UHV with the intention of earning a Master of Arts in counseling psychology.
When Corbin graduated from UHV in May 2014 with her bachelor's degree, she already had completed two courses toward her master's degree. She received permission for dual-enrollment during the 2014 spring semester, so she could be a part-time graduate student. She will graduate on Saturday with a Master of Arts in Interdisciplinary Studies with concentrations in math and computer science.
Corbin plans to take a one-year break before pursuing her doctorate. Her husband will be relocated to Lake Jackson, so she will look into educational opportunities in the Houston area.
She credited UHV's math faculty members for helping her complete degrees in consecutive years.
"No matter what question I had, every professor in the mathematics program got back to me almost immediately," she said. "The small class sizes also were nice because there was an opportunity for one-on-one instruction if I had issues on my homework."
Corbin also took pride in her involvement with the school through teaching, research and student organizations.
"I was extremely excited and honored to be chosen as an outstanding student," she said. "I'm very outspoken, and I think my teachers saw the input, hard work and effort I put into each assignment and presentation."
Corbin was involved in two different research projects this school year. She and another student worked on a mathematical model of Chages disease, a tropical parasite, and how it spread across Latin America up to the U.S. The project looked at determining how widespread the disease will be in the U.S. in 2020.
Corbin also has helped Ricardo Teixeira, a UHV assistant professor of mathematics, with his sports predictor research and his after-school program, the Rowland Elementary Math & Science Club.
Corbin served as president of the UHV Math Club and was the treasurer of the Gamma Beta Phi Honor Society. She also taught CSI-type sessions to high school students at the last two Math & Robotics Awareness Day events.
"Students are really into any type of crime investigation because of all the crime TV shows, so I tried to relate to it in my presentation and show that mathematics is used in all positions of criminal law," she said.
The University of Houston-Victoria, located in the heart of the Coastal Bend region since 1973 in Victoria, Texas, offers courses leading to more than 80 academic programs in the schools of Arts & Sciences; Business Administration; and Education, Health Professions & Human Development. UHV provides face-to-face classes at its Victoria campus, as well as an instructional site in Katy, Texas, and online classes that students can take from anywhere. UHV supports the American Association of State Colleges and Universities Opportunities for All initiative to increase awareness about state colleges and universities and the important role they have in providing a high-quality and accessible education to an increasingly diverse student population, as well as contributing to regional and state economic development.