Close
UHV School of Nursing presents pins to graduates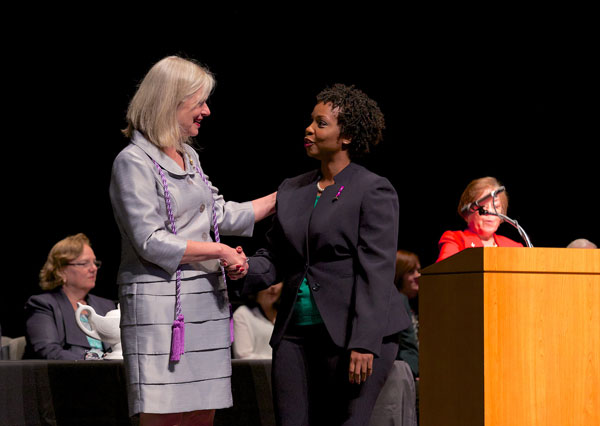 Kathryn Tart, dean of the UHV School of Nursing, congratulates Dalphany Blalock, who received her pin during the school's fall pinning ceremony. The spring pinning ceremony will be at 3 p.m. Saturday at Faith Family Church in Victoria.
The University of Houston-Victoria School of Nursing will celebrate on Saturday the first successes of a new program.
As part of the UHV School of Nursing Pinning Ceremony, the school will recognize the first 11 graduates of the Master of Science in Nursing family nurse practitioner program, which started in fall 2013.
"We're very proud of this group of students," said Kathryn Tart, dean of the school. "They've worked very hard, and they are looking forward to being leaders in health care. These practitioners are going to be serving in more rural, medically underserved areas where patients are in need of access to health care providers. The need for nurse practitioners in Texas and across the nation is growing, and we want to be able to meet that need for patient access."
The UHV School of Nursing Pinning Ceremony will be at 3 p.m. Saturday at Faith Family Church, 2002 E. Mockingbird Lane, immediately following the university's afternoon commencement ceremony. A total of 49 students will receive their UHV pins.
The pin presented to the nurses during the ceremony will stay on their lapels for the rest of their professional careers to let patients know that well-educated nurses are caring for them. The pin signifies the nursing program from which a nurse graduated. Each nursing school has a unique pin.
UHV School of Nursing faculty members will pin 25 Registered Nurse to Bachelor of Science in Nursing graduates and 20 MSN graduates, including those students with family nurse practitioner concentrations. They also will recognize three students who earned post-master's certificates and one student who completed the RN to MSN bridge degree.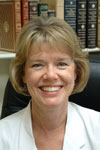 Jean Gisler
To acknowledge the university's first group of family nurse practitioner graduates, the speaker at the ceremony will be Jean Gisler, who owns a family nurse practitioner clinic in Victoria in partnership with fellow nurse practitioner Chris Stines. She has worked as a RN for 25 years and a family nurse practitioner for 20.
In addition to her practice, Gisler also is involved in several nursing groups, including the Victoria Area Nurse Practitioners, which she cofounded; American Academy of Nurse Practitioners; and Texas Nurse Practitioners, which she served as vice president. She was the 2008 recipient of the Texas Nurse Practitioner of the Year, and in 2009, she was awarded the American Academy of Nurse Practitioners Award for Excellence in Clinical Practice.
"Part of what I want to pass on to the next group of family nurse practitioners is our identity," Gisler said. "There's a lot of confusion among the public as to what we are and what we do. We need to educate the public about our role in health care. It's not a hierarchy; it's a team. We're not on the road to being a physician; we are nurse practitioners."
In her presentation, Gisler plans to talk about the leadership role nurses take on as part of their profession. Because nurses are an essential part of the health care team, it is important that they stay involved in their communities and in legislative decision making that can affect the health care system.
"I've been involved in legislative activities, and it's been an eye-opening experience," Gisler said. "Texas is one of the poorest states when it comes to health care. We don't have enough physicians or nurses. We don't have enough providers, and family nurse practitioners can fill some of that gap as primary care providers."
Tart hopes that message of leadership and responsibility is one the graduates will carry with them in their careers. Nurses are advocates for their patients, especially those who are young, elderly or vulnerable. Now, these students are prepared to take on the role of advocates and care providers. Gisler is a wonderful role model of a nurse leader for UHV's graduates to emulate, and the school is proud to have her as its speaker, Tart said.
"I love the pinning ceremony," Tart said. "It's very special because it's a time when nurses and their families see the outcome of everything they've done to earn their degrees. Getting that pin is the final acknowledgment that they are ready to move out into the role for the degree which they have earned."
The University of Houston-Victoria, located in the heart of the Coastal Bend region since 1973 in Victoria, Texas, offers courses leading to more than 80 academic programs in the schools of Arts & Sciences; Business Administration; and Education, Health Professions & Human Development. UHV provides face-to-face classes at its Victoria campus, as well as an instructional site in Katy, Texas, and online classes that students can take from anywhere. UHV supports the American Association of State Colleges and Universities Opportunities for All initiative to increase awareness about state colleges and universities and the important role they have in providing a high-quality and accessible education to an increasingly diverse student population, as well as contributing to regional and state economic development.