Close
UHV biology students look for genetically modified organisms in food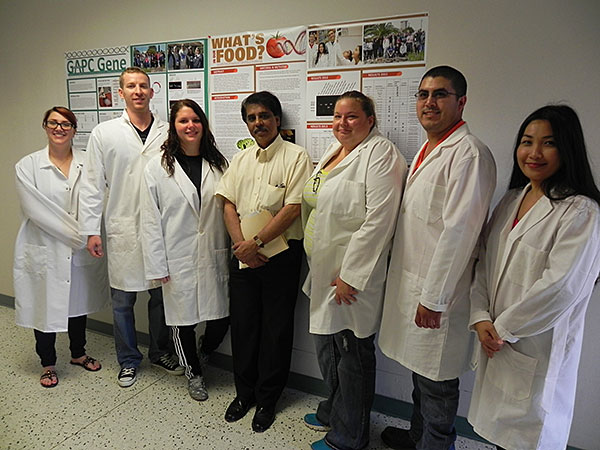 University of Houston-Victoria biology lecturer Hashi Ehsan, center, stands with biology students in front of posters of information collected during a plant biotechnology lab course. Pictured from left are Johnna Burgman, Colby Stokes, Samantha Wooster, Ehsan, Emily Martin, Arturo Rodriguez and Lydia Palmer.
A four-year study in detecting genetically modified food conducted by University of Houston-Victoria undergraduate students has produced some surprising results.
Students in the undergraduate plant biotechnology lab course taught by biology lecturer Hashi Ehsan have used Bio-Rad Genetically Modified Organism Investigator Kits since 2012 to detect the presence of GMOs in plant products. This year, 26 students took the course along with three independent researchers and a graduate assistant.
Students tested samples from fast food restaurants in the Victoria area in the 2014-2015 school year. Of the samples, 42 percent tested positive for GMOs, including lettuce, pickles, banana peppers, cucumbers, peas, zucchini, tomatoes, onions and jalapenos from various fast food restaurants.
"This was a huge jump," said Zac Tegeler, a Victoria graduate student pursuing a Master of Science in biomedical sciences – professional science. "In previous years, we might spot one or two items, but this year, GMOs were everywhere. That's part of why we chose to write the paper this year."
The original purpose of the study was to conduct a basic experiment to help students understand and use some of the state-of-the-art technology used in molecular biology, Ehsan said. It also helped students learn basic biology concepts. The experiments were done as a class, so everyone had a chance to see how the technology worked.
Each year, the class studied a different set of plant-based food. However, once the results from the past four years were compared, some surprises were found, which are discussed in a paper the undergraduate class put together based on its findings.
"It was good to see food from a different perspective," said Lydia Palmer, a Victoria senior biology major who took part in the study as an independent researcher. "GMOs are controversial, but we were trying to find a safe spot for our study. We chose to look at it from the perspective of the labeling issue instead of whether it's good."
In the 2011-2012 school year, the class looked at food products from the Victoria H-E-B stores and a package of Cheetos from a UHV vending machine. The majority of the H-E-B samples tested negative for GMOs; however, the Cheetos tested positive. UHV was the first institution to confirm that Cheetos are made from genetically modified plant materials, Ehsan said, and the snack food has been included in the testing every year as a constant.
The food for the following school year was imported from around the world. Students tested cilantro, jalapenos, radishes, Brussels sprouts, tomatoes and bell peppers from Mexico; wakame seaweed and miso soup from Japan; plantains from Guatemala; soy milk from Malaysia; avocado from Chile and more.
"All of the test items came up with no GMOs detected," Tegeler said. "The idea discussed in the paper is comparing U.S. standards with standards from other countries. The U.S. standards are much looser. Foreign foods must be labeled if they contain GMOs, but there are no labels on U.S. produce."
Students saw similar results in the 2013-2014 academic year, when the class tested food labeled as certified organic. None of the organic foods tested positive for GMOs, which was in line with federal regulations.
The paper mentioned some of the concerns expressed in society, but the main focus was on the need for proper labeling of genetically modified products in the U.S. so consumers can make educated decisions when purchasing food, Tegeler said.
"My favorite part of the study was all of the background information that we found," Tegeler said. "It gives a basis to form an opinion on the issue. GMO doesn't necessarily mean something is bad. It just means it's been slightly altered."
Because genetics is relatively new compared with other scientific fields, there are still a lot of discoveries to be made and a lack of public education to overcome, Ehsan said. However, countries are beginning to explore the options for GMOs.
"India has more than a billion people, and many are suffering because of the need for food," Ehsan said. "India is starting to use a lot of GMO products. Once scientists discover how to do this the right way, it will save the world."
Although scientists see a lot of possibilities for genetically modified products, public perception and lack of knowledge is the major sticking point in today's society, said Colby Stokes, a Port Lavaca senior biology major and independent researcher.
"Part of the reason the effects of GMOs are such a mystery are because there are not a lot of studies being done to explore what happens after they have been consumed," Stokes said. "By raising awareness, we hope that studies on the effects of these products will be undertaken in the future."
The class paper will be submitted to a scientific journal.
"This will be a good boost for UHV students," Ehsan said. "They had the opportunity to learn the technology and collect data. They were the ones who wrote the paper, which is a rare opportunity for an undergraduate student. That experience will help them in the future because now they know how to write a paper and share information, and they also can put this on their resumes."
The University of Houston-Victoria, located in the heart of the Coastal Bend region since 1973 in Victoria, Texas, offers courses leading to more than 80 academic programs in the schools of Arts & Sciences; Business Administration; and Education, Health Professions & Human Development. UHV provides face-to-face classes at its Victoria campus, as well as an instructional site in Katy, Texas, and online classes that students can take from anywhere. UHV supports the American Association of State Colleges and Universities Opportunities for All initiative to increase awareness about state colleges and universities and the important role they have in providing a high-quality and accessible education to an increasingly diverse student population, as well as contributing to regional and state economic development.