Close
UHV Student Employees of the Year winners honored for taking initiative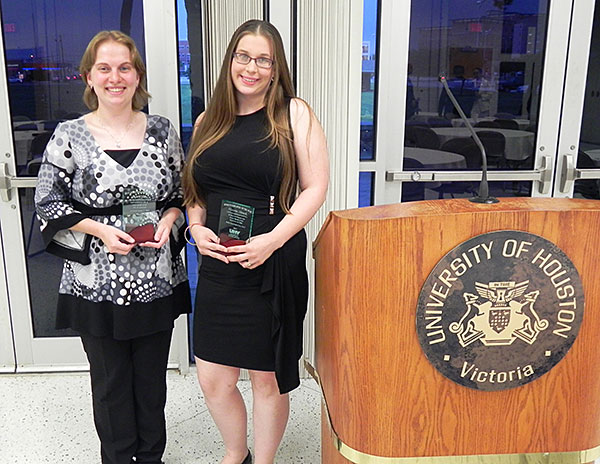 Alex Brieske, left, and Victoria Shimek display their awards for being named the University of Houston-Victoria Student Employees of the Year.
While the paycheck is nice, Victoria Shimek views her office assistant job at B-Environmental in Victoria as a learning experience.
The University of Houston-Victoria senior elementary education major said she's gained a great deal of knowledge about how to approach clients and interact in a business setting.
"From this job, I've learned to pay a lot more attention to details and to be more responsible," she said.
Victoria residents Shimek and Alex Brieske, an intern with UHV Career Services, recently were named UHV Student Employees of the Year. The winners each received a $500 scholarship for the fall semester and were honored during the May 5 Employer Recognition Dinner in the UHV University Center Multi-Purpose Room.
The scholarships were awarded by UHV Career Services for the fourth year as a way to emphasize the importance of a good work ethic and how work experience contributes to the overall education process. Career Services helps connect area employers with UHV students looking for work.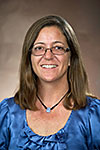 Amy Hatmaker
"It's critical to recognize students for their work outside the classroom as well as inside," said Amy Hatmaker, UHV Career Services manager. "Students' work behavior reflects on the university, and it's important to reward students who have shined positive light back on UHV."
Students were nominated for the award by their employers. A UHV selection committee reviewed the nominations to select one student with a job in the community and one student who works on campus. The committee evaluated nominees based on self-motivation, ethics, honesty, punctuality, discipline, adaptability, being a team player, and possessing a positive and proactive attitude.
Brieske is pursuing a Bachelor of Business Administration with a concentration in management. She has worked for Career Services since summer 2014. She initially was a student worker and then spent the spring semester as a management intern.
Besides herself, Hatmaker said there were no other employees in Career Services when Brieske came aboard. For the most part, Brieske learned how to do her job on her own.
"She took the initiative to go through records to learn about our services and goals," Hatmaker said. "She straightened out our record keeping and learned how to walk students through the job search process. There is no doubt she is a tremendous asset to the university."
Brieske said working in Career Services was amazing and she is appreciative to UHV and the selection committee for the award.
"I have learned what it takes to be a good manager and what those responsibilities entail," she said. "Amy made me feel welcome, and I am grateful to have her as a mentor. With her encouragement and great support from my family, I've been able to achieve my academic and employment goals at UHV."
Shimek has worked at B-Environmental for about two years, running the front counter and logging in samples the company receives.
"Victoria walks in the door every morning like a ball of fire," said Lori Vahrenkamp, B-Environmental office manager. "She is self-motivated and an employee I can trust to get her jobs done in a timely matter."
Shimek said she is grateful to her employer for valuing her hard work and perseverance, and she appreciates UHV for providing the scholarship to further her education.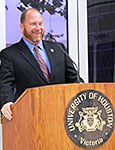 Randy Vivian
"This award is extremely helpful to me because I have a family to support," she said. "It's nice that the university is recognizing students who are working while going to school. It helps us financially and shows we are appreciated."
UHV holds the Employer Recognition Dinner annually as a thank you to the many business owners who have hired UHV students. Randy Vivian, president and CEO of the Victoria Chamber of Commerce and a UHV alumnus, was the keynote speaker for this year's dinner.
"The opportunities local businesses are giving students are incredible," Vivian told the audience. "They give the students the opportunity to do things that my generation wasn't able to do. When many of us walked out of college, we had no experience. Today, these jobs and internships are giving students marvelous work experiences that will help them move forward in their lives and careers."
The University of Houston-Victoria, located in the heart of the Coastal Bend region since 1973 in Victoria, Texas, offers courses leading to more than 80 academic programs in the schools of Arts & Sciences; Business Administration; and Education, Health Professions & Human Development. UHV provides face-to-face classes at its Victoria campus, as well as an instructional site in Katy, Texas, and online classes that students can take from anywhere. UHV supports the American Association of State Colleges and Universities Opportunities for All initiative to increase awareness about state colleges and universities and the important role they have in providing a high-quality and accessible education to an increasingly diverse student population, as well as contributing to regional and state economic development.