Close
Business graduate students use practical knowledge to win competition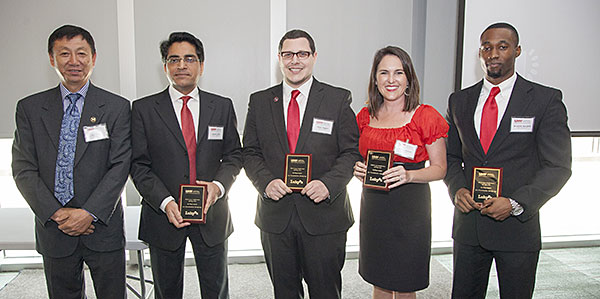 Members of the first-place team of the University of Houston-Victoria School of Business Administration Master of Business Administration Case Conference stand with Jifu Wang, a UHV associate professor of management, and display their plaques. From left to right are Wang, Gaurav Jolly, Adam Wagner, Megan Browne, and Brandon Hereford.
SUGAR LAND – When Adam Wagner found out that the company featured in the University of Houston-Victoria School of Business Administration Master of Business Administration Case Conference was Luby's Inc., he decided his team needed to gain some practical knowledge about the business.
Wagner set up a meeting with two general managers of Luby's restaurants in Houston. They discussed the company's methods and philosophy with the team of four UHV graduate students.
"That perspective was instrumental to our success," said Wagner, who graduated with his Strategic MBA on Saturday.
Megan Browne of Richmond, Gaurav Jolly of Sugar Land, and Brandon Hereford and Wagner, both of Houston, took first place in the competition on May 9 with their presentation of recommendations for the Houston-based restaurant chain.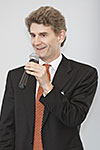 Peter Tropoli
On hand for the presentation were the two general managers and Peter Tropoli, chief operating officer of Luby's and president of Fuddruckers, which is owned by Luby's Inc. Tropoli was the keynote speaker at the conference luncheon.
"They went well above and beyond our requirements," said Jifu Wang, associate professor of management who taught the students' course. "We provide students with a grading rubric for the projects, but that's just a minimum level. The winning team did a lot of in-depth work, and its presentation really caught Mr. Tropoli's eye."
At the end of the event, Tropoli requested copies of all 20 presentations and asked the winning team to make its presentation to his executive board in June. This is a first for the conference, said Peggy Cloninger, professor of management and chair of the UHV Department of Strategy and Decision Sciences.
Seventy-one students enrolled in the capstone course for the Strategic MBA program took part in the competition in teams of three or four. Presentations were judged by panels consisting of area business leaders, School of Business Administration faculty members and alumni. The conference saw the largest ever number of alumni attend as panelists, said Jeff Blodgett, associate dean of the UHV School of Business Administration.
Members of the other winning teams and their hometowns were:
Second Place – Chadley Archibald of Houston, Maria Regina Eco of Salt Lake City, Alexander Garza of Richmond and Jaime Lopasky of Katy

Third Place – Mehdi Jafry of Sugar Land, Jean Kamlo of Houston, Lennox Leotaud of Missouri City and Courtney White of Richmond
"I'm really proud of our students and our faculty who teach these capstone strategy courses," Cloninger said. "Our MBA students are expected to research a company from scratch, identify the most critical issues facing the company, and then apply and integrate everything they've learned throughout their program to develop detailed recommendations for the company. I'm also exceedingly proud of our strategy faculty. Our faculty members have deep knowledge of business theory and practice."
Many of the MBA students are taking the capstone strategy class online, and some live and work in other cities, states or countries. For example, the team that won second place took the class online, and one of their members lives in Utah.
"Our online students had to prepare and rehearse their presentations virtually, usually using online meeting rooms that the school provides, and they may not have any face-to-face contact until the day of the conference," Cloninger said. "The extra effort these students put in working virtually to create their presentations makes Tropoli's request to see all of the presentations that much more of a compliment."
The excellent presentations by the students speak to the success of the goal of the program, which is to build on students' capabilities, Wang said.
"We don't just show them how to get a diploma," Wang said. "We show them how to do the work they need to succeed. This case is only a springboard. It sharpens students' abilities to see where there is room for improvement in a company. They don't just graduate with degrees; they graduate with capabilities."
Another element that gave his team an edge was its prior experience working together, Wagner said. The team members had classes with each other during the past year and a half of the MBA program. The case competition allowed them to bring their strongest qualities to the table.
"Right from the beginning, we decided to play to each other's strengths," Wagner said. "Gaurav has a very strong financial background, so he focused on the finance aspects. I did a lot of work in operations; Brandon looked into marketing; and Megan focused more on the presentation and internal analysis of our work."
In addition to the students' familiarity with each other, they spent as much time as possible practicing for the event, said Hereford, who will finish his MBA with a concentration in finance this summer.
"A lot of preparation went into play, and we were excited for the judges to hear our recommendations," Hereford said. "We had become so familiar with the material that it was almost like second nature when we were presenting."
During his speech, Tropoli gave an overview of the company's history and philosophy. Luby's puts a large emphasis on its employees and ensuring that they are well treated. Because the restaurant business is a service industry, the company recognizes the importance of ensuring that those doing the serving are taken care of through good wages, a healthy work environment and more.
"Listening to his speech shed a lot of light on what our presentation was about," Wagner said. "It was interesting to hear it straight from his mouth and reaffirm what we'd been studying."
The MBA Case Conference luncheon was sponsored by Bloomberg BusinessWeek, Northwestern Mutual and Regency Post-Acute Healthcare Systems.
The University of Houston-Victoria, located in the heart of the Coastal Bend region since 1973 in Victoria, Texas, offers courses leading to more than 80 academic programs in the schools of Arts & Sciences; Business Administration; and Education, Health Professions & Human Development. UHV provides face-to-face classes at its Victoria campus, as well as an instructional site in Katy, Texas, and online classes that students can take from anywhere. UHV supports the American Association of State Colleges and Universities Opportunities for All initiative to increase awareness about state colleges and universities and the important role they have in providing a high-quality and accessible education to an increasingly diverse student population, as well as contributing to regional and state economic development.