Close
UHV education faculty, staff members earn awards from peers
UHV School of Education, Health Professions & Human Development faculty members Elsa Soto Leggett, left, Rachel Martinez and Joann Olson show off certificates they received for winning the school's 2014-2015 outstanding faculty awards. In addition, Sandy Hybner won the award for outstanding staff member.
Winners of the 2014-2015 University of Houston-Victoria School of Education, Health Professions & Human Development faculty and staff awards excelled in research, community outreach and finding ways to improve students' learning experiences.
The recipients and their titles are:
Outstanding Faculty Member in Teaching – Elsa Soto Leggett, associate professor of counseling
Outstanding Faculty Member in Scholarship – Joann Olson, assistant professor of adult and higher education
Outstanding Faculty Member in Service – Rachel Martinez, associate professor of special education
Outstanding Staff Member – Sandy Hybner, senior recruitment coordinator
Fred Litton, dean of the UHV School of Education, Health Professions & Human Development, started the awards in 2013 to recognize the school's faculty and staff members for their excellence in teaching, service or research. A faculty and staff committee annually chooses the recipients.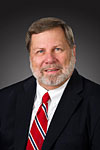 Fred Litton
"The school has many terrific educators and staff members, so the committee always has some difficult decisions to make," Litton said. "The winners deserve credit for helping us grow our school and provide an environment where our students flourish."
Leggett was honored for her commitment and dedication to teaching. A UHV faculty member since 2008, she teaches graduate-level counseling.
During the past year, Leggett redesigned online counseling courses to include additional multicultural experiences. She added an assignment where students recorded an experimental activity and then uploaded it so classmates could view it. She also supplemented assignments with case studies. Students said they liked both activities.
Leggett, who also served as the 2014-2015 UHV Faculty Senate president, instituted a virtual site visit with employers who have UHV counseling students performing field work. Of the 20 employers requiring visits, nine opted for the virtual option instead of face to face.
"I got a lot of positive feedback because they liked the convenience of conducting the site visit online," she said.
In addition to the education school award, Olson recently was awarded the university's 2014-2015 Research and Scholarly Activity Excellence Award, which recognizes professors who have made outstanding research and scholarly contributions to their scientific and scholarly communities.
Among her many accomplishments were co-editing a book, publication of an article in a premiere counseling journal and being the recipient of a UHV Junior Faculty Summer Research Grant.
"So much of the research and writing process takes place in solitude, so it's very encouraging to have that work recognized by my peers in the School of Education, Health Professions & Human Development," Olson said.
Olson took part in several research projects during the past year. One project involved giving UHV freshmen an assignment designed to study their grit and perseverance. Another project covered how higher education staff members learn new jobs after changing positions. She also continued a qualitative study on how college recruiters do their work and interact with first-generation college students and their parents.
Martinez served on a faculty committee that examined how the university can further help freshmen be successful at UHV. The group looked at whether freshmen have the right type of assistance in place to help them choose classes and adjust to college.
"We made some changes in how we are offering some courses, and I think it's going to have positive results," she said. "This should help students achieve more success their freshman year, which will make it more likely they will stay in college."
The committee also looked at programs to attract international students and evaluated whether UHV had the necessary staff to meet their needs, Martinez said.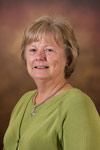 Sandy Hybner
She also served as a senator on the UHV Faculty Senate and as a member of the university's Community of Readers Committee.
"I enjoy being involved because faculty members get the chance to have a say about what goes on at UHV," she said. "Faculty involvement is beneficial to the university."
Hybner was honored for delivering exceptional effort in community outreach to promote the school in the Coastal Bend and Greater Houston.
"It is very humbling to receive this type of recognition from our faculty and staff," she said. "I'm always learning something new as the university grows and thinking of ways to improve my service and contribution. I'm proud to be part of a team that makes a positive difference in the lives of people."
The University of Houston-Victoria, located in the heart of the Coastal Bend region since 1973 in Victoria, Texas, offers courses leading to more than 80 academic programs in the schools of Arts & Sciences; Business Administration; and Education, Health Professions & Human Development. UHV provides face-to-face classes at its Victoria campus, as well as an instructional site in Katy, Texas, and online classes that students can take from anywhere. UHV supports the American Association of State Colleges and Universities Opportunities for All initiative to increase awareness about state colleges and universities and the important role they have in providing a high-quality and accessible education to an increasingly diverse student population, as well as contributing to regional and state economic development.