Close
French ambassador to Ireland knights Dalkey Archive Press founder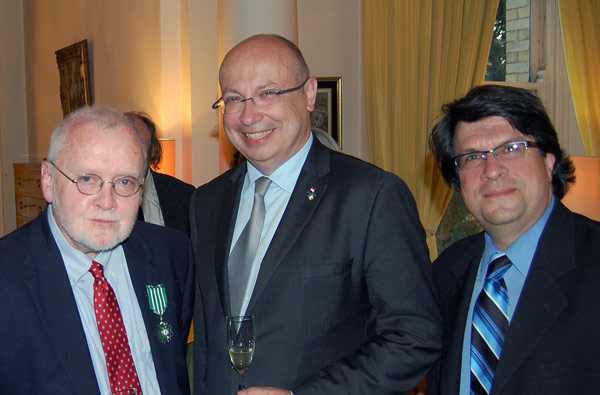 John O'Brien, left, founder of Dalkey Archive Press, has his photo taken with Jean-Pierre Thébault, France's ambassador to Ireland, and Jeffrey Di Leo, dean of the UHV School of Arts & Sciences, after a ceremony knighting O'Brien at the French Embassy in Dublin. O'Brien was wearing a ribbon and medallion that he was awarded for winning a French culture honor.
The founder of a press moving to the University of Houston-Victoria this summer recently received France's highest cultural honor for three decades of publishing French literature.
John O'Brien, founder of Dalkey Archive Press, was named a knight in the French Ordre des Arts et Lettres by Jean-Pierre Thébault, France's ambassador to Ireland. The knighting took place during a ceremony at the French Embassy in Dublin.
During his speech, Thébault said O'Brien made a huge push for translating literature in France and many points beyond. Dalkey Archive Press has published 53 French authors and translated 103 French books into English. Thébault called O'Brien a defender of cultural diversity.

Dalkey Archive Press logo
"For over 30 years, during which time he was also a professor of literature, he has devoted himself to promoting literature in translation, as well as championing the rights of translators in academia," Thébault said during his speech.
Dalkey Archive Press, an internationally renowned nonprofit literary organization, will move its publishing operations this summer from Champaign, Ill., to Victoria. The press publishes about 50 books a year with an emphasis on translations from more than 40 countries.
Jeffrey Di Leo, dean of the UHV School of Arts & Sciences, attended the ceremony in Dublin, along with several French and Irish authors and publishers.
"The award and knighting are a fitting tribute to John's tireless dedication to preserving and promoting the work of international authors," Di Leo said. "I know he and his staff will continue the important undertaking of training emerging translators in the art and practice of literary translation after the press moves to UHV."
O'Brien, who is Irish American, received a medallion on a ribbon during the ceremony. Thébault read a prepared speech during the ceremony but also made some side comments.
"These side comments were very gracious, but I stood there fully exposed about what I've done," O'Brien said. "It almost became too much. A friend of mine compared it with being at your own funeral but able to hear what people are saying. I was speechless after his comments."
During O'Brien's freshman year of high school, he had a teacher who more or less threw away the textbook and introduced the class to T.S. Eliot, Ernest Hemingway and William Faulkner.
"At the end of the year, I had saved up my Christmas and birthday money," O'Brien said. "I went to my teacher and asked him to give me a list of 100 books that I should read. I took the list and went to the largest bookstore in Chicago and purchased as many of the 100 as it had."
O'Brien said among the first few books he read were translations of foreign writers, although he didn't think much about it at the time. At that stage, he was reading novels to get some clue about life.
"But it put me on a path of reading internationally," he said. "Probably three-quarters of the books on that list were from other countries. I became accustomed to reading literature in translation and never made distinctions about the original and translated versions. A lot of them were French writers."
When he started publishing, O'Brien decided to re-print some French books that had gone out of print. He also published a number of books from established French writers that hadn't been translated.
"It was delightful to be publishing authors that I was reading in high school and college," O'Brien said. "I created the press to protect this body of literature in the future. I have a policy of not letting any books go out of print, so that some misguided high school freshman will have these books readily available. That's been a founding principle of the press."
Dalkey Archive Press has published more than 750 fiction and poetry books in three decades. O'Brien is looking forward to pursuing new ideas at the organization's new home.
"I think the move to UHV is going to be really interesting for us because there are so many possibilities that can happen at the university," he said. "Having this award come along shows part of what we can do. We can bring lot of our writers to Victoria and do a lot with translation, French and otherwise."
The Ordre des Arts et Lettres, which translates to Order of Arts and Letters in English, was established in 1957. It is annually awarded by the French ministry of culture to recognize important artists, writers and scholars for promoting the awareness and enrichment of France's cultural heritage.
Past winners include authors Eliot, Ray Bradbury and John Banville; actors Bruce Willis, Robert Redford and Meryl Streep; and musicians Bono, Ringo Starr and Bob Dylan.
The University of Houston-Victoria, located in the heart of the Coastal Bend region since 1973 in Victoria, Texas, offers courses leading to more than 80 academic programs in the schools of Arts & Sciences; Business Administration; and Education, Health Professions & Human Development. UHV provides face-to-face classes at its Victoria campus, as well as an instructional site in Katy, Texas, and online classes that students can take from anywhere. UHV supports the American Association of State Colleges and Universities Opportunities for All initiative to increase awareness about state colleges and universities and the important role they have in providing a high-quality and accessible education to an increasingly diverse student population, as well as contributing to regional and state economic development.