Close
UHV signs agreement with technology-oriented Chinese university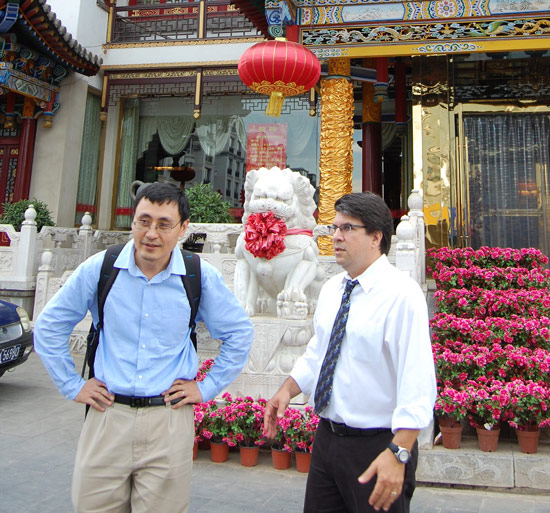 Yun Wan, left, a UHV associate professor of computer science, and Jeffrey Di Leo, dean of the UHV School of Arts & Sciences, explore Harbin, China. UHV has now signed Memorandums of Understanding with two universities in the Chinese city.
The University of Houston-Victoria is in the process of expanding its international connections by collaborating with a Chinese university on computer science and technology research.
The university recently signed a Memorandum of Understanding with Heilongjiang University of Science and Technology in Harbin, China. In December, UHV signed a similar agreement with Harbin Normal University, which also is located in Harbin, a city in northeast China known for its ice sculptures.
"This connection will allow UHV to improve its international presence while also collaborating on research that focuses on computers, engineering and other technology-driven fields," said Yun Wan, a UHV associate professor of computer science. Wan grew up in China and helped establish the connection with Heilongjiang University.
The five-year agreement is similar to the agreement with Harbin Normal University and will increase cooperation between UHV and Heilongjiang University in three major areas: faculty exchange, research collaboration and student exchange programs. The partnership developed following a 2014 visit by Jeffrey Di Leo, dean of the UHV School of Arts & Sciences.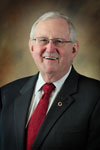 Vic Morgan
"This is yet another opportunity for our university as we continue to push forward and grow into a destination university," UHV Interim President Vic Morgan said. "By partnering with excellent institutions such as Heilongjiang University, UHV can help build a better world."
Heilongjiang University was founded in 1947 and has an enrollment of 21,800 students, including about 800 graduate students and 1,100 faculty members. It is made up of 13 colleges with 54 academic programs. The school originally specialized in mining technology and eventually expanded to include a variety of programs focused on scientific and technological fields.
The universities currently are developing a student exchange program, Wan said. The MOU states that student exchanges will include both athletic and academic programs. The program is slated to begin during the summer.
During Di Leo's visit to Harbin, opportunities were found that would benefit students in joint science and engineering projects under the advising of faculty members from both schools, Wan said. Heilongjiang University officials expressed interest in sending graduate students to UHV's computer science program to work with the faculty on cloud computing, digital gaming design and network security.
As part of the agreement, faculty members at UHV and Heilongjiang University will collaborate on research by carrying out joint research projects and exchanging scientific and technical data. They also will share information about lectures, seminars, personal or professional experiences, and teaching methods.
The first subject explored in the cooperative effort will be computer and information systems, Wan said. Afterward, the schools plan to expand the program to include other subjects including bioengineering and petroleum engineering.
"Through this agreement, we will open new fields of opportunity to our students and faculty members," Di Leo said. "I look forward to seeing what new possibilities are in store."
The University of Houston-Victoria, located in the heart of the Coastal Bend region since 1973 in Victoria, Texas, offers courses leading to more than 80 academic programs in the schools of Arts & Sciences; Business Administration; and Education, Health Professions & Human Development. UHV provides face-to-face classes at its Victoria campus, as well as an instructional site in Katy, Texas, and online classes that students can take from anywhere. UHV supports the American Association of State Colleges and Universities Opportunities for All initiative to increase awareness about state colleges and universities and the important role they have in providing a high-quality and accessible education to an increasingly diverse student population, as well as contributing to regional and state economic development.