Close
UHV receives funding boost, student center approval from Texas Legislature
The University of Houston-Victoria plans to use money allocated from several bills passed by the Texas Legislature to build academic buildings, purchase equipment and enlarge a student grant program.
The Legislature approved several bills during the now completed 2015 session that could provide significant financial assistance in helping the university achieve its goal of 6,000 on-campus students by 2025.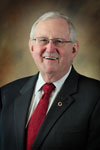 Vic Morgan
The bills still must be signed by Gov. Greg Abbot before becoming law. He is expected to do so in the near future, UHV Interim President Vic Morgan said.
"I think UHV made a compelling case for why increased funding will benefit the people and communities of the Coastal Bend region," Morgan said. "We have ambitious plans to continue to develop into a comprehensive regional university, and this funding is critical in having the space and resources to meet our growing student population. While we didn't get everything we requested, the end result will make a major impact in our future expansion."
UHV is poised to receive $60 million in campus construction bonds for academic expansion and land acquisition. These bonds, formally called Tuition Revenue Bonds, are state-backed debt to finance capital projects. The Legislature hadn't previously passed a TRB bill since 2006.
The $60 million is comparable to the amount other universities in the state received this legislative session. The money will be available beginning in September 2016.
UHV is planning on using the bonds for construction of a science, technology, engineering and mathematics building, and adding a learning commons, a modern name for a library. Other plans include remodeling existing facilities, finishing the third floor of the soon-to-open Academic and Regional Economic Development Building, and property purchases.
In addition, the UH System received $46.8 million in campus construction bonds for land acquisition and construction of a new UH System building in Katy. UHV plans to offer classes at the new building when it opens, Morgan said. All of the courses and functions now offered in UH Sugar Land will move to this new facility, or relocate to UH System at Cinco Ranch or Houston Community College Katy, where UHV offers programs.
If signed by the governor, UHV also would receive an additional $1.8 million a year in Higher Education Fund money to be used for maintenance, space and equipment needs. That would be a 73 percent increase from the current allocation. The additional money also would not be available until September 2016.
"HEF and TRBs will go a long way in solving our academic space shortages," Morgan said.
UHV also should receive an increase of $375,000 each year in formula funding starting in September. Formula funding is money higher education institutions receive based on the number and type of student credit hours logged.
In addition, UHV will receive a boost in Toward Excellence Access & Success, or TEXAS, Grants. This state program provides grants to enable eligible students to attend college. More UHV students would be able to receive the grants with the increase in funding. While the exact dollar amount will be worked out later, Morgan anticipates about a 50 percent increase in this financial aid funding.
The Texas House and Senate also approved a bill allowing for the assessment of a student fee for the purpose of financing, constructing, operating, maintaining and improving a UHV student center. UHV students living within a 50-mile radius of Victoria voted in February to implement the fee, pending legislative approval.
Starting this fall, a fee of $150 will be charged each fall and spring semester to students living within 50 miles of Victoria since they are the ones most likely to use the center. The center is scheduled to open in fall 2017 and it will have a bookstore, food court and space for students to study, hang out and hold events. The center is anticipated to be adjacent to the learning commons to facilitate better use and access.
Morgan said he appreciates the support of Rep. Geanie Morrison and Sen. Lois Kolkhorst as well as endorsements from local officials. The Victoria City Council and Victoria County Commission passed resolutions in February supporting UHV's legislative request.
"The buy-in from Victoria and the surrounding region helped our cause and showed that the community is excited about the direction the university is taking," Morgan said. "We are going to make significant progress toward our goals during the next two years as a result of this support."
He also expressed appreciation to several UHV students who visited Austin during the session to talk with legislators about the university's future.
"They did an outstanding job of representing UHV and expressing our goals for the future, even though most of them will not likely participate in the resulting benefits," Morgan said. "That is true commitment to their alma mater."
The University of Houston-Victoria, located in the heart of the Coastal Bend region since 1973 in Victoria, Texas, offers courses leading to more than 80 academic programs in the schools of Arts & Sciences; Business Administration; and Education, Health Professions & Human Development. UHV provides face-to-face classes at its Victoria campus, as well as an instructional site in Katy, Texas, and online classes that students can take from anywhere. UHV supports the American Association of State Colleges and Universities Opportunities for All initiative to increase awareness about state colleges and universities and the important role they have in providing a high-quality and accessible education to an increasingly diverse student population, as well as contributing to regional and state economic development.