Close
UHV to receive $1.1 million grant for autism training
The University of Houston-Victoria is ahead of the curve when it comes to training educators to work with children who have autism, and a federal grant soon will solidify that position.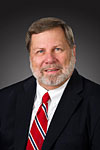 Fred Litton
The UHV School of Education, Health Professions & Human Development recently received confirmation that a grant of $1,103,833 will be awarded by the U.S. Department of Education for the school's Master of Education in special education with an emphasis in autism. School Dean Fred Litton co-directs the program with Rita Coombs-Richardson, a UHV associate professor of educational leadership, administration and supervision.
This is the second-largest grant UHV has received, and the funds will become available in the fall.
"This is a very competitive grant to get, but we received it because we have the faculty, special education program and a history of success already in place," Litton said. "Rita and I are both experienced project directors from previous grants at other universities. When we put all our faculty specializations together, including some great adjunct professors, who have specializations in the field of autism, our program will be a great success."
In 2013, UHV added a concentration in autism to the master's degree in special education. The university also offers concentrations in applied behavioral analysis and educational diagnostician certification, which makes UHV unique among Texas universities.
"Only 35 out of 66 universities in Texas offer a special education master's degree," Litton said. "Of those, only a handful offer degrees with autism or applied behavior analysis concentrations. This grant is going to help UHV continue its work in these areas."
The five-year grant will be used to pay the tuition for 40 graduate students as well as other program expenses, Litton said. It will be divided to cover the full tuition for 10 new students every year beginning in the fall. Students will finish the two-year online program with a state certification in special education with an emphasis in autism. There is no state certification for autism.
As part of the program, students will learn how to work with children on the autism spectrum using the latest techniques and technology available. To help ensure success, the school will assign each graduate student a UHV faculty mentor to help him prepare for and understand the profession and provide assistance as he goes through the program. Instead of a typical thesis paper, students will put together and present a research project to a professional, state or national conference. The project will be the result of working directly with autistic children.
Autism has seen a significant increase in diagnoses during the past 15 years, Litton said. In 2000, one in 150 children was diagnosed. Now, that number is up to one in 68 births. Part of that increase may be from better diagnostic abilities, but it also could be due to a number of factors including genetics and environmental conditions. Whatever the reason, this increase presents a continuing challenge for school districts.
"We've surveyed the education field the last few years, and everyone we talked to had trouble finding teachers with training in autism," Litton said. "We're going to partner with the Victoria and Houston school districts, and we'll be recruiting students from there. A lot of the local districts were supportive when we were putting together the application, as was the Texas Education Agency."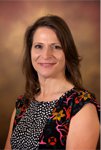 Angela Hartmann
That support was an important part of the grant application process, said Angela Hartmann, UHV director of grants and contracts. Several districts sent in letters of support, which were included in the lengthy application process. In addition, the UHV education school had to meet minimum requirements and show how it intended to go above and beyond to meet those needs.
"The awarding of this grant is a reflection of Drs. Coombs-Richardson and Litton's commitment to developing an effective special education program worthy of the Department of Education's support, and I applaud their dedication," Hartmann said.
Receiving this grant will help when applying for future grants, Litton said. It gives the school a track record that will be a testament of success.
"The people in the grants office were very helpful in putting this together," Litton said. "Our program was already in place, and we'd offer the training with or without the funding. But this grant offers a golden opportunity for our students and school districts across Texas."
Students who wish to learn more or apply for the grant should contact Coombs-Richardson at 361-570-4263 or coombsrichardsonr@uhv.edu.
The University of Houston-Victoria, located in the heart of the Coastal Bend region since 1973 in Victoria, Texas, offers courses leading to more than 80 academic programs in the schools of Arts & Sciences; Business Administration; and Education, Health Professions & Human Development. UHV provides face-to-face classes at its Victoria campus, as well as an instructional site in Katy, Texas, and online classes that students can take from anywhere. UHV supports the American Association of State Colleges and Universities Opportunities for All initiative to increase awareness about state colleges and universities and the important role they have in providing a high-quality and accessible education to an increasingly diverse student population, as well as contributing to regional and state economic development.