Close
UHV opens new motion capture lab in downtown Victoria
The University of Houston-Victoria is now home to a second motion capture and virtual reality laboratory used by students and faculty for research, simulation and programming.
The new Computation & Advanced Visualization Engineering, or CAVE, lab is located in the downtown UHV Center for the Arts, 204 N. Main St. It will primarily be used for research and student projects.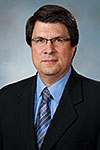 Jeffrey Di Leo
"This second CAVE lab is a valuable addition to UHV's nationally ranked digital gaming and simulation program," said Jeffrey Di Leo, dean of the UHV School of Arts & Sciences. "I look forward to seeing our students take advantage of this new resource and to the projects they develop in the CAVE lab."
UHV students already have made use of the first CAVE lab in UHV University West, 3007 N. Ben Wilson St., for projects in a variety of computer science and digital gaming subjects, said Alireza Tavakkoli, director of the UHV digital gaming and simulation program and an assistant professor of computer science. This second lab will further enhance the tools and technology accessed by students.
One of the first uses of the new lab will be for a master's thesis project that looks at U.S. Department of Transportation applications in traffic monitoring. Students will run robots in the lab in a mock-up of intersections, and the cameras will track the movement.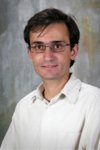 Alireza Tavakkoli
Many universities that work with state and federal agencies use life-sized simulations, Tavakkoli said. Usually, a large, empty building and real vehicles are used. However, that method is expensive and can be dangerous. But with the new CAVE lab, UHV can perform these simulations in a small system and still collect all the necessary data. This information can be used to develop software for traffic tracking.
The lab contains six OptiTrack cameras that use a rigid tracking system capable of recording the motion of six objects at a time. This is a different system from the UHV University West CAVE lab, which uses a skeletal body tracking program.
In skeletal tracking, the system can track the movement of limbs and other moving parts that make up a whole. With rigid tracking, only the motion of a solid object, such as a person's head or some form of prop, is recorded.
Although the cameras and labs use different tracking programs, neither is necessarily better than the other, Tavakkoli said. Students can take data collected from both labs and combine it for their research.
"My end goal for that lab is a fully functional virtual reality environment," Tavakkoli said. "I want to eventually be able to hang projection screens on walls so a person can put on a helmet and be immersed in a virtual world that is also displayed on the screens."
The new lab was used for the first time on July 2 during UHV's annual Digital Simulation and Robotics Summer Camp. The dozen high school students attending the camp were given a tour of the lab and helped calibrate the cameras and track the motion of one of the robots built during the camp.
Tavakkoli also plans to use the lab in the after-school robotics class he teaches annually to area high school students. Students will program robots, which will be recorded as they move around the lab to accomplish certain tasks. The students can analyze the data from that tracking and use that data to fine-tune the robots' programming.
The UHV Center for the Arts is located in the Kreisle Building in downtown Victoria. In addition to the new CAVE lab, the 5,500-square-foot facility houses UHV's art and design classes. It also is home to Chax Press, one of the nation's most innovative small literary presses, and is used to host events for the UHV Downtown Arts Series.
For more information about the lab, contact Tavakkoli at tavakkolia@uhv.edu or 361-570-4204.
The University of Houston-Victoria, located in the heart of the Coastal Bend region since 1973 in Victoria, Texas, offers courses leading to more than 80 academic programs in the schools of Arts & Sciences; Business Administration; and Education, Health Professions & Human Development. UHV provides face-to-face classes at its Victoria campus, as well as an instructional site in Katy, Texas, and online classes that students can take from anywhere. UHV supports the American Association of State Colleges and Universities Opportunities for All initiative to increase awareness about state colleges and universities and the important role they have in providing a high-quality and accessible education to an increasingly diverse student population, as well as contributing to regional and state economic development.