Close
Business school alumnus takes brewing business to next level
When Algis Aukstuolis was earning his master's degree from the University of Houston-Victoria, his homebrewing hobby provided some much-needed stress relief.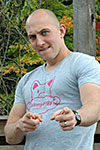 Algis Aukstuolis
The Cincinnati resident has since turned that hobby into a budding business. Aukstuolis is now owner of Skinny Piggy Kombucha in the Ohio city. Kombucha is a beverage made of tea that is fermented using yeast and live bacteria cultures.
Aukstuolis first tasted kombucha while pursuing a Global Master of Business Administration with a concentration in marketing from UHV. His wife brought the beverage home after grocery shopping. After tasting the drink, Aukstuolis decided he wanted to try brewing his own.
"I brewed a couple of batches at home, and they turned out pretty well," Aukstuolis said. "Since I was approaching the end of graduate school, I drew up a business plan. By the time I graduated in 2013, I was able to flesh out the idea more and work toward starting my own brewing company."

Skinny Piggy
He piloted the business by selling kombucha on draft outside a Cincinnati farmers' market. People loved his product, and some quickly became loyal to his brand.
At the end of his pilot season, Aukstuolis found a distributor willing to carry the product, and Whole Foods agreed to sell the beverage in the grocery store's Atlantic region stretching from Ohio to Virginia once Skinny Piggy increases production.
"The biggest challenge after that was finding financing," he said. "I finally got a combination of investors, so I was able to lease my equipment, and next month we will be able to expand into larger, industrial production to serve our larger clients."
Aukstuolis chose to attend UHV because of the university's reputation as a leader in online education and its affordable tuition, he said. When he was looking for a graduate school, Aukstuolis didn't know if he was going to continue living in the Cincinnati area, so an online program was more appealing. After doing some research, he chose to apply for the UHV School of Business Administration. He completed his Global MBA in three years.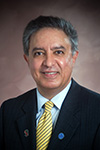 Farhang Niroomand
"The School of Business Administration's Global MBA enables students from all walks of life around the globe to earn a master's degree," said Farhang Niroomand, dean of the school. "Algis' story is one of many UHV successes, and I am proud to see yet another alumnus moving forward with his dream."
Aukstuolis' education at UHV was an important tool in his efforts to start his own company. He learned skills including how to write a business plan, how to interact with people in the industry, and how to negotiate with those in the supply chain, he said. It also gave him a clear perspective on the need to be practical when making business decisions.
"Anything that I do as part of my business will have consequences in dollars and cents," Aukstuolis said. "Almost all of my classes reinforced that idea. I also learned to examine how my business will affect the community. Aside from profit, a business also is a member of the community, so how do I ethically run my business?"
Another reason Aukstuolis chose to earn his graduate degree from UHV was because of its location in Texas.
"I'd never been to Texas, so I knew that if I went to an online school in the state, I could give myself a trip for graduation," he said. "I spent a few days in San Antonio and about a week in Austin. I had no idea that the land was so beautiful. It completely changed my perspective on Texas."
As Skinny Piggy grows, Aukstuolis plans on incorporating and prompting a healthy lifestyle into the company's mission. He also intends to expand the selection of kombucha flavors.
Because kombucha is carbonated, it is seen by some as an alternative to soft drinks and other sugary beverages. Some versions contain alcohol, but Skinny Piggy's kombucha is nonalcoholic. The drink also contains probiotics reputed to help digestion.
"Kombucha has definitely been a niche product for awhile, and we feel that we can bring it to the mainstream and make it accessible for everybody," Aukstuolis said.
The University of Houston-Victoria, located in the heart of the Coastal Bend region since 1973 in Victoria, Texas, offers courses leading to more than 80 academic programs in the schools of Arts & Sciences; Business Administration; and Education, Health Professions & Human Development. UHV provides face-to-face classes at its Victoria campus, as well as an instructional site in Katy, Texas, and online classes that students can take from anywhere. UHV supports the American Association of State Colleges and Universities Opportunities for All initiative to increase awareness about state colleges and universities and the important role they have in providing a high-quality and accessible education to an increasingly diverse student population, as well as contributing to regional and state economic development.