Close
UHV property provides ideal setting for movie vandalism scenes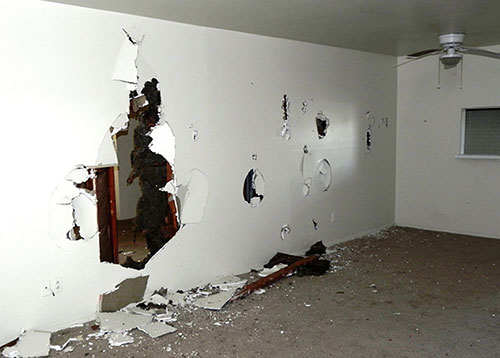 A wall inside an Arlington Apartment is in disarray after being chopped with an axe during the filming of "An American in Texas." Movie directors spent a weekend filming vandalism scenes at the apartment complex, which is slated to be demolished this fall.
A video clip of "An American in Texas" shows footage shot at the Arlington Apartments.
A soon-to-be-demolished apartment complex owned by the University of Houston-Victoria will be the scene of some disruptive behavior in a coming-of-age movie set in Victoria.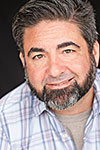 Anthony Pedone
The primary filming for "An American in Texas" won't start until November, but Anthony Pedone, the movie's co-writer and co-director, jumped at the chance to shoot footage at the now-vacant Arlington Apartments earlier this month.
"It was total destruction," Pedone said about how they used the apartments. "It was a super-cool location. It was overgrown and looked a bit apocalyptic."
Set in 1990 against the backdrop of the first Gulf War, "An American in Texas" is the story of four lifelong friends as they reach the cusp of adulthood. The film paints a picture of the youths' desire to carve out a destiny free from the constraints of conformity. The story is based on the conversations and actions of Pedone and his friends growing up in Victoria during that time period.
The university purchased the Arlington Apartments and neighboring Casa del Rio complex in 2013 to provide room for campus expansion. Both complexes are located across Ben Wilson Street from the UHV campus. Tenants moved out in 2014, and demolition of the apartments is slated for this fall. A residence hall and student center is expected to open on that site in fall 2017 and plans are underway to also construct learning commons, a modern term for a library.
Since the apartments will be torn down, UHV allowed the Victoria Fire Department to train in the apartments earlier this year. On the advice of Randy Vivian, president and CEO of the Victoria Chamber of Commerce and UHV alumnus, Pedone contacted the university about using the apartments.
"I about fell out of my chair when I found out we could," Pedone said. "Using the apartments probably saved us $30,000. To secure a warehouse, do a build out, destroy it, and build it again the same way to destroy it again is a massive undertaking."
Wayne Beran, UHV vice president for administration and finance, said the university was happy to help the fire department and film directors.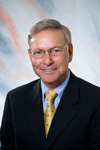 Wayne Beran
"We have big plans for this property, but in the meantime, the apartments are there waiting to be torn down," he said. "I'm glad we could help a local company shoot a movie right here in Victoria. I'm looking forward to watching the final product."
The film crew shot footage during two nights. From 3 to 8 p.m., they set up everything inside several apartments so they could destroy them after dark. The crew also came in the following day to film close-ups of axes hitting walls and recorded sounds of items breaking and doors being kicked in. The crashing and banging will be cut together with the images.
In the finished product, Pedone said they will cut from a house exterior to the shots of vandalism on the apartments.
"In addition to chopping through the walls of the apartments, we can cut to a character swinging an axe inside the house, and it will feel like all this is happening at the same place," he said.
Pedone co-wrote and is co-directing the film with Stephen Floyd, an Austin writer, director, actor, digital artist and musician. While the ramp up to the Gulf War is the backdrop, it's not a movie about the war, Pedone said.
"It's about growing up in a small town in Texas and viewing the outside world through 24-hour newscasts," he said.
The characters' anger over the media frenzy fuels their defiance as they carry out calculated acts of vandalism, get high and see their punk band as the one vessel that will carry them beyond the small town's city limit. As they cling to the hope of eventually leaving for Los Angeles and getting a record deal, high school senior Kara Warrington moves into town, and things become more complicated.
"I was in a band, and we wanted to go to San Francisco," Pedone said of his past. "Instead, we made it to Austin. The film also parallels a story in that a girl moved to town, and we uncovered some dark things happening with her."
A few cast members already have come on board including Quinton Aaron, who starred as Michael Oher in "The Blind Side," and James Paxton, who recently appeared in the History Channel miniseries, "Texas Rising." Pedone is waiting for responses to offers made to actors Jimmy Smits, Aidan Quinn, January Jones, Cameron Monaghan and Madisen Beaty.
Pedone said they have been trying to get the film on track for three years. A crowdfunding campaign on RocketHub raised $51,840, exceeding the goal of $50,000. A total of 168 people contributed to the project. The money helped pave the way to consulting with United Talent Agency to book well-known actors and help finance the film. The movie should be completed in early 2016.
Some of the money saved from not constructing build outs or securing land for the vandalism scenes can now be spent elsewhere.
"It was an incredible shoot, and we came away with amazing footage," Pedone said. "It was a blessing to get that spot, and we certainly appreciate UHV allowing us to film there."
The University of Houston-Victoria, located in the heart of the Coastal Bend region since 1973 in Victoria, Texas, offers courses leading to more than 80 academic programs in the schools of Arts & Sciences; Business Administration; and Education, Health Professions & Human Development. UHV provides face-to-face classes at its Victoria campus, as well as an instructional site in Katy, Texas, and online classes that students can take from anywhere. UHV supports the American Association of State Colleges and Universities Opportunities for All initiative to increase awareness about state colleges and universities and the important role they have in providing a high-quality and accessible education to an increasingly diverse student population, as well as contributing to regional and state economic development.