Close
VC/UHV Library to host workshop on grant finding resources
Victoria-area nonprofit groups will have the opportunity to learn about resources available through the Victoria College/University of Houston-Victoria Library that could help them receive more grant funding.
Members of area nonprofit groups are invited to attend the Introduction to Finding Funders workshop from 11 a.m. to noon Sept. 9, and 2 to 3 p.m. Oct. 2 in Room 106 of the library, 2602 N. Ben Jordan St. The free workshops will focus on how to use some of the resources provided through the library to find grant-funding organizations.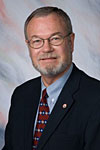 Joe Dahlstrom
The library is a Funding Information Network affiliate of the Foundation Center, an international organization that works to connect nonprofits and social change organizations with the resources necessary to do their work. The library is required by the Foundation Center to offer at least two free workshops about these resources each year.
"There are a lot of nonprofits in this area, and many of them are small and rely on volunteer staffs," said Joe Dahlstrom, UHV senior director of libraries. "I hope this training in the library's online and print resources can help them identify potential funding sources and gain some of the skills they need for successful grant applications."
One of the major resources available at the library is the Foundation Directory Online, a searchable database of grant-funding organizations. Nonprofits can use the directory to look up information about organizations, including a listing of previous grants awarded. That information can be used to put together a stronger grant request that fits important criteria.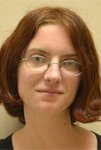 Isabel Van Dyke
"The entire grant process can be overwhelming, so it was helpful and reassuring to learn about resources right here in the library," said Isabel Van Dyke, curator of education and public programs for the Museum of the Coastal Bend. "It's great that library staff members are able to offer this kind of workshop for the community."
Amanda Breu, UHV instruction and outreach librarian, will teach the workshop, and a pamphlet about the database will be provided.
"Our previous training sessions have been very well received," Breu said. "We've gotten some great feedback from people who attended, and we've seen some people who work at area nonprofits come back after the workshop to use the resources we discussed during the training."
In addition to the database, the library has books for checkout about managing budgets, fundraising, grant writing and other elements necessary to run a successful nonprofit. The library is open to the public, and any member of the community can receive a free library card.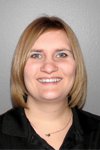 Amanda Breu
The library originally planned for a single workshop on Sept. 9, but the response from area nonprofits was so enthusiastic that the library decided to schedule a second workshop on Oct. 2 to meet the demand. The Sept. 9 workshop is full.
Attendees who have additional questions about these resources are welcome to stay after the workshop for more discussion, Breu said. The library also can schedule a follow-up one-on-one session for those who want more in-depth knowledge of how to use the database and other resources. The database can only be accessed in the library.
This workshop and the resources it examines are important services that the university is happy to provide, Dahlstrom said. Many of the people who work with area nonprofits and foundations have limited experience in writing grants, so this training can be helpful.
"It's a great opportunity for people working with area nonprofit agencies to get connected with the library and become familiar with all the resources we have," Dahlstrom said. "UHV has worked closely with several community organizations, and this is one more way we can provide some assistance for them."
To register for the Oct. 2 workshop, visit www.surveymonkey.com/r/Oct2015_findfunders. Those with questions can contact Breu at 361-570-4169 or breua@uhv.edu.
The University of Houston-Victoria, located in the heart of the Coastal Bend region since 1973 in Victoria, Texas, offers courses leading to more than 80 academic programs in the schools of Arts & Sciences; Business Administration; and Education, Health Professions & Human Development. UHV provides face-to-face classes at its Victoria campus, as well as an instructional site in Katy, Texas, and online classes that students can take from anywhere. UHV supports the American Association of State Colleges and Universities Opportunities for All initiative to increase awareness about state colleges and universities and the important role they have in providing a high-quality and accessible education to an increasingly diverse student population, as well as contributing to regional and state economic development.