Close
UHV awards grant to expand robotics, virtual reality research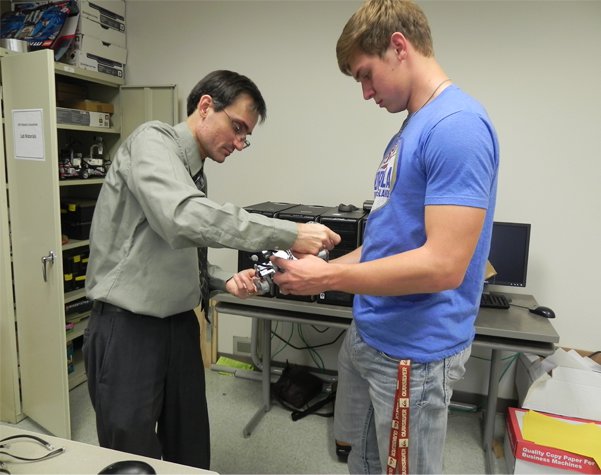 Alireza Tavakkoli, left, helps a student with his robot during a weekly robotics class offered to high school students through a grant from Alcoa Foundation. Tavakkoli recently was awarded the UHV Internal Research Grant Award to further his research into robotics and virtual reality.
A University of Houston-Victoria faculty member will be able to further his research into virtual reality robotics thanks to a $6,000 grant from the university.
Alireza Tavakkoli, assistant professor of computer science and director of the digital gaming and simulation program, will receive the UHV Internal Research Grant Award this fall.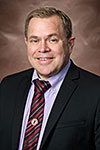 Jeffrey Cass
The grants are intended for use as seed money to help grow faculty members' research projects, said Jeffrey Cass, UHV provost and vice president for academic affairs.
"Supporting grants is an essential part of UHV's goal of becoming a destination university," Cass said. "Funding faculty research projects through this award can yield some positive results that will, in turn, contribute to the advancement of the university as a whole."
The UHV Internal Research Grant is a highly competitive award given since 2012. It is available to both tenured and tenure-track faculty members. The amount awarded varies yearly depending on the availability of funding. Faculty members submit formal proposals reviewed by a faculty development committee. The committee submits its award recommendations to Cass, who makes the final decision.
Tavakkoli's research involves integrating virtual reality and robotics. Researchers typically work with a robot directly or use remote means of operation through traditional user interfaces, he said.
"In virtual reality, a person can interact with a digital environment, but that environment does not necessarily exist in the real world," Tavakkoli said. "We are looking into combining robotic operations with virtual reality so a user can remotely control robots that will be able to interact with a virtual environment."
A previous grant from the U.S. Department of Defense allowed Tavakkoli to purchase three robots and other equipment necessary for his research. The Internal Research Grant will allow him to pay a student assistant, who will work with him on the project.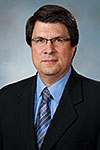 Jeffrey Di Leo
There will be a wide range of applications for the research, Tavakkoli said. For example, NASA is looking at training astronauts to live and work at the International Space Station and to use robotics for Mars exploration. There also are medical and manufacturing applications. This research could be used to train a manufacturing employee to remotely operate robots, or a surgeon could learn to manipulate a robot in a surgical procedure within the safety of a virtual environment.
"Dr. Tavakkoli's research is a groundbreaking look at the possibilities presented by modern technology," said Jeffrey Di Leo, dean of the UHV School of Arts & Sciences. "He has served as a leader in the university's robotics and computer science outreach activities, and I look forward to seeing his work develop."
The Internal Research Grant is an important resource for the university's faculty, Tavakkoli said. UHV is growing and putting an emphasis on attracting more students, and quality faculty research serves as a recruiting tool. Students are more likely to attend a university when they know they will have opportunities to take part in interesting and important projects that also could offer scholarships or stipends.
"I hope we can expand this program to offer more of these opportunities for the faculty in the future," Tavakkoli said. "Support from the university is one of the factors that grant programs look at when deciding how to distribute funds."
The University of Houston-Victoria, located in the heart of the Coastal Bend region since 1973 in Victoria, Texas, offers courses leading to more than 80 academic programs in the schools of Arts & Sciences; Business Administration; and Education, Health Professions & Human Development. UHV provides face-to-face classes at its Victoria campus, as well as an instructional site in Katy, Texas, and online classes that students can take from anywhere. UHV supports the American Association of State Colleges and Universities Opportunities for All initiative to increase awareness about state colleges and universities and the important role they have in providing a high-quality and accessible education to an increasingly diverse student population, as well as contributing to regional and state economic development.