Close
UHV business students take in Chinese business culture on study abroad trip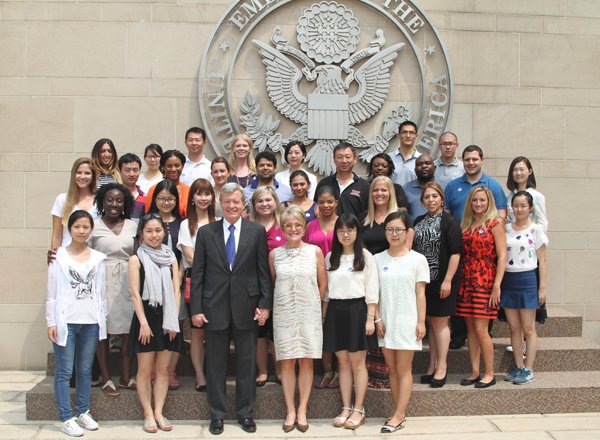 Business students from the University of Houston-Victoria and two Chinese universities stand with Max Baucus, U.S. ambassador to the People's Republic of China, and his wife, Melodee, first row and center, at the U.S. Embassy in Beijing. The group visited the embassy for a lecture about economic, political and trade relations between the U.S. and China.
Seventeen University of Houston-Victoria business students recently interacted with fellow students and learned about different business cultures in a study abroad trip to China.
The students spent two weeks exploring the country as part of the UHV School of Business Administration's summer study abroad program. This is the program's third year. During the trip, the 10 graduate and seven undergraduate UHV students toured different areas of China with 10 Chinese graduate students from Central University of Finance and Economics and University of International Business and Economics in Beijing.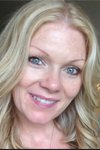 Anna Roberts
"It was an amazing trip and a once-in-a-lifetime opportunity to not only study with students in China and learn from them, but also attend lectures by various professors and professionals," said Anna Roberts, who is pursuing a Master of Business Administration in international business. "It's a wonderful experience, and I encourage any student in the School of Business Administration to take the study abroad trip."
The group visited three cities – Beijing, Tianjin and Jinan City – where students toured famous sights and attended lectures given by Chinese professors and professionals as well as UHV professor Jifu Wang, who coordinated the trip.
One of the main intentions of the program was to give students an idea of how business leaders in China apply strategies and methods to cultivate success. Students were able to learn directly from the experience of international business leaders in a real-world setting, Wang said.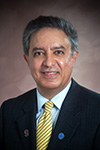 Farhang Niroomand
"The study abroad trip offers UHV students an excellent opportunity to learn about the global nature of business," said Farhang Niroomand, dean of the UHV School of Business Administration. "Students are able to see firsthand how regional culture can impact business operations and apply that knowledge in the workplace."
The UHV School of Business Administration was able to offer a $1,500 scholarships to help each student pay for the trip thanks to the $600,000 donation in 2013 to the school by Chinese businessman Bingxin Wu and his wife, Shuqin Feng. This donation also was used for the establishment of the Wu-Feng Center for International Business at UHV.
"This program is a dialogue for students on both sides of the ocean," Wu said. "Students have the opportunity to observe the integration of Chinese management elements and the U.S. management experience as well as the integration of eastern and western wisdom. Knowledge collides here, experience docks here, learning extends here, and friendship breeds and strengthens here."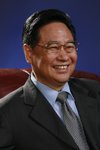 Bingxin Wu
In addition to attending lectures and touring a manufacturing plant, the students visited several cultural landmarks in China, including the Forbidden City, the Summer Palace, the hometown of Confucius and the Great Wall. They also took part in cultural experiences, such as making dumplings and visiting a hot spring.
Roberts, who lives in Houston, chose to go because of the trip's international focus. She had traveled abroad on her own before but had not been to China.
During the lectures, Roberts liked listening to the speakers, who mostly spoke in Mandarin, and paid attention to their inflection and body language to try and guess what was being expressed before their words were translated. That heightened her senses and gave her a new perspective on the importance of speaking in an engaging manner.
For Jennifer DeYoung, a Houston pediatric nutrition sales representative pursing an MBA in marketing, the lectures highlighted elements she hoped to learn when she signed up for the trip. She wanted to find out more about the different forms of leadership and management and conducting business in other countries, especially after learning about the growing international connectivity in today's economy.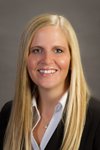 Jennifer DeYoung
"I saw firsthand how different business can be between cultures," DeYoung said. "There are a lot of different components, and it's important for people to be able to adapt to work in diverse cultures."
That emphasis on knowledge of different cultures is a tool that any UHV business student can benefit from, Roberts said.
"This trip brings students together who otherwise would not have an opportunity to work with each other," Roberts said. "For some, it may be the only opportunity they have to go overseas. It's definitely worthwhile."
During the trip, the students stayed connected using the WeChat app, a mobile text and voice messaging communication service developed in China, DeYoung said.
"We all became very close during the trip, and it was hard to say goodbye," DeYoung said. "We still use the WeChat app and message each other to keep in touch. Interacting with the UHV and Chinese students was a memorable part of my trip and something that I will never forget."
For information about future UHV School of Business Administration study abroad trips, contact Rosie McCusker, UHV manager of student recruitment and marketing for graduate business programs, at mccuskerr@uhv.edu or 832-842-2858.
The University of Houston-Victoria, located in the heart of the Coastal Bend region since 1973 in Victoria, Texas, offers courses leading to more than 80 academic programs in the schools of Arts & Sciences; Business Administration; and Education, Health Professions & Human Development. UHV provides face-to-face classes at its Victoria campus, as well as an instructional site in Katy, Texas, and online classes that students can take from anywhere. UHV supports the American Association of State Colleges and Universities Opportunities for All initiative to increase awareness about state colleges and universities and the important role they have in providing a high-quality and accessible education to an increasingly diverse student population, as well as contributing to regional and state economic development.