Close
New student life director aims to increase school spirit, civic engagement
Michael Wilkinson has a motto that explains why he's so focused on getting the University of Houston-Victoria involved in student activities, community projects and the creation of new traditions.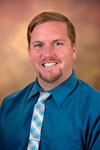 Michael Wilkinson
"Student involvement leads to persistence, and persistence leads to graduation," Wilkinson said.
On Aug. 1, Wilkinson was promoted to director of UHV Student Life & Services. He spent the previous 14 months as associate director, where he oversaw the creation of numerous new events. In fact, the amount of student activities more than doubled from 73 in 2013-2014 to 152 in 2014-2015. Based on surveys and assessments, the quality of the programs also improved, Wilkinson said.
"I get a sense from our students that they are hungry for more," he said. "They want to do more and see more happen. That's exciting for me. I want to captivate that hunger and turn it into tangible programs. We can help take their ideas and turn them into engaging programs."
As director, Wilkinson is tasked with developing, administering and evaluating policies, programs, procedures and initiatives that support student life and promote student engagement. He oversees student orientation, student activities, intramural sports, parent programming, leadership development, LGBTQ program, student organizations, multicultural affairs, Career Services, disability services, civic engagement and the mascot program.
Wilkinson said he's seen a transformation in the culture of student life. He doesn't want the momentum to slow down.
"When the position opened up, I knew I would be a perfect fit," he said. "Serving as director will help us build on the foundation we laid in the last year. We put in a lot of time and effort to expand the programs offered to our students."
Wilkinson plans to continue encouraging school spirit and traditions. One of his ideas – the creation of a university hand sign – was implemented in the spring by the UHV Student Government Association. The sign is made using the right hand by folding down the ring finger at the second knuckle and curving the other fingers slightly. The curve is meant to represent a jaguar's claws, and the letters U, H and V are represented in the fingers.
Wilkinson is excited about working alongside the Student Government Association in the upcoming year.
"Our students need to be proud to be UHV Jaguars," Wilkinson said. "They need to be proud to call this place their university. I plan to do more things to help cultivate that sense of school pride. One of my goals is to bring homecoming to campus."
Another of his goals is to grow leadership development. The second annual ROAR leadership conference will take place next month. In addition to UHV students, the event will be open to Victoria College students, high school seniors and UH System students.
Wilkinson also would like to expand civic engagement. In the spring, Student Life & Services put together an Alternative Spring Break, where students restored homes in New Orleans and Jags Join In – Day of Service, where students helped build two Habitat for Humanity homes in Victoria. Wilkinson plans to continue those events and add other local service projects.

Jay Lambert
"In his short time here, Michael has done a tremendous job driving student interest and participation in several successful new programs," said Jay Lambert, UHV vice president for enrollment management and student affairs. "I have no doubt we'll continue to make large strides in student life in his new role. After just a few days on the job, he has renegotiated a three-year contract with Orgsync and worked out a presentation schedule for the freshman year seminar classes that will serve our students much more effectively."
Wilkinson earned a bachelor's degree in sports management from Texas A&M University and a master's degree in education from Angelo State University. He is pursuing a doctorate in educational leadership from Lamar University. He worked at Lamar from 2011 to 2014, first as assistant director of marketing and promotions, and later as associate director of student activities and civic engagement.
Wilkinson replaced Dakota Doman, who held the director position since fall 2013. Wilkinson said Doman provided him the autonomy to create his vision of student life. Now, he'll be expanding that vision across the entire department.
"I am grateful for this opportunity," Wilkinson said. "Dr. Lambert has been a pleasure to work with. He's been a mentor to me, and I'm excited to build on that relationship and continue to learn from him. Dr. Morgan has been supportive of all aspects of student life, and I am appreciative of that. I also thank Dakota for his guidance, wisdom and support during the past year and my family for always pushing me to be a better person."
UHV Student Life & Services is gearing up for another big year of activities, starting Aug. 21 with Jaguar Journey, UHV's new student orientation.
"You have to let students know what an amazing opportunity it is to be at this university at this time," Wilkinson said. "We're building programs and traditions that will be etched into the history of UHV. Students really do have an opportunity to make their mark on our campus and in their lives."
The University of Houston-Victoria, located in the heart of the Coastal Bend region since 1973 in Victoria, Texas, offers courses leading to more than 80 academic programs in the schools of Arts & Sciences; Business Administration; and Education, Health Professions & Human Development. UHV provides face-to-face classes at its Victoria campus, as well as an instructional site in Katy, Texas, and online classes that students can take from anywhere. UHV supports the American Association of State Colleges and Universities Opportunities for All initiative to increase awareness about state colleges and universities and the important role they have in providing a high-quality and accessible education to an increasingly diverse student population, as well as contributing to regional and state economic development.