Close
UHV business school promotes professor to associate dean
Leadership roles are nothing new to Jifu Wang.
The associate professor of management, who will become a full professor on Sept. 1, has filled several positions in the University of Houston-Victoria School of Business Administration during his academic career, and starting Monday, he will take on a new role as the school's associate dean for external relations and international programs.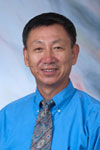 Jifu Wang
"I'm excited about this position and the platform it gives me," Wang said. "When I approach a university in China or elsewhere as a professor, it doesn't give me as much authority. But as an associate dean overseeing international programs, this falls into my responsibilities, which creates trust that any agreement will be carried out."
Wang served as chairman of the business school's Marketing & Management Department from 2005-2009 and as acting dean from June 2008 to June 2009. He also left UHV for two years in 2010 and 2011 to work as president of Genesis Global Capital.
"I believe that business faculty members need to go back to business from time to time so they can know what is going on in the front lines," he said. "It's difficult to teach students about business if you have never experienced working in an actual business."
The knowledge and experience Wang gained during those two years away from UHV influenced how he teaches his students and how the school's Case Conferences are handled. The Case Conferences are the capstone for the Bachelor of Business Administration and Master of Business Administration degree programs. The goal is to have students examine a business and develop a real-world understanding of how those businesses run.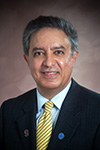 Farhang Niroomand
"Dr. Wang has an impressive track record of leadership and international connections," said Farhang Niroomand, dean of the UHV School of Business Administration. "His experience makes him the ideal choice for this position, and I look forward to working with him to ensure the growth and success of the business school."
Wang, who teaches strategic management courses, will continue teaching two classes a semester in addition to his duties as associate dean.
"I enjoy teaching," he said. "I like sharing my experiences with students. I have a lot of former students who are now reaching vice president positions or are starting their own companies. I keep in contact with them, and they know that UHV is always behind them."
Staying connected with alumni and the business community is one of Wang's major goals in his new position. By helping alumni succeed, the university can cultivate strong connections in the business community, especially in Victoria and Greater Houston. Networking with alumni will help graduates find jobs, and once they achieve success, they will be more likely to donate to UHV, participate in workshops and campus activities, and serve on advisory boards.
The Dean's Advisory Board, made up of business leaders in the Victoria and Houston areas, is another networking resource Wang hopes to continue to cultivate. As the school's connection with China grows through programs such as the summer study abroad trip or Memorandums of Understanding with Chinese universities, Wang hopes to add members to the board who also have connections in Chinese business circles.
"When I was department chair and interim dean, I started to build an advisory board of 34 business leaders in the Houston area," Wang said. "I wanted to get this group together as external stakeholders who can help us grow. Now I want to expand the advisory board to include the business school's international programs."
Wang coordinates and oversees the summer study abroad trip to China, which the university has offered for three years. During that time, about 60 students have taken part. Chinese businessman Bingxin Wu and his wife, Shuqin Feng, donated $600,000 in 2013 to offer scholarships to help students pay for the trip and establish the Wu-Feng Center for International Business at UHV.
The study abroad program has led to some higher education connections in China that Wang plans to expand into Memorandums of Understanding. He currently is working to establish 12 MOUs with Chinese universities. Through these agreements, the universities will be able to establish study abroad programs to allow Chinese graduate students to study at UHV. In addition, UHV also could exchange faculty members for a few semesters with the universities.
"What I want to do is get actual programs working," Wang said. "The Chinese universities want to see what courses fit into our programs and which of our courses fit into their programs."
The University of Houston-Victoria, located in the heart of the Coastal Bend region since 1973 in Victoria, Texas, offers courses leading to more than 80 academic programs in the schools of Arts & Sciences; Business Administration; and Education, Health Professions & Human Development. UHV provides face-to-face classes at its Victoria campus, as well as an instructional site in Katy, Texas, and online classes that students can take from anywhere. UHV supports the American Association of State Colleges and Universities Opportunities for All initiative to increase awareness about state colleges and universities and the important role they have in providing a high-quality and accessible education to an increasingly diverse student population, as well as contributing to regional and state economic development.