Close
Opening UHV/ABR author scrutinizes own race, identity
Clifford Thompson's memoir wasn't written in response to recent incidents about discriminatory treatment of black people, but the timing of its release has added a unique perspective to conversations about what it means to be a black American.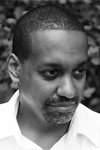 Clifford Thompson
"I've been pleasantly surprised by the number of people who have told me the book lends a valuable voice to the overall discussion, a sort of quieter voice but, nonetheless, a valuable one," he said. "I feel good about that."
Thompson will be the first speaker in University of Houston-Victoria/American Book Review Fall Reading Series. His reading will be from noon to 1 p.m. Aug. 31 in the Alcorn Auditorium of UHV University West, 3007 N. Ben Wilson St. The reading is free and open to the public.
In his memoir, "Twin of Blackness," Thompson addresses his upbringing as the youngest sibling growing up in a middle-class African American family during the 1960s and 1970s in Washington, D.C.
"I have come to think of blackness as my twin," Thompson wrote. "The proof is that we came along at the same time: 1963, the year of my birth, also brought the March on Washington and Martin Luther King's 'I Have a Dream' speech. I feel toward blackness the way one might toward a twin. I love it, and in a pinch I defend it; I resent the baggage that comes with it; I have been made to feel afraid of not measuring up to it; I am identified with it whether I want to be or not – and never more than when I assert an identity independent of it."
Thompson will read a few excerpts from his memoir and a couple of essays, including at least one from "Love for Sale and Other Essays." Thompson received a Whiting Writers' Award for nonfiction in 2013 for that essay collection, which includes essays about jazz, literature and movies.
E. Ethelbert Miller, a literary activist and board chairman of the Institute for Policy Studies, reviewed "Love for Sale and Other Essays" for the 2013 July/August edition of ABR. In that review, Miller said Thompson deserves a larger audience.
"Thompson writes with ear and intellect when the topic is jazz," Miller wrote. "His knowledge of the music comes from what he has listened to, as well as what he has read. Thompson's eyes follow his ears."
Thompson said he's a great lover of music.
"There's almost never a time when I don't have some piece of music going through my head," he said. "It's a basic part of my consciousness. Because jazz plays a big part in my own heritage, it's doubly important. For those reasons, it often serves as a metaphor in my writing."
Next, Thompson decided to tackle a memoir to trace a winding path toward reaching some conclusions about race and identity. He wanted to tell the story of what started as confusion with his own identity.
"Twin of Blackness," released July 1, includes stories about Thompson's early personal life, college and work experiences. He addresses the sudden death of his father, and how at times he felt like an "other" among his African American peers. He also explores the arts and artists who have been important to him.
Thompson said one of his sisters hasn't read the entire book. She knows that Thompson had a hard time as a child, and she doesn't want to see any suffering, even if it's in retrospect. He said acquaintances have read the book and told him they've gotten to know Thompson much better.
"People have responded well to the messages about inclusiveness and a viewpoint that transcends skin color," he said. "It's a good book to read for anyone who feels he has not been represented in debates about identity and for anyone who has ever questioned his place in our nation."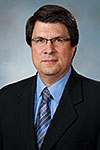 Jeffrey Di Leo
Jeffrey Di Leo, ABR editor and publisher, and dean of the UHV School of Arts & Sciences, praised Thompson for his straightforward, honest writing.
"Mr. Thompson is a gifted writer who brings to the table a great deal of insight and profound perspectives," he said. "His reading will be a terrific way to open up the series."
A resident of Brooklyn, Thompson has taught at Columbia University and New York University. He is the author of a novel, "Signifying Nothing," which also is set in 1979 Washington, D.C.
Another art form Thompson has embraced in recent years is painting. His paintings appear on the cover of "Love for Sale and Other Essays" and "Twin of Blackness." Thompson wanted to be a comic book artist when he was growing up. That impulse came back as an adult.
"It's a lot of fun," he said. "In a way, it's a visual mode of exploring the same sets of themes as in essays."
Other writers scheduled for the fall 2015 UHV/ABR Reading Series are:
Bill Kartalopoulos, Sept. 24 – Kartalopoulos is the series editor for the Best American Comics series published annually by Houghton Mifflin Harcourt. He teaches comics history at the School of Visual Arts in New York City. Kartalopoulos has directed programming for the Brooklyn Comics and Graphics Festival, SPX: The Small Press Expo, and the Museum of Comic and Cartoon Art Arts Festival. He served as a studio assistant to celebrated cartoonist Art Spiegelman.
Cyrus Cassells, Oct. 15 – Cassells is the author of five acclaimed books of poetry: "The Mud Actor," "Soul Make a Path through Shouting," "Beautiful Signor," "More Than Peace and Cypresses" and "The Crossed-Out Swastika." His sixth book, "The Gospel according to Wild Indigo," is forthcoming. Cassells is a professor of English at Texas State University. Among his honors are a Lannan Literary Award, a William Carlos Williams Award and a Lambda Literary Award.
Carole Maso, Nov. 5 - Maso is the author of 10 books, including the novels "The Art Lover," "Ava," "Defiance" and "Mother & Child." Her poems in prose include the 1969 book "Aureole Beauty" and the 2011 book "Beauty is Convulsive." She also is the author of an essays book, "Break Every Rule," and a journal of pregnancy and birth, "The Room Lit By Roses." Maso is a professor of literary arts at Brown University in Providence, R.I.
David Marion Wilkinson, Dec. 3 – Wilkinson is an award-winning author and screenwriter. He has written five books, including "Not Between Brothers: an Epic Novel of Texas" and "One Ranger: a Memoir." Much of his published work has been optioned for film or TV projects. In 2015, Wilkinson appeared in the History Channel documentary "Avenging the Alamo: The Road to Texas Rising." Wilkinson divides his time between Austin and Los Angeles. He is a member of the Texas Institute of Letters and Western Writers of America.
ABR is a nonprofit, internationally distributed literary journal published six times a year. It began in 1977, moved to UHV in 2007 and has a circulation of about 8,000. The journal specializes in reviews of works published by small presses.
For more information about the UHV/ABR Reading Series, call the ABR office at 361-570-4101 or go to www.americanbookreview.org.
The University of Houston-Victoria, located in the heart of the Coastal Bend region since 1973 in Victoria, Texas, offers courses leading to more than 80 academic programs in the schools of Arts & Sciences; Business Administration; and Education, Health Professions & Human Development. UHV provides face-to-face classes at its Victoria campus, as well as an instructional site in Katy, Texas, and online classes that students can take from anywhere. UHV supports the American Association of State Colleges and Universities Opportunities for All initiative to increase awareness about state colleges and universities and the important role they have in providing a high-quality and accessible education to an increasingly diverse student population, as well as contributing to regional and state economic development.