Close
Second Department of Defense grant awarded for UHV robotics research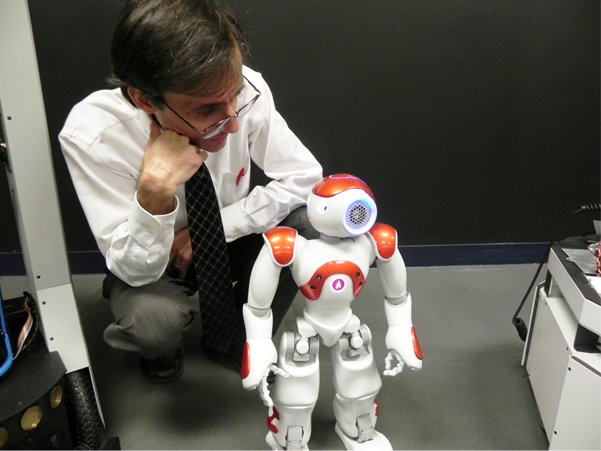 Alireza Tavakkoli, director of the UHV digital gaming and simulation program, interacts with Electra, one of the three robots being used in his research. Electra is used to study human/robot interaction and responds to voice commands.
Four University of Houston-Victoria students will be able to take part in advanced robotics and virtual reality research after the university recently received a second grant from the U.S. Department of Defense.
Alireza Tavakkoli, director of the UHV digital gaming and simulation program and an assistant professor of computer science, is leading the research into human/robot interaction and the integration of robotics and virtual reality. The first grant was awarded in January and gave UHV $191,000 to purchase three robots and other pieces of equipment for the research.
Now a second grant for $412,000 will help pay four student research assistants for three years. The research assistants will be three graduate students and one undergraduate student.
"We have a long term vision for this research to span over a decade, so this is a good start," Tavakkoli said. "We've already begun the recruiting process, and we're hoping to have everyone on board as soon as the semester starts."
The research is following four tracks: computer vision for robots, modes of operation, the robots' autonomy and decision-making, and virtual reality with interfaces. Each research assistant will focus on one of the four areas and look into how current state-of-the-art technology and methods will factor into the research, Tavakkoli said.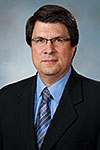 Jeffrey Di Leo
"Dr. Tavakkoli's research is a prime example of the quality work being done at UHV," said Jeffrey Di Leo, dean of the UHV School of Arts & Sciences. "This is an excellent opportunity for graduate and undergraduate students to take part in groundbreaking research, and I look forward to seeing its impact on the scientific community."
Although the project officially starts in September, Tavakkoli and the research team already have begun the research. The virtual reality and human interaction elements are being worked on now, and the focus on modes of operation began as soon as the university purchased the robots. In addition, Tavakkoli's research expertise focuses on artificial intelligence, computer vision, robot autonomy and visual computation, and he has been working on these elements since graduate school.
"These grant funds will enable us to make UHV home for cybernetics research that spans across robotics and artificial intelligence into virtual and mixed reality, and to pursue this more efficiently than just one faculty member could do," Tavakkoli said. "The biggest news for me and my team is that it will impact our research in several areas of magnitude: quality, amount of time and manpower we can dedicate to the project, and providing prestigious, externally funded research assistantship positions for our students."
One of the conditions of the grant is that UHV publish the research in scientific journals and conference proceedings as well as present the work at academic conferences. In addition to student scholarships and stipends, the grant will cover any publication fees and the cost of attending conferences to give demonstrations.
Tavakkoli said there already are a few papers being developed, and he hopes to have three ready for publication by the end of the year. In December, the team will go to Las Vegas to participate at the International Symposium on Visual Computing, one of the main events where researchers look at the four tracks laid out in the study. Tavakkoli plans to send two paper submissions for consideration for presentation and publication in the Speringer-Verlag Lecture Notes in Computer Science series.
"This research is advanced, and the experience the students will acquire will be invaluable," Tavakkoli said. "We are grateful to the Department of Defense for providing us with this opportunity. I am especially grateful to Angela Hartmann and Sophia Stevens in the UHV Office of Research and Sponsored Programs for their work in getting this grant proposal together. Their efforts have been invaluable."
The University of Houston-Victoria, located in the heart of the Coastal Bend region since 1973 in Victoria, Texas, offers courses leading to more than 80 academic programs in the schools of Arts & Sciences; Business Administration; and Education, Health Professions & Human Development. UHV provides face-to-face classes at its Victoria campus, as well as an instructional site in Katy, Texas, and online classes that students can take from anywhere. UHV supports the American Association of State Colleges and Universities Opportunities for All initiative to increase awareness about state colleges and universities and the important role they have in providing a high-quality and accessible education to an increasingly diverse student population, as well as contributing to regional and state economic development.