Close
UHV provost serving as president of academic officer group
A University of Houston-Victoria administrator has become president of a statewide group of chief academic officers for public four-year colleges and universities.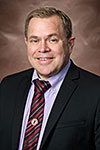 Jeffrey Cass
Jeffrey Cass, UHV provost and vice president for academic affairs, will lead the Texas Council of Chief Academic Officers for the 2015-2016 school year. TCCAO is made up of academic officers, mostly provosts, and their staffs from 38 public institutions in Texas. The group meets quarterly in Austin before the Texas Higher Education Coordinating Board meetings to discuss current issues and share ideas about topics related to Texas higher education.
"It's a way of finding out what's happening across the state and then bringing that information back to campus," Cass said. "It becomes a sort of information clearinghouse where provosts can get knowledge from their contemporaries about what is going on in different areas."
TCCAO is the counterpart of the Council of Public University Presidents and Chancellors, the group for public university presidents and chief executive officers. Although TCCAO does not have authority to set statewide policy or make changes to the state's higher education system, it does serve as a valuable source of information for its members and state leaders. During meetings, the group often brings in speakers who can share their knowledge of important topics that impact Texas higher education.
"Everyone has a chance to talk about their campuses and experiences, because often, there are a lot more common elements and circumstances than some might think," Cass said. "The discussions allow all of the provosts and academic officers to see they are part of a community and many share the same challenges, no matter what size campus is involved."
As president, Cass will be responsible for moderating the group's meetings, setting the agenda and organizing the group's yearly retreat in January.
"My goal is to make sure all campus representatives feel they have a forum in which they can voice their views and find out information from others," Cass said. "I want them to know they can hear from people who are in charge and learn ways to better run their campuses."
When the state Legislature is in session, TCCAO will invite lawmakers and advocates for specific issues to talk about bills being considered and how they might impact institutions, such as the new campus carry law that was passed in the 2015 session. That perspective contributes to the group's discussion of campus and academic issues.
Likewise, when politicians or state educational leaders want a perspective on higher education, the group can serve as a sounding board to give feedback and offer advice.
The council holds an annual January retreat that is intended to be a broader exploration of ideas for higher education. Speakers and politicians are brought in, and the members attend roundtable discussions about various issues and topics related to Texas higher education, such as student retention and online learning.
"The speakers and politicians are generally kind and helpful," Cass said. "They want to talk to the leaders of colleges and universities because of the positive impact these institutions have on their communities."
The University of Houston-Victoria, located in the heart of the Coastal Bend region since 1973 in Victoria, Texas, offers courses leading to more than 80 academic programs in the schools of Arts & Sciences; Business Administration; and Education, Health Professions & Human Development. UHV provides face-to-face classes at its Victoria campus, as well as an instructional site in Katy, Texas, and online classes that students can take from anywhere. UHV supports the American Association of State Colleges and Universities Opportunities for All initiative to increase awareness about state colleges and universities and the important role they have in providing a high-quality and accessible education to an increasingly diverse student population, as well as contributing to regional and state economic development.