Close
UHV interim president's column shows support for statewide effort
A nationally published column by Vic Morgan, interim president of University of Houston-Victoria, focuses on how the university is meeting the growing need for higher education in today's economy.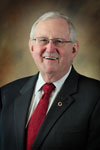 Vic Morgan
The topic is a major focus of statewide and national campaigns, and Morgan's column in the summer issue of Public Purpose magazine points to several UHV programs intended to encourage students to complete their degrees.
"Our ultimate goal is always to ensure that students are able to earn their degrees," Morgan said. "This is a national issue, and UHV is working to meet this need through a variety of programs and initiatives aimed at student engagement."
The magazine is published by the American Association of State Colleges and Universities, which recently launched an initiative called Project Degree Completion, of which UHV is a part. The initiative affirms member universities' commitment to accessible, affordable and quality public higher education for all students. It calls for nearly 490 public, four-year colleges and universities to jointly increase the number of bachelor's degrees by 3.8 million by 2025.
Morgan's column was presented as a Project Degree Completion Snapshot and explained specific measures UHV is taking to further this initiative's goal. UHV is aiming to increase the number of graduates through the Living & Learning program.
The program consists of groups of 20 to 25 freshmen, who spend portions of their first year at UHV together. It includes elements that encourage and equip students to succeed, such as the First-Year Seminar class, which strengthens social and academic skills. The classes are led by faculty members, who also work with students on service projects in the community. In addition, the university constructed a Living & Learning Commons inside Jaguar Suites, where the groups can meet and hold special events.
Students also are assigned a student success coach, who can help with academic advising, stress management and more. These programs have been so successful that UHV now has 10 groups of Living & Learning communities. The program began in fall 2014 with four.
"UHV aims to be a student-centered institution," Morgan wrote in his column. "This means that the university is committed to the success of its students, not by lowering or altering academic standards, but by creating high expectations for students and providing the support they need so that they can graduate and make their mark on the world."
AASCU is a Washington, D.C.-based higher education association of more than 400 public colleges, universities and systems whose members promote a teaching- and learning-centered culture of student success, a commitment to access to higher education, and a dedication to research and innovation that advances their regions' economic progress and cultural development.
Public Purpose is a quarterly publication that provides a national forum to highlight members' distinctive contributions to public higher education and provide topical and timely commentary and analysis. Read Morgan's full column at www.aascu.org/MAP/PublicPurpose/2015/Summer/Snapshot.pdf.
The University of Houston-Victoria, located in the heart of the Coastal Bend region since 1973 in Victoria, Texas, offers courses leading to more than 80 academic programs in the schools of Arts & Sciences; Business Administration; and Education, Health Professions & Human Development. UHV provides face-to-face classes at its Victoria campus, as well as an instructional site in Katy, Texas, and online classes that students can take from anywhere. UHV supports the American Association of State Colleges and Universities Opportunities for All initiative to increase awareness about state colleges and universities and the important role they have in providing a high-quality and accessible education to an increasingly diverse student population, as well as contributing to regional and state economic development.